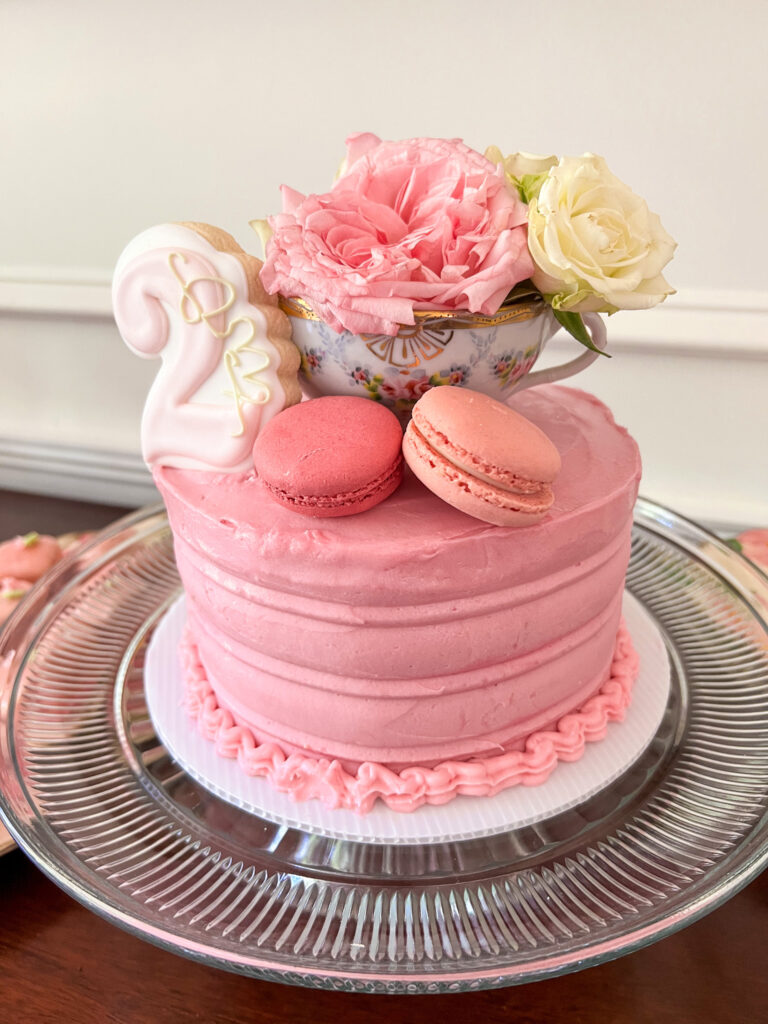 My daughter, Dottie, recently celebrated her second birthday. There's nothing she loves more than throwing a tea party with her Fisher-Price tea set, so naturally she had a "Tea for Two" Party! Keep reading to find decoration, menu, and product inspo for your own Tea for Two birthday party!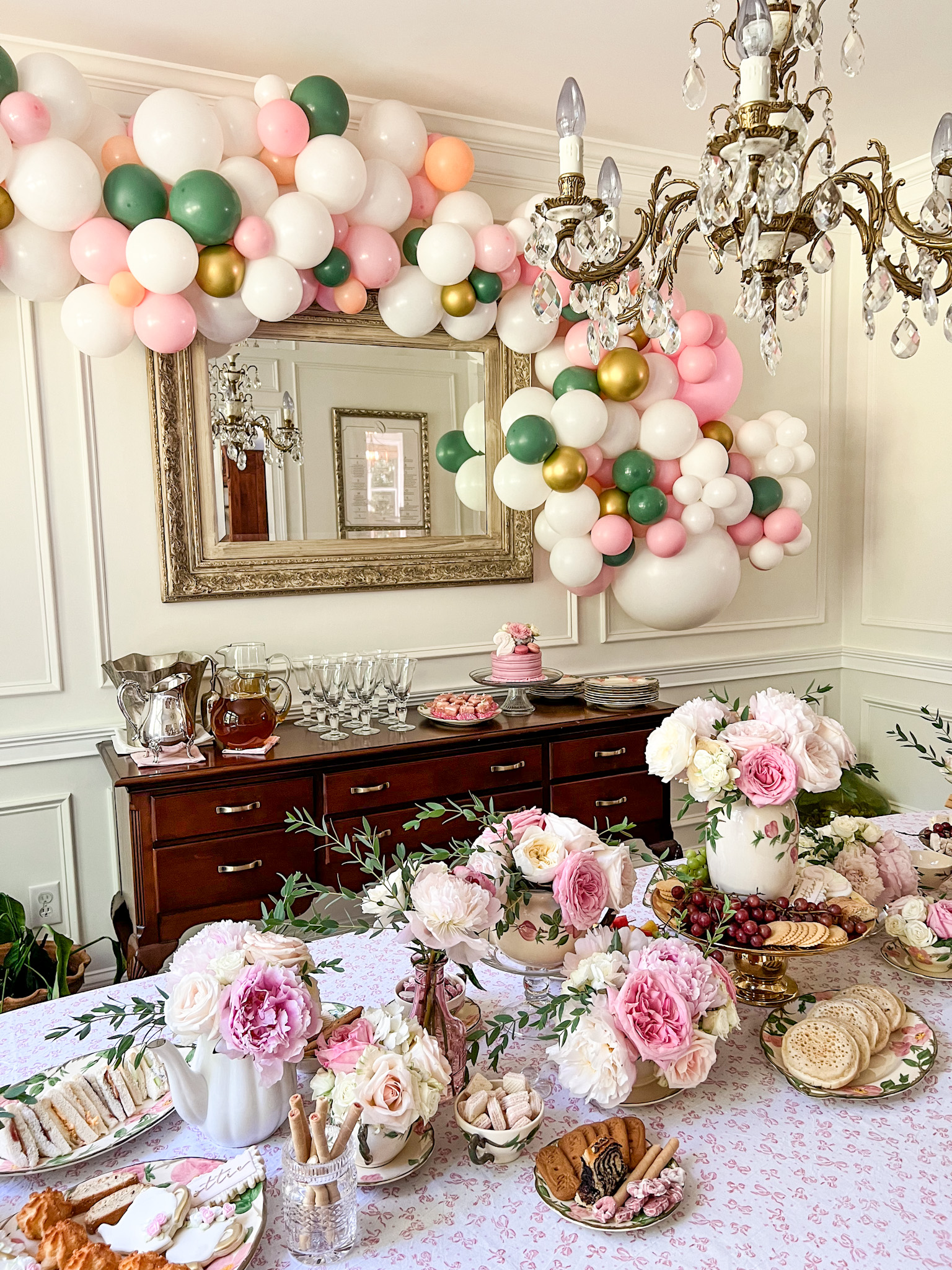 Florals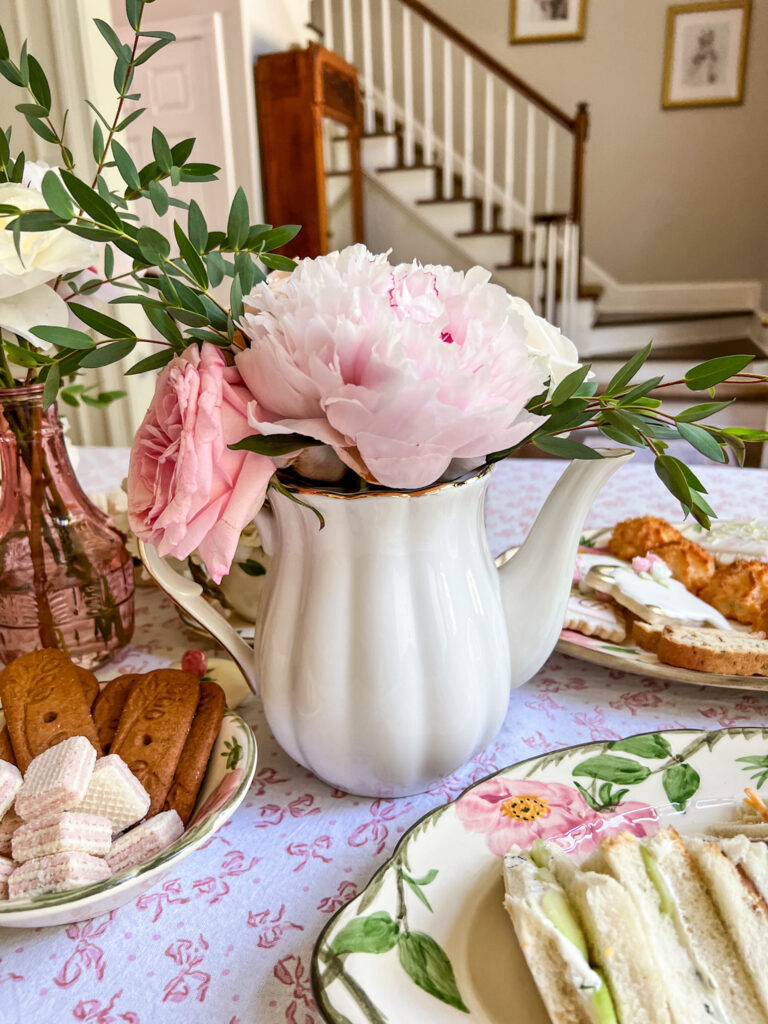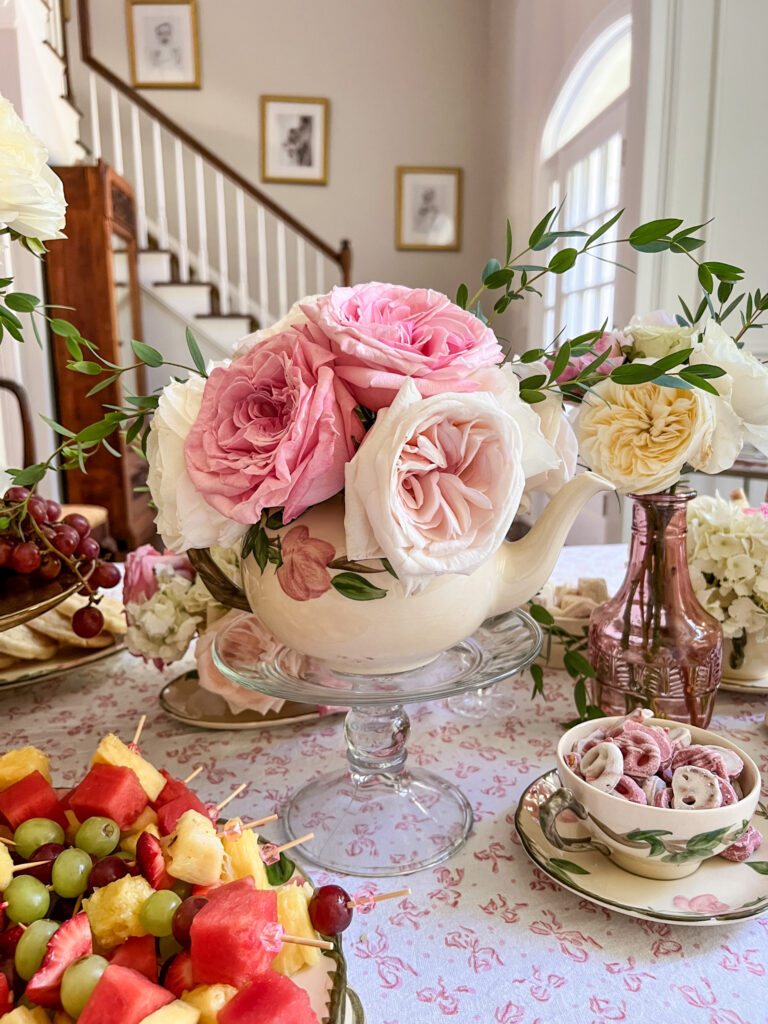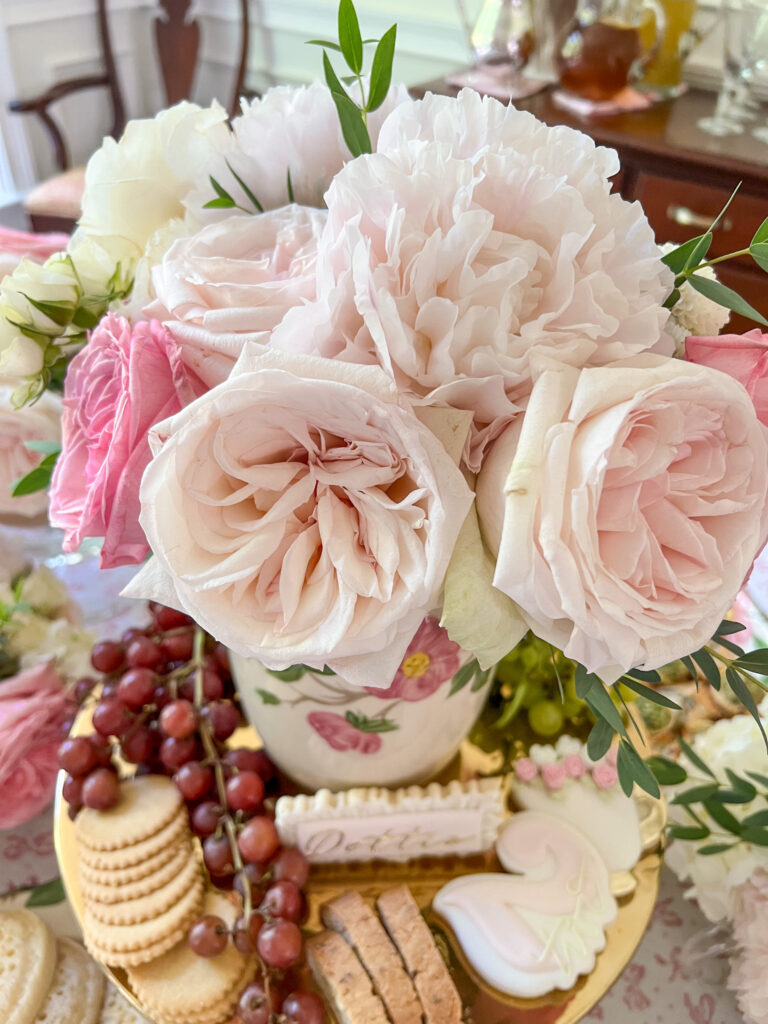 If you're hosting a tea, consider arranging your flowers in a variety of teapots instead of traditional vases. This will help tie in the theme throughout the room and also adds an unexpected and whimsical element to the table. You can find great affordable options at a Homegoods or TJ Maxx.
For the flowers, Grace Rose Farm was generous enough to provide their heirloom roses. Their roses are sure to be the perfect centerpiece for any occasion. See how you can use these beautiful roses for your next party here and you can use code Lo20 to get 20% off your next order!
Cookies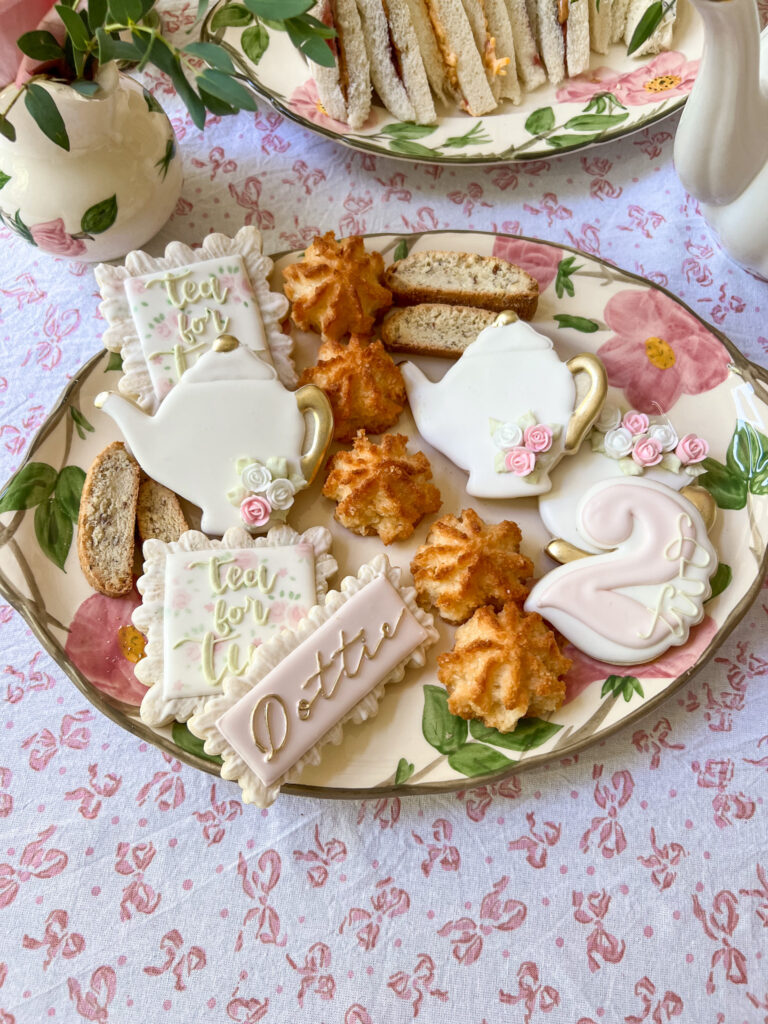 Custom cookies are a great way to add a personalized touch to any spread. This can also be very affordable if you only order one dozen and add them to trays all throughout your spread. It adds a touch of personalization to many of the dishes and is more exciting than displaying them on a tray by themselves.
If you're in North Georgia, these are from Julie Beans Bake Shop. She can customize any theme you want for your next event! Check out her website or Instagram @juliebeansbakeshop. You can see more of her designs for my Halloween party on this post.
Balloons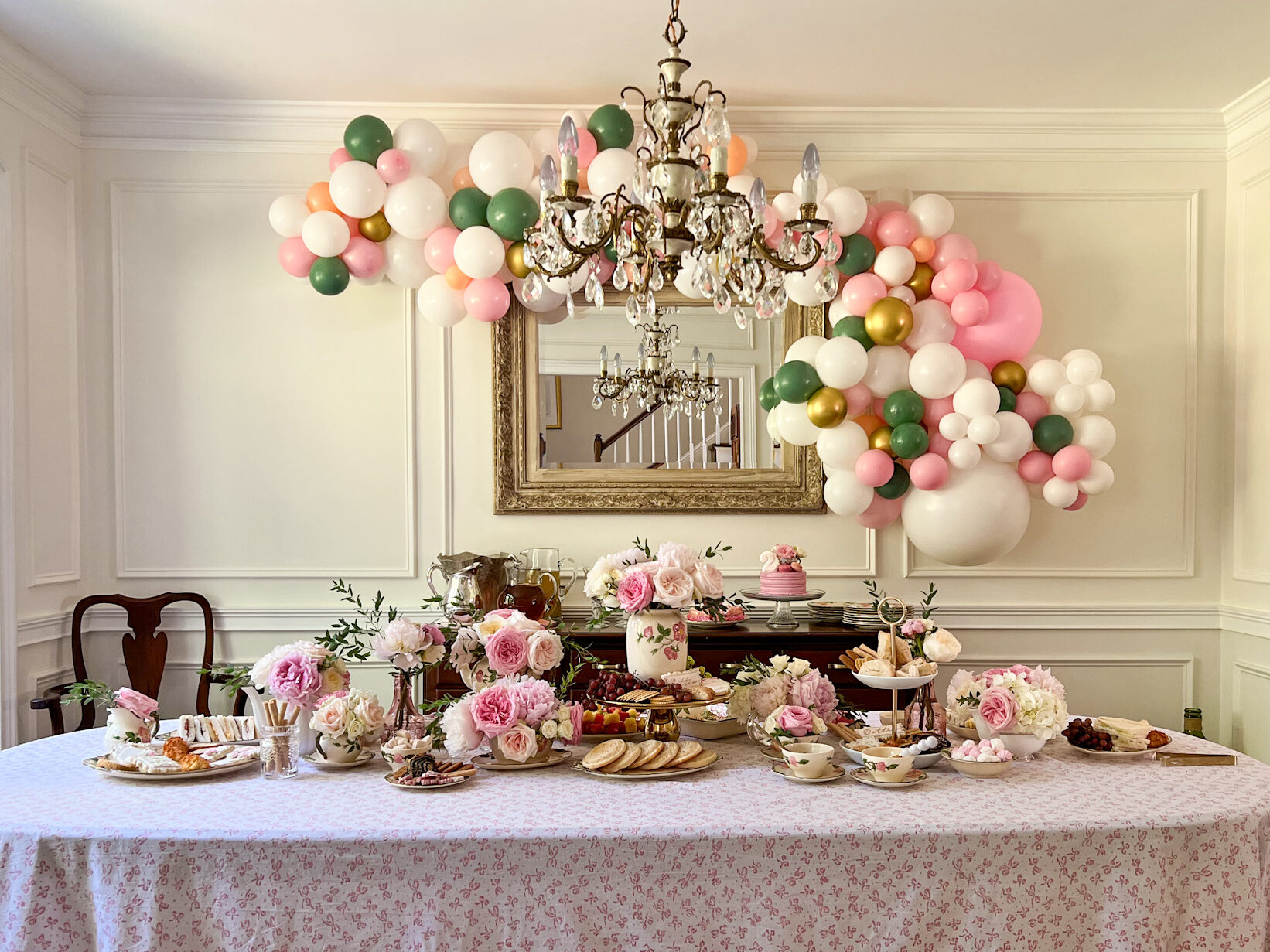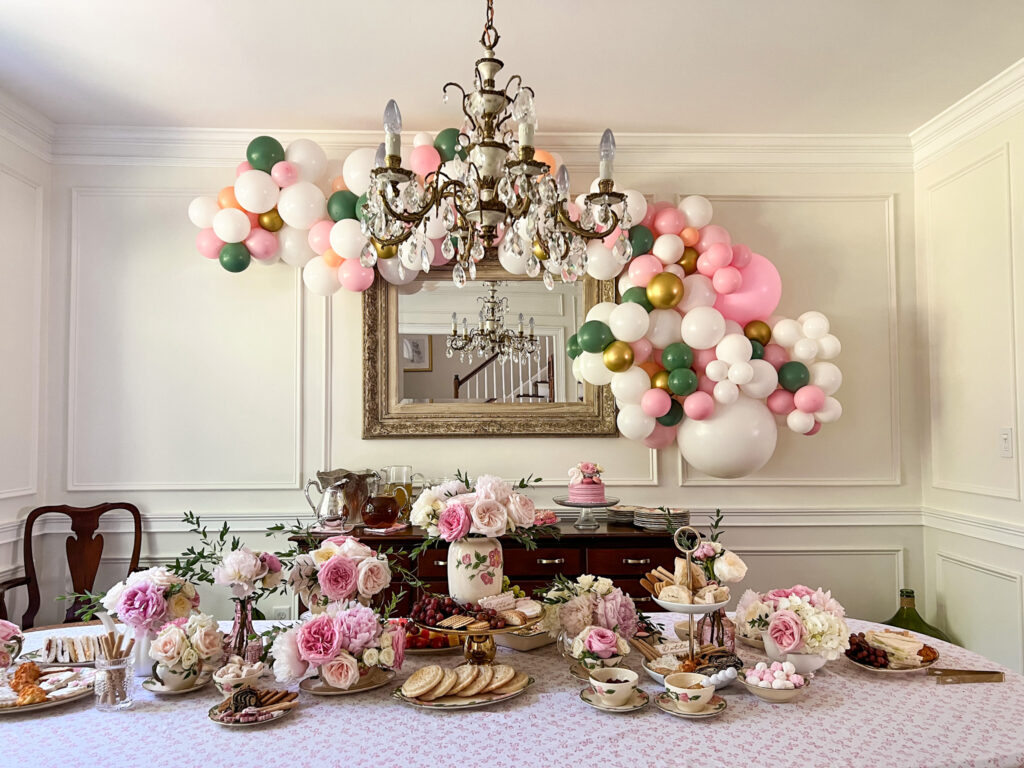 A balloon garland adds the prettiest backdrop for photos and makes any space feel more festive! These balloons are from @darlinggarlands . If you're local to Athens, she will come to your event and set everything up the night before or the day of.
Food & Drink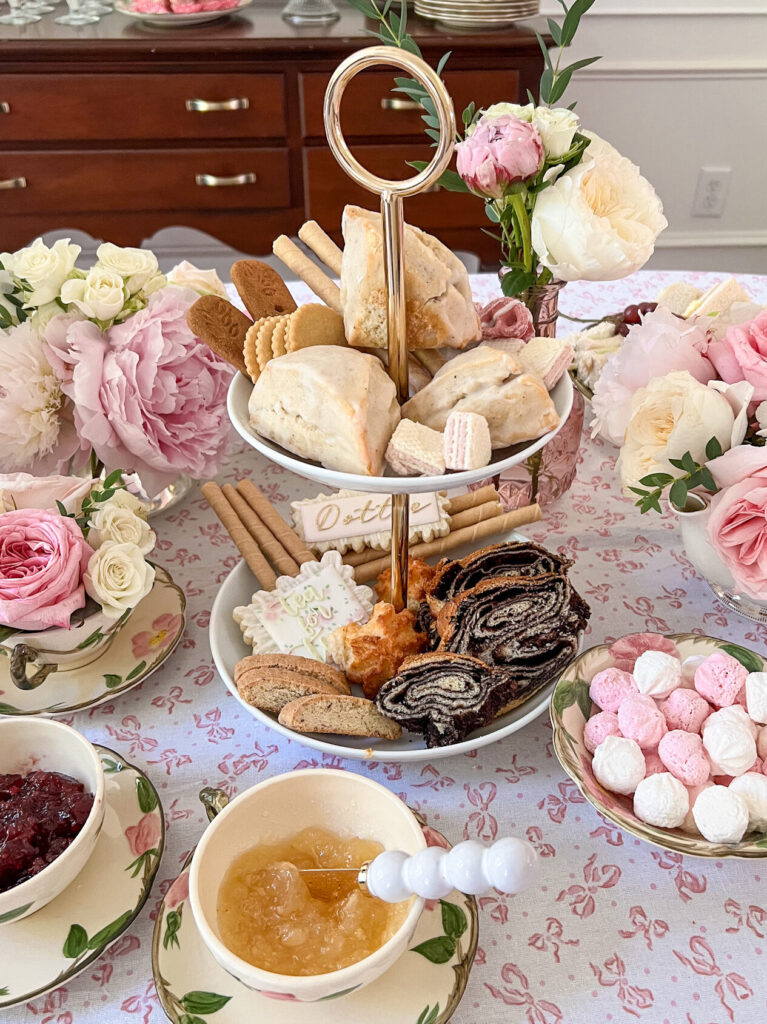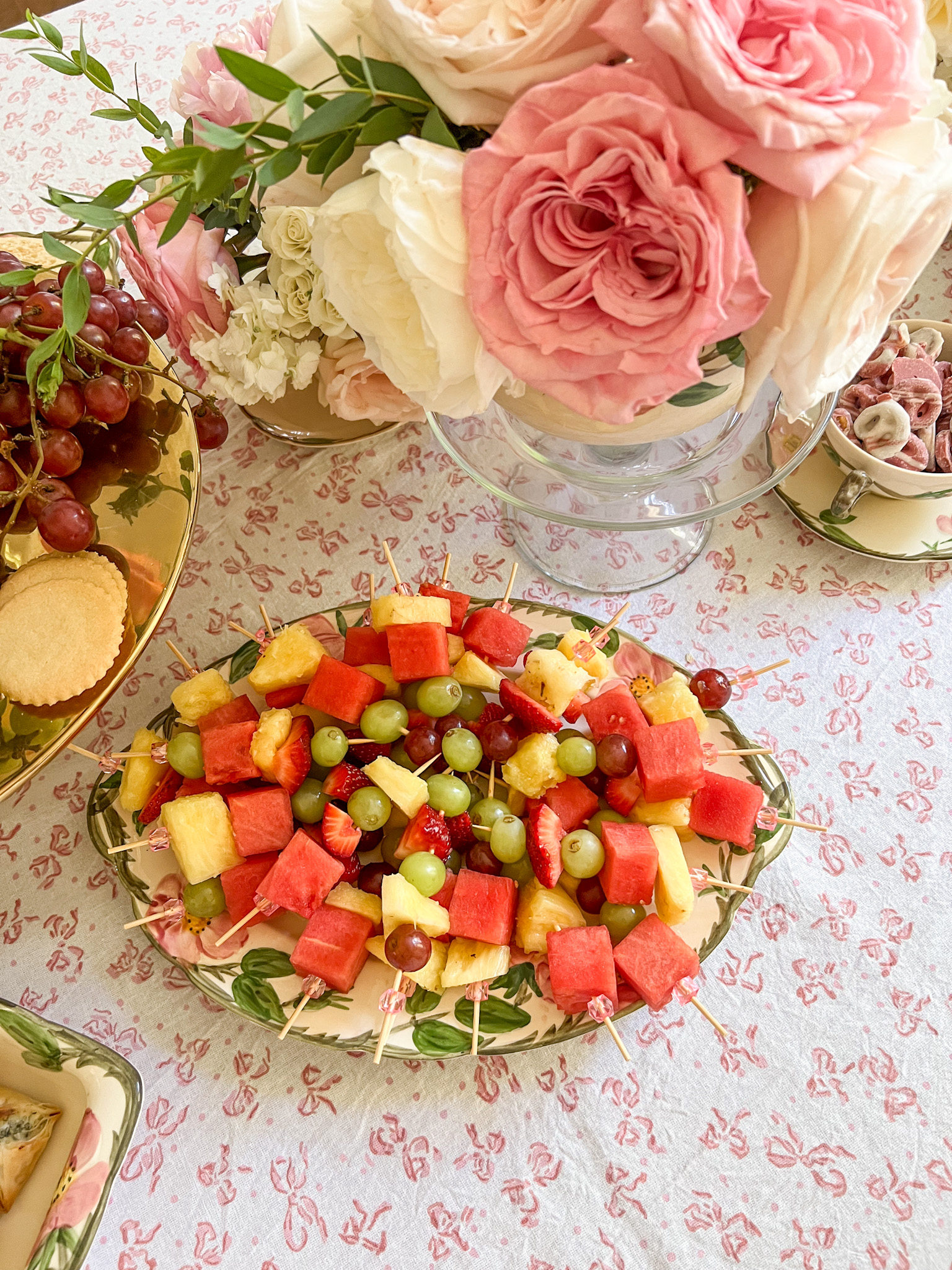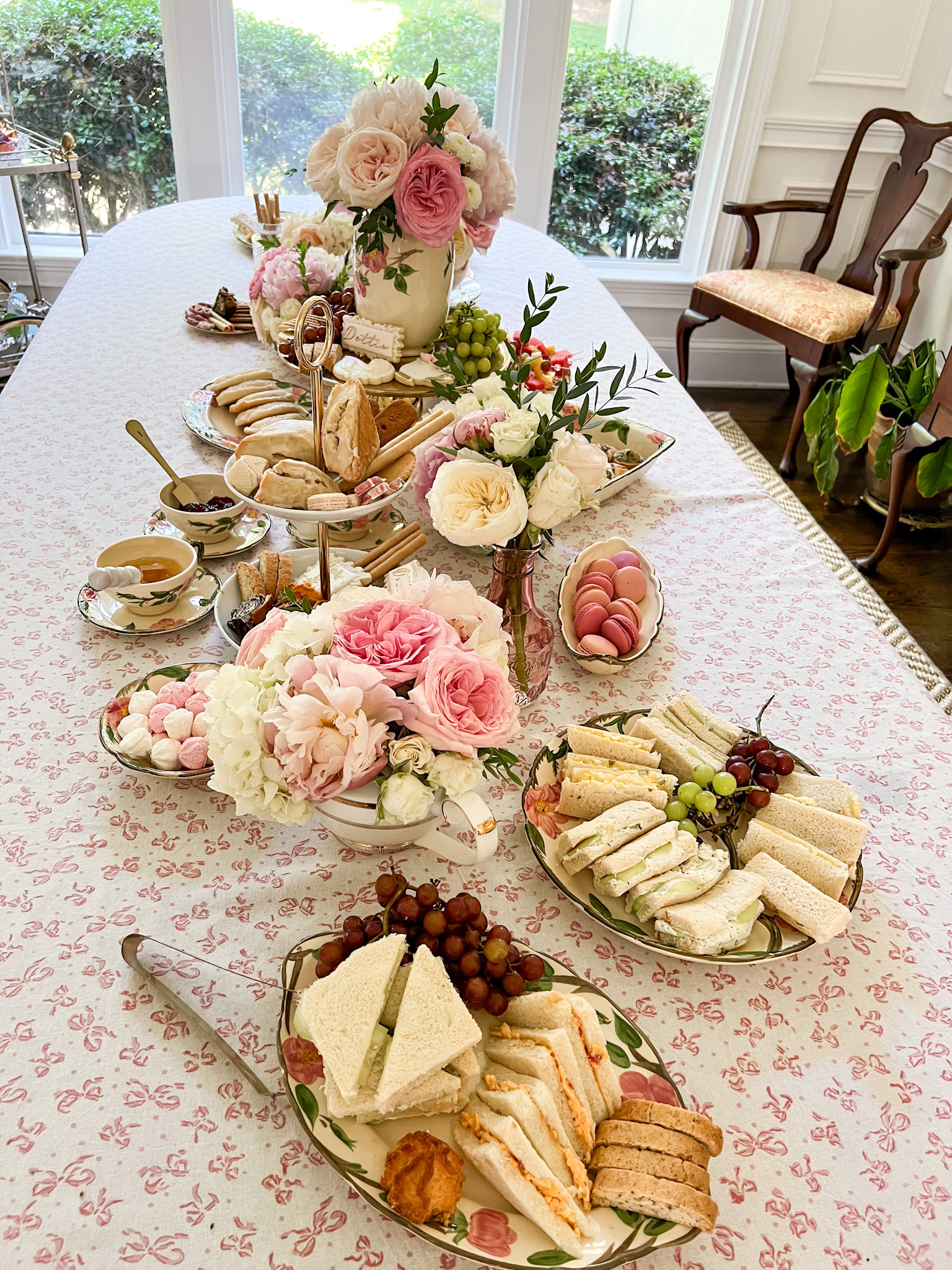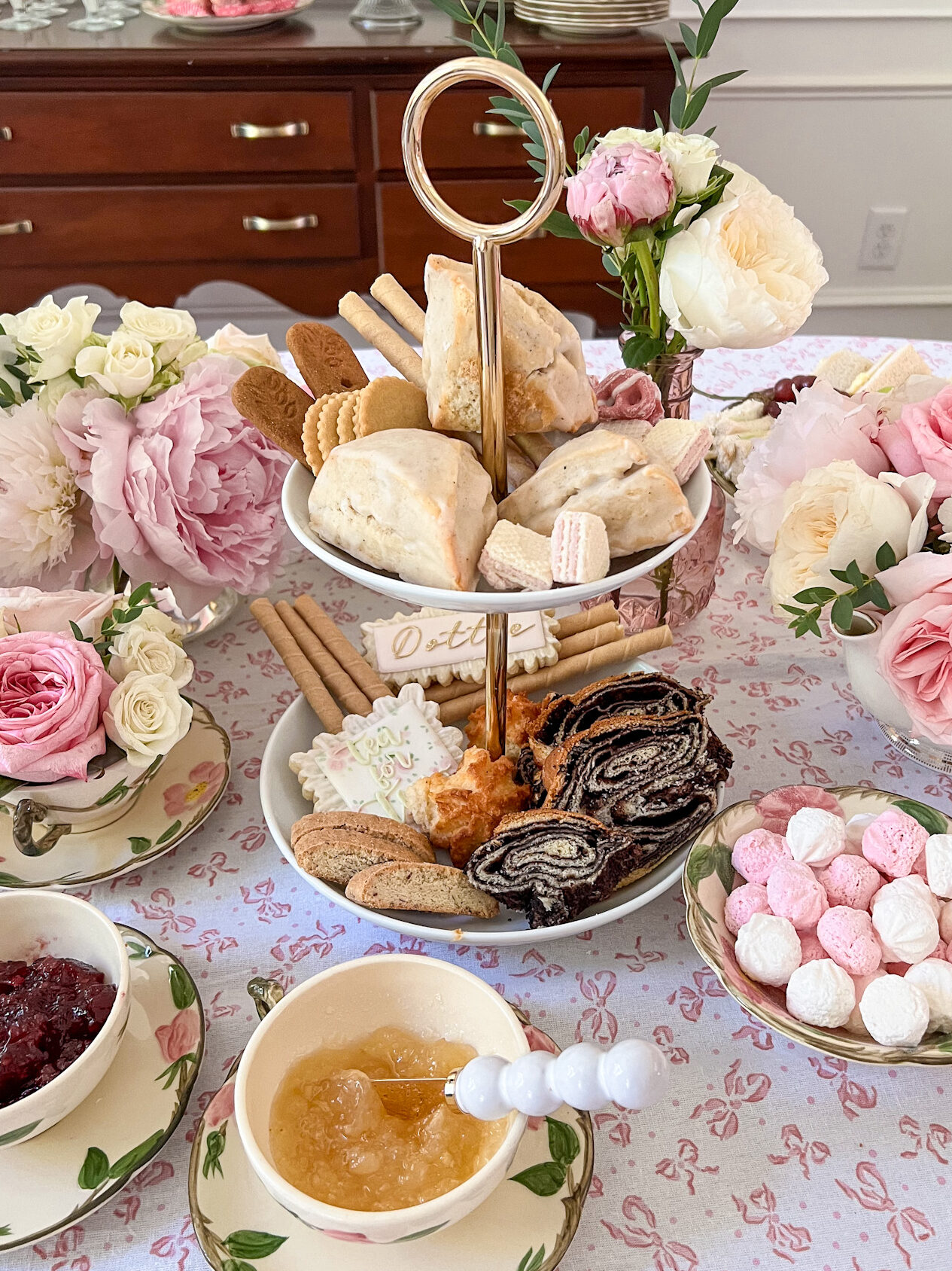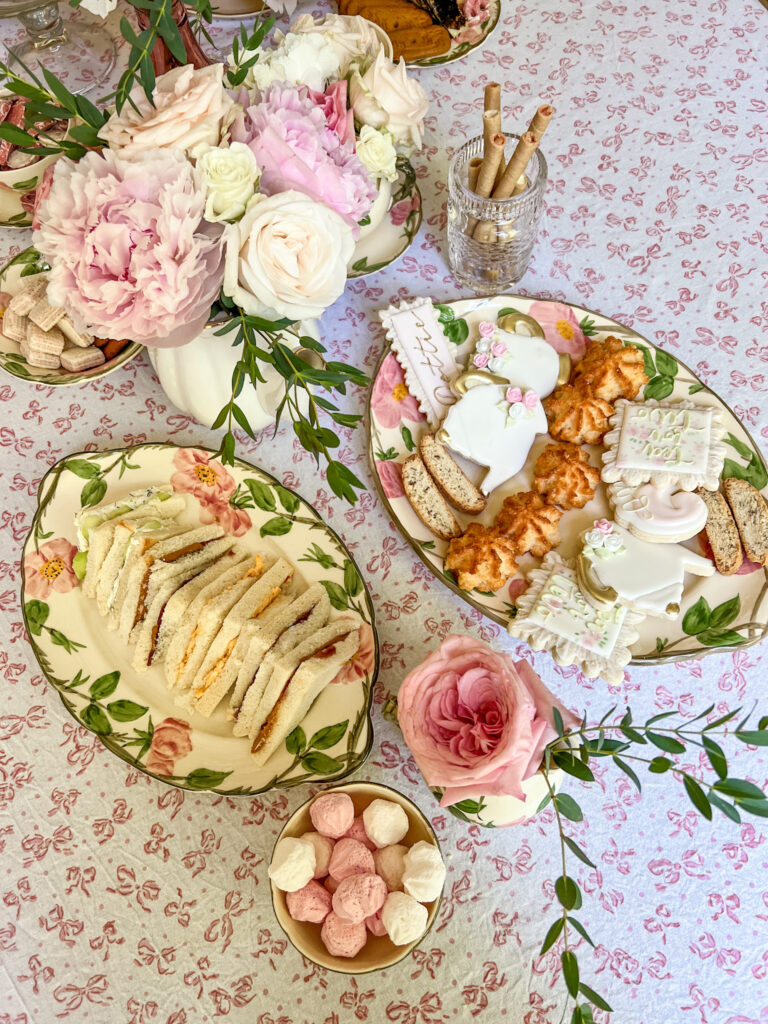 We wanted the space to have the essence of a proper English afternoon tea while being practical enough to feed a crowd of almost 30. Afternoon tea is served traditionally between 3:00 and 5:00 p.m. and is usually accompanied with a variety of crust-less sandwiches, scones, and desserts.
For the sandwiches we opted for chicken salad, egg salad, pimento cheese, and also included some PB&J for the kids 🙂 For the desserts I picked up a variety of scones, sweet treats, pastries, fresh fruit and desserts from my local Trader Joe's. I was delighted to find authentic English crumpets in their bakery section!
When creating a food spread, try to use different sized platters and serving dishes to create visual interest. One tip is to place a platter on top of a cake stand to give it some height!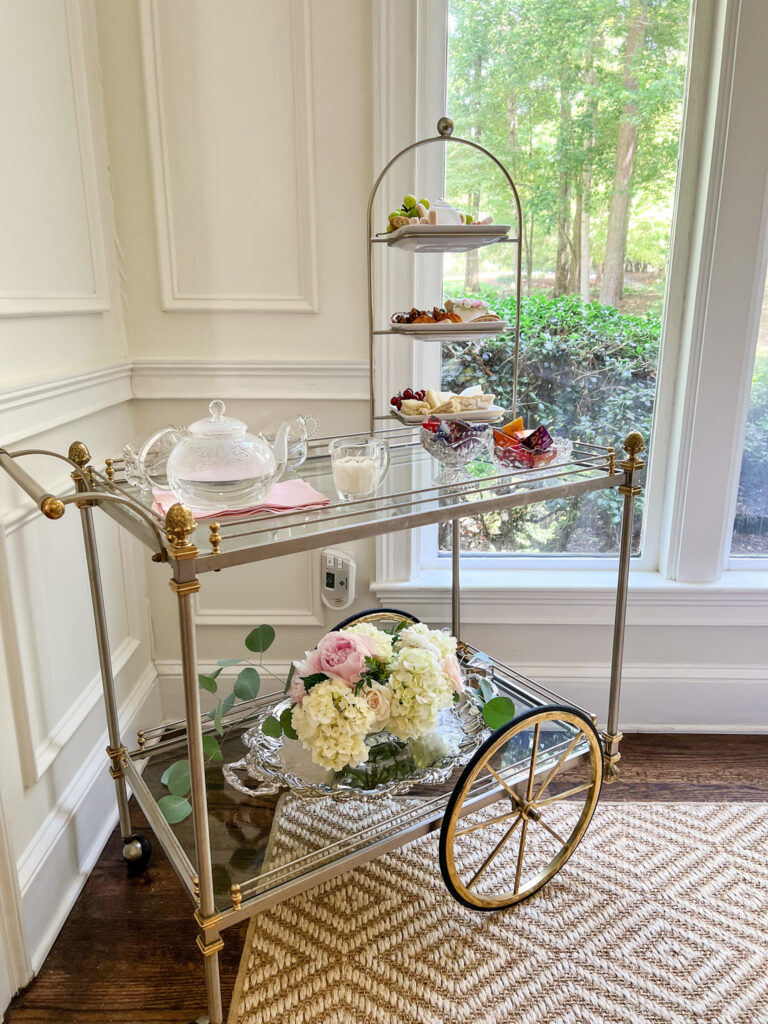 Tea was obviously the main beverage! I set up a hot tea station in my dining room. I found this vintage 1950s tea trolley at an antique store years ago and I love the opportunity to use it any chance I get! We set out a variety of herbal teas along with a pot of hot water, plenty of tea cups, sugar cubes, and milk. On the buffet I set out some ice tea and water with lemon.
To see a video of the table setup, click here.
Cake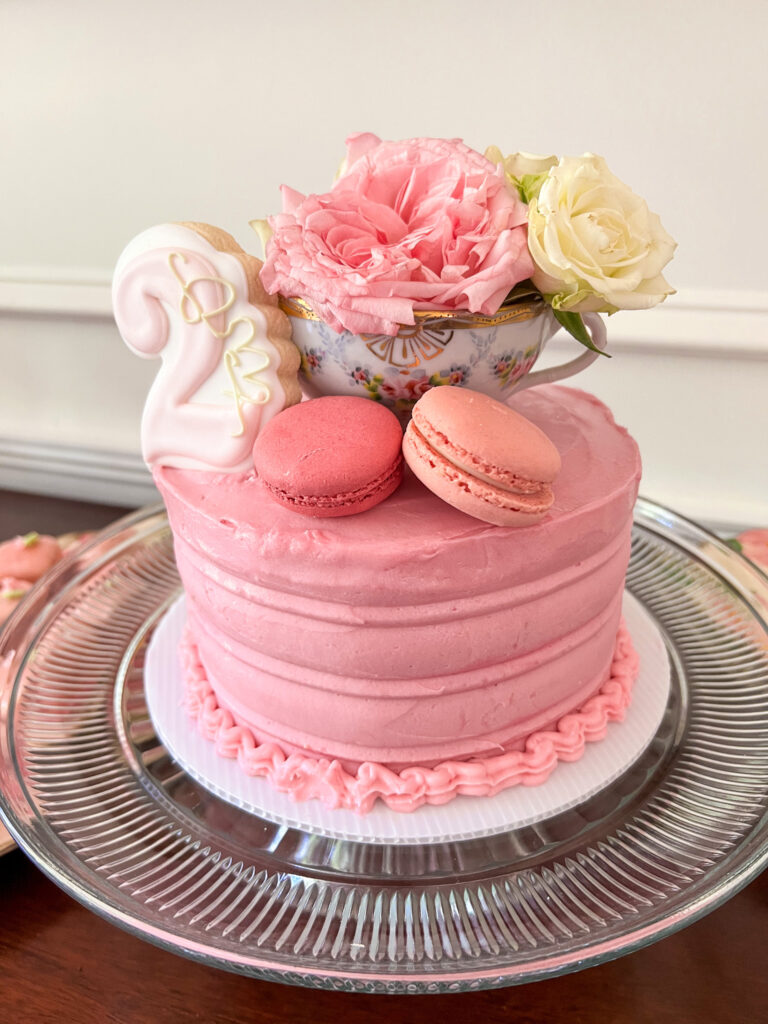 Using a real vintage teacup as a cake topper is a brilliant way to tie in the theme without being cheesy. My mother-in-law made the cake and we filled the cup with florals and topped with macaroons & a custom cookie to finish the look.
Invitation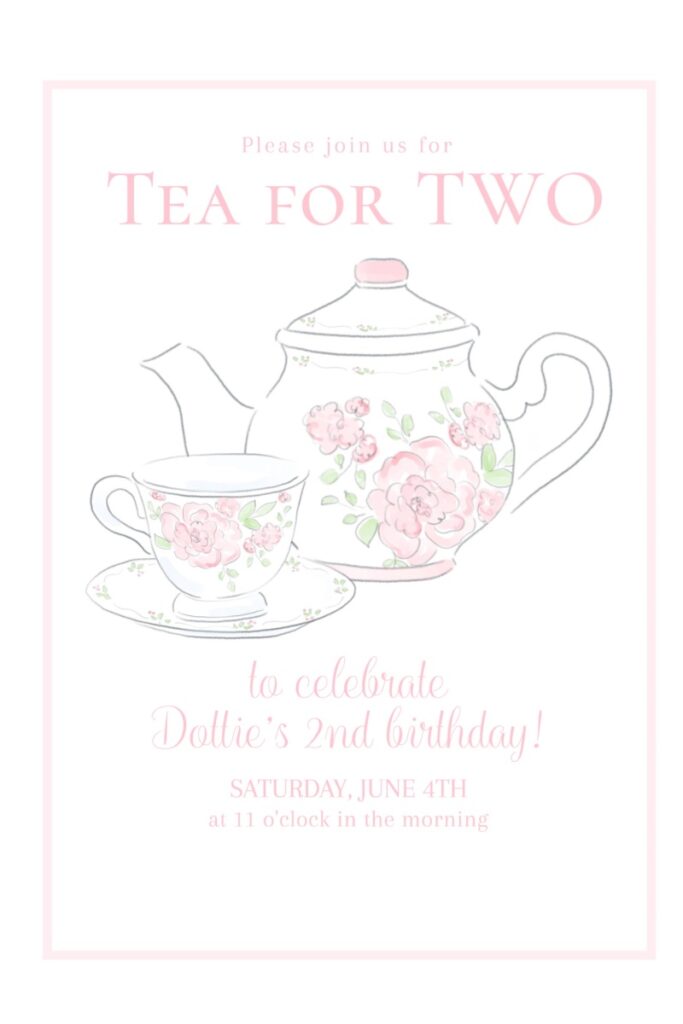 I found these sweet invites on Etsy. They also had thank you note tags for gift bags and a welcome sign.
Our Day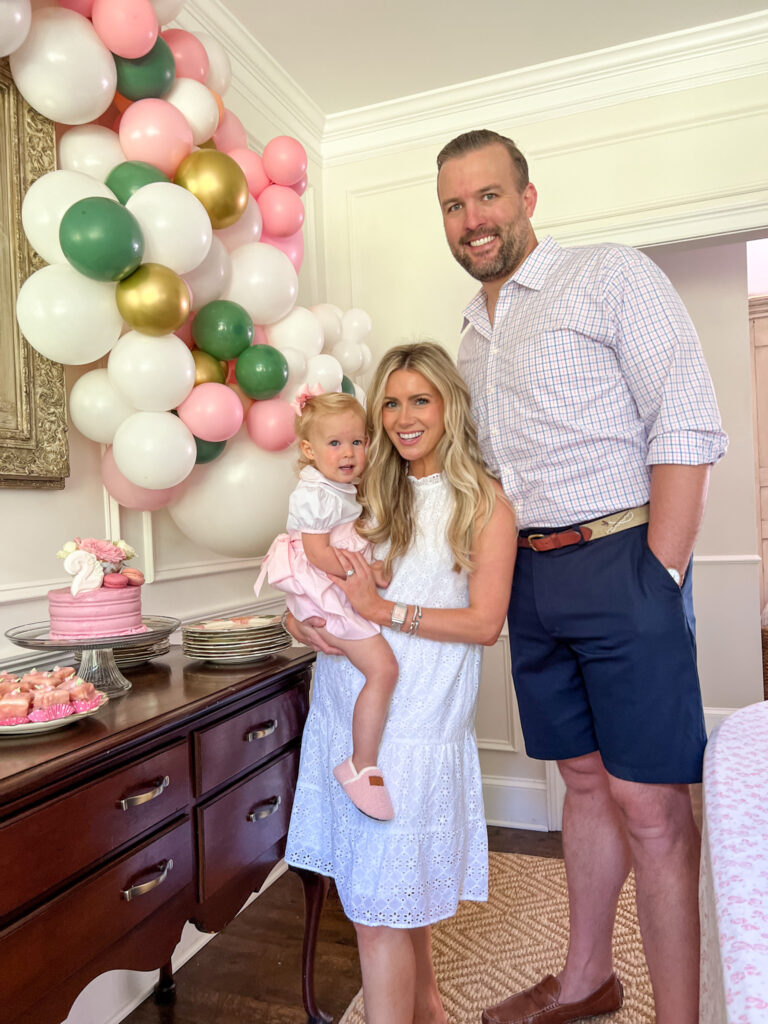 Dottie had the best day with her family! We had a small, family only party and it was so nice to get everyone together to celebrate our best girl. She loved admiring all the tea cups and playing with her cousins.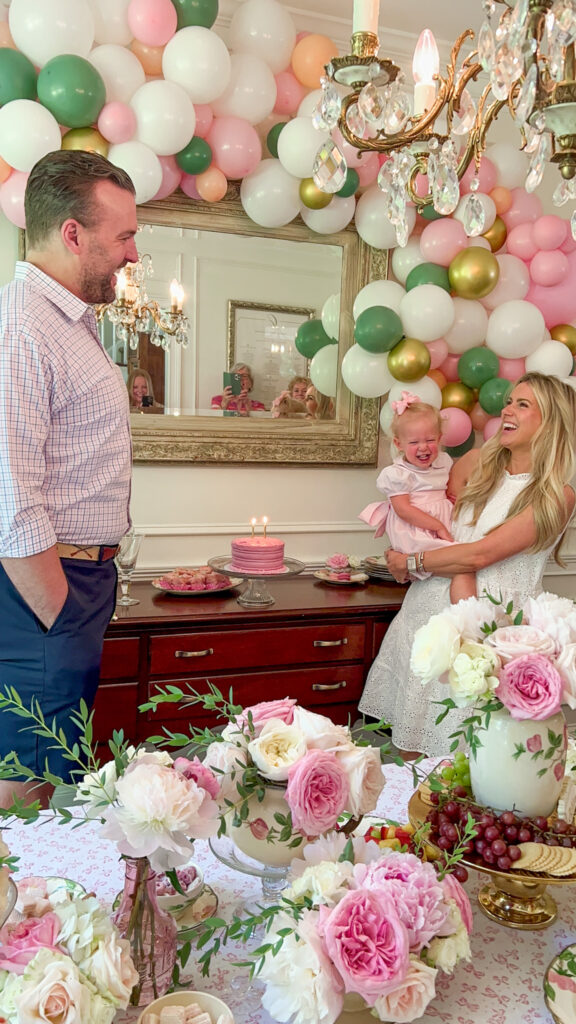 The picture above was taken when we sung Happy Birthday. I wish I could re-live this exact moment over and over. Dottie absolutely BEAMED when everyone sung to her. There were about 25-30 people in attendance so I assumed she would be shy or nervous when the singing began but she completely lit up and was smiling ear to ear! It was the most precious moment that I will forever cherish.
I'm so grateful we were able to catch the moment on video as well. You can watch this exact moment here.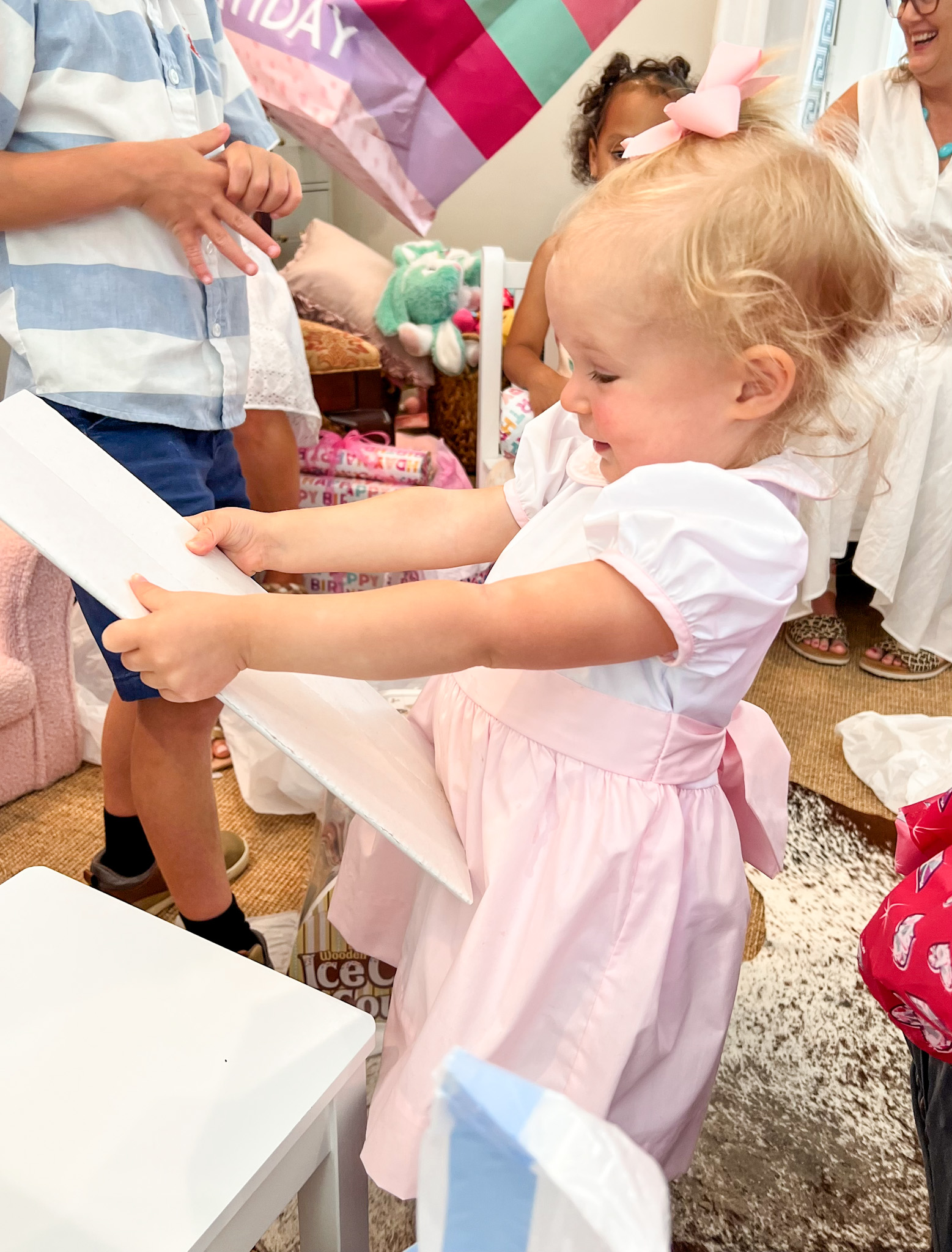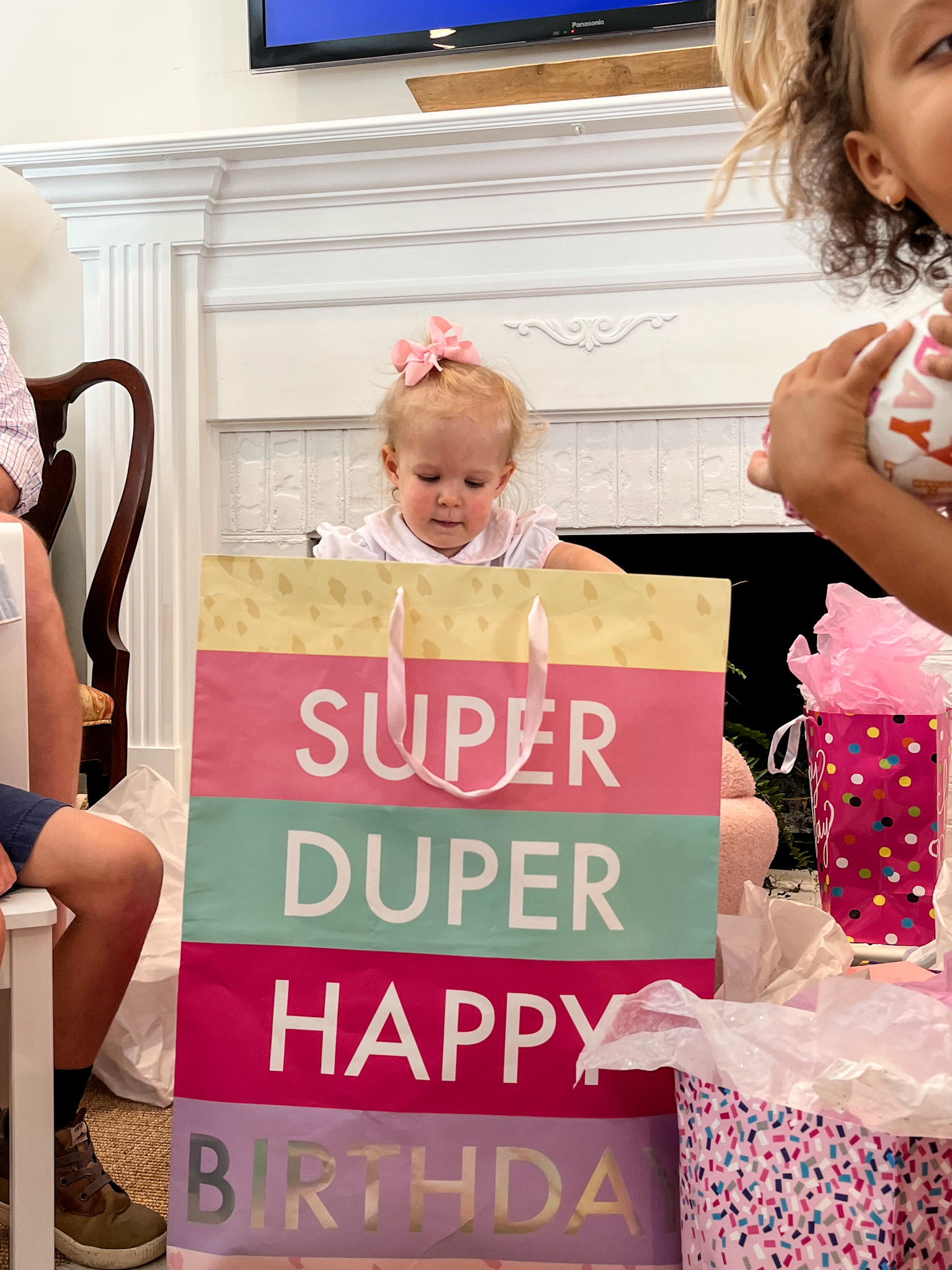 She had the best time opening presents and eating her cake! If you want to see a recap of the fun things we did on her actual birthday, check out this video.
Shop The Post

The tablecloth is from Mrs. Alice. The china was passed down to me from my Great Grandma Bond. You can still find it in many antique stores today and a lot of Etsy shops carry it as well, the pattern is called Desert Rose.
I hope you feel inspired to host your next tea party! For more party ideas, check out Dottie's first birthday party here and tips for hosting a Halloween party here.
Thanks so much for reading about Dottie's Tea for Two Birthday Party! Let me know what you think in the comments below or over on instagram @lo_chandler.
Xo – Lo