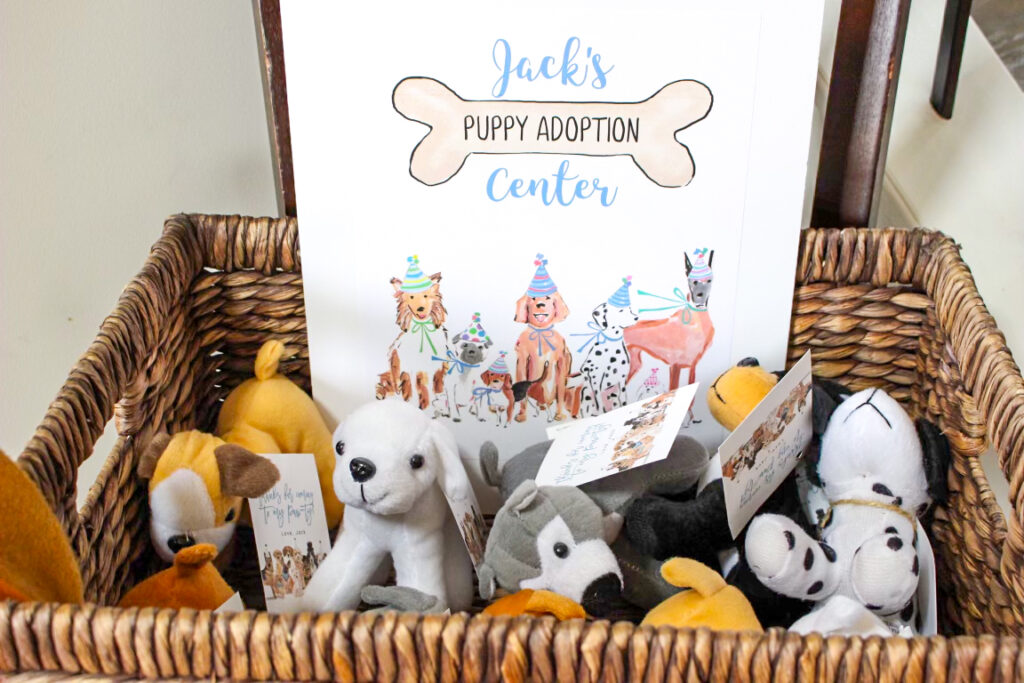 If you toddler's birthday is coming up, I have found some of the cutest toddler birthday party themes for boys! From the safari to a playful wolves' den, I'm sure you'll fine the perfect party for your toddler. Keep reading for decor, set ups, and activities! I will be linking most items so you have a one stop shop that will get you started.
Wolf Den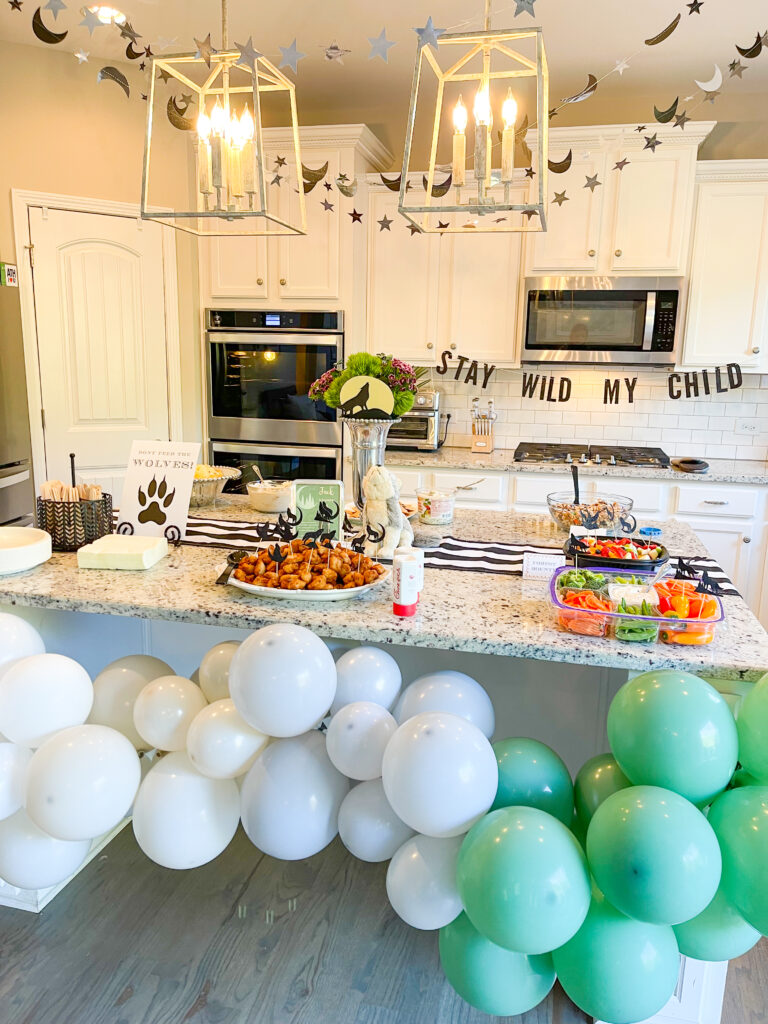 First, we have a wolf den! This theme is great for an older boy maybe turning 4 or 5 and looks so good once set up. A good color scheme to follow is forest greens and deep blues to really make guests feel the wilderness vibe of the party. Also incorporating moons and stars will add even more of an effect.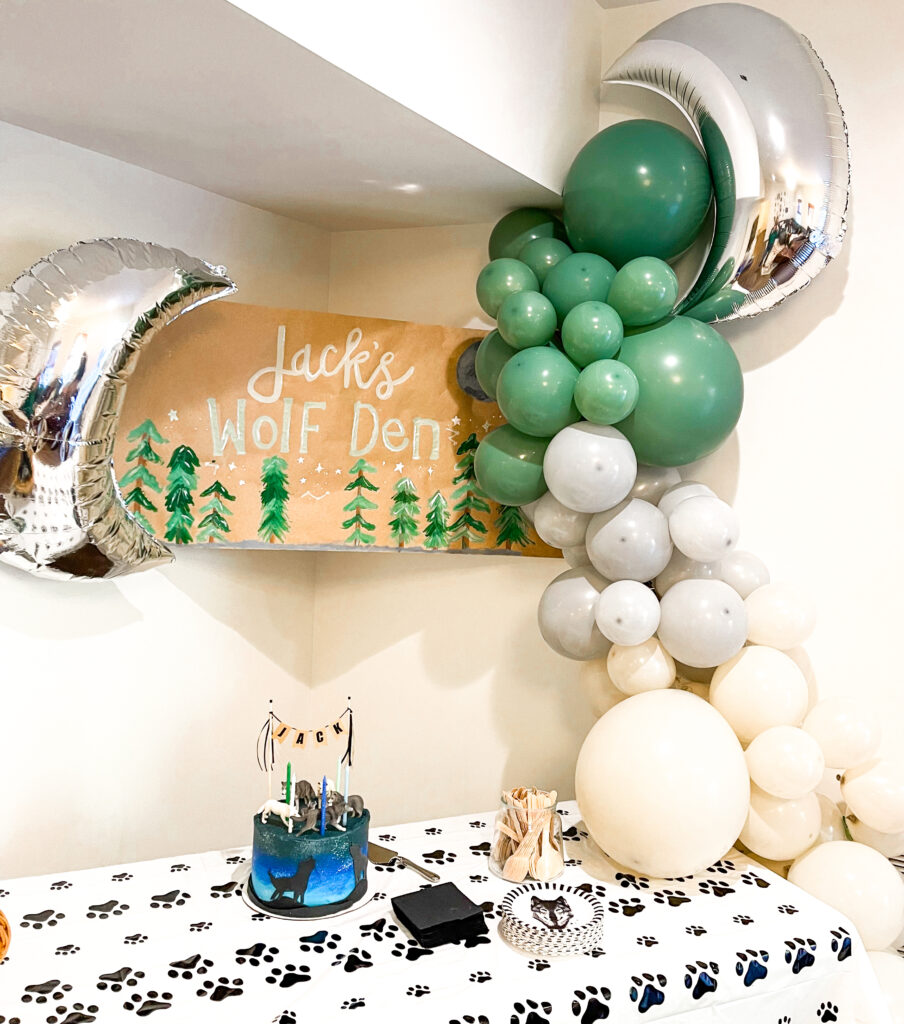 This wold den party put on by @classiccityglow had every detail perfect! From the cutest cake toppers and monogrammed shirts for the birthday boy, her party is a great inspiration point if you want to throw your own wolf den party.
Shop wolf den party: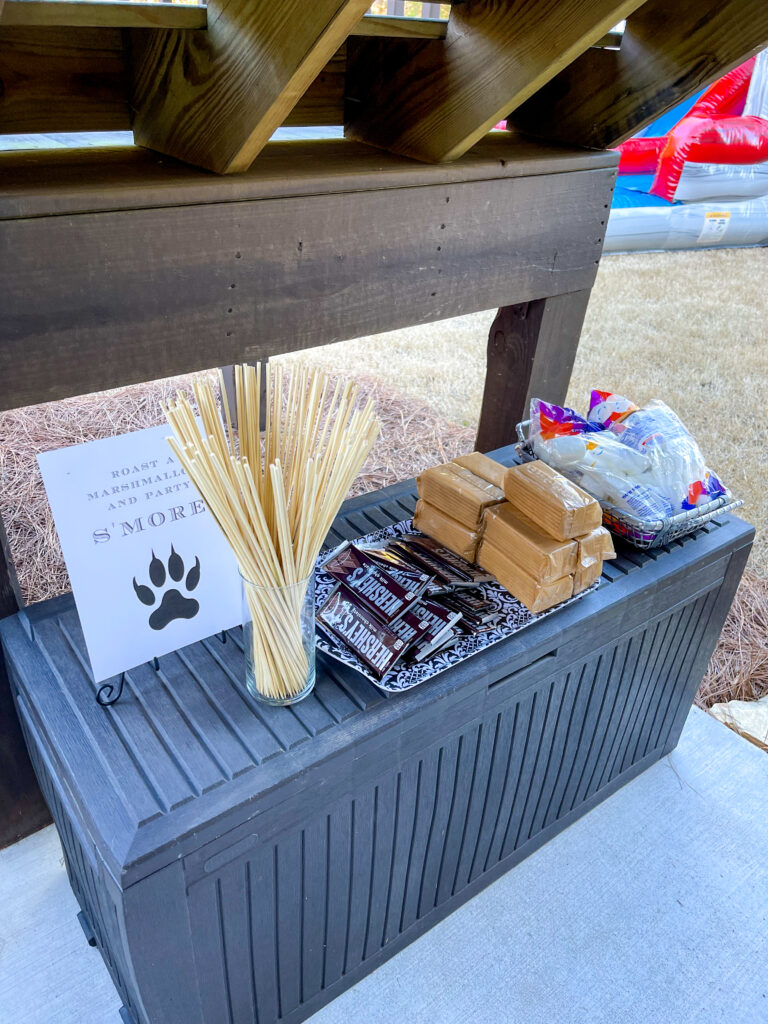 photos by Classic City Glow
Dinosaurs for turning four or Three-rex
Another theme good for a 3rd, 4th or 5th birthday! I love a "three-rex" theme for a 3 year old. There's so many color schemes to choose from and @classicctyglow did a wonderful job working with greens and blues with tiny pops of color throughout. The dinosaur cups are some of the cutest party cups!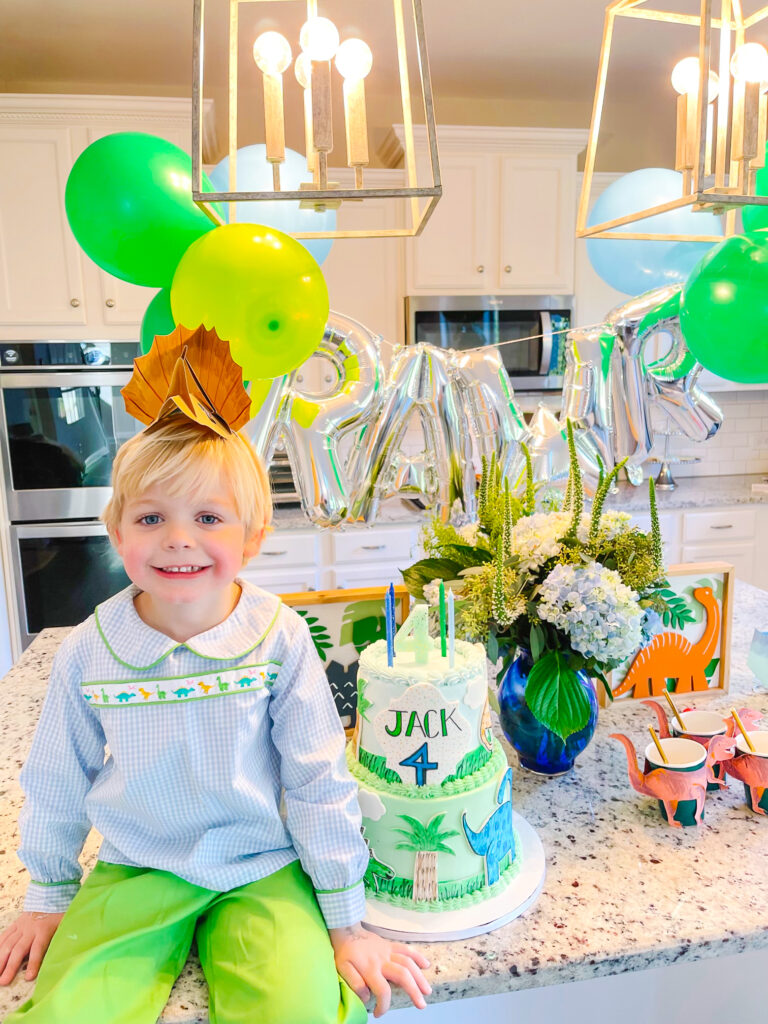 Shop Dinosaur party:
Some fun party activities for this theme are face painting along with a bounce-house.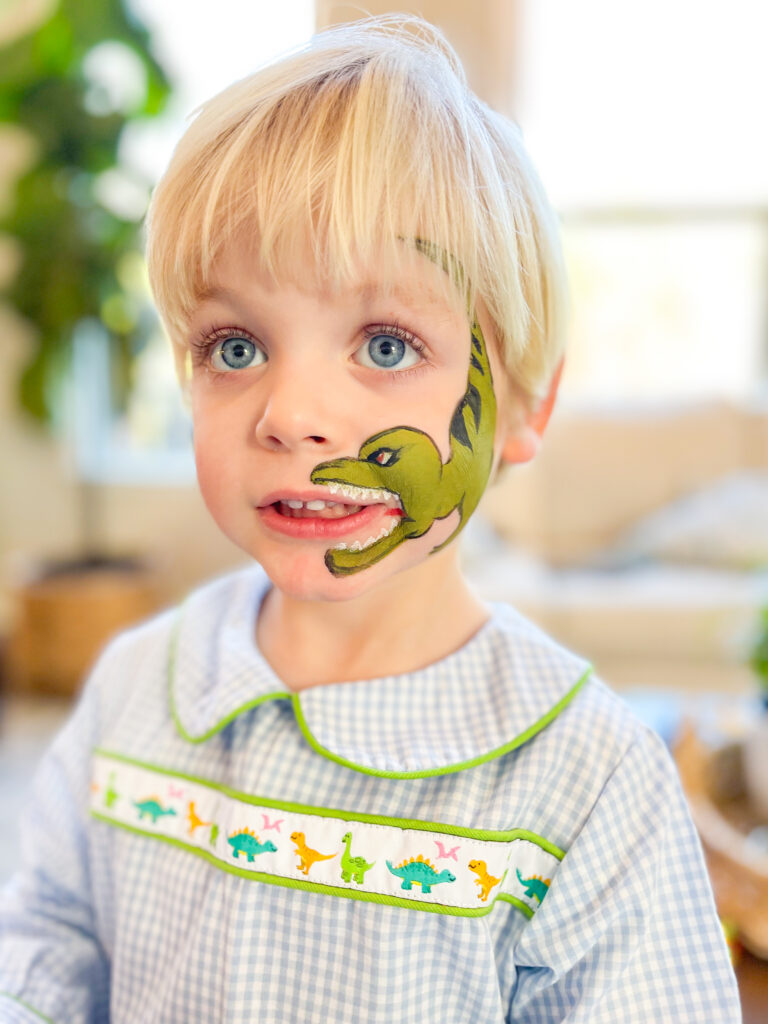 photos by Classic City Glow
Let's Pawty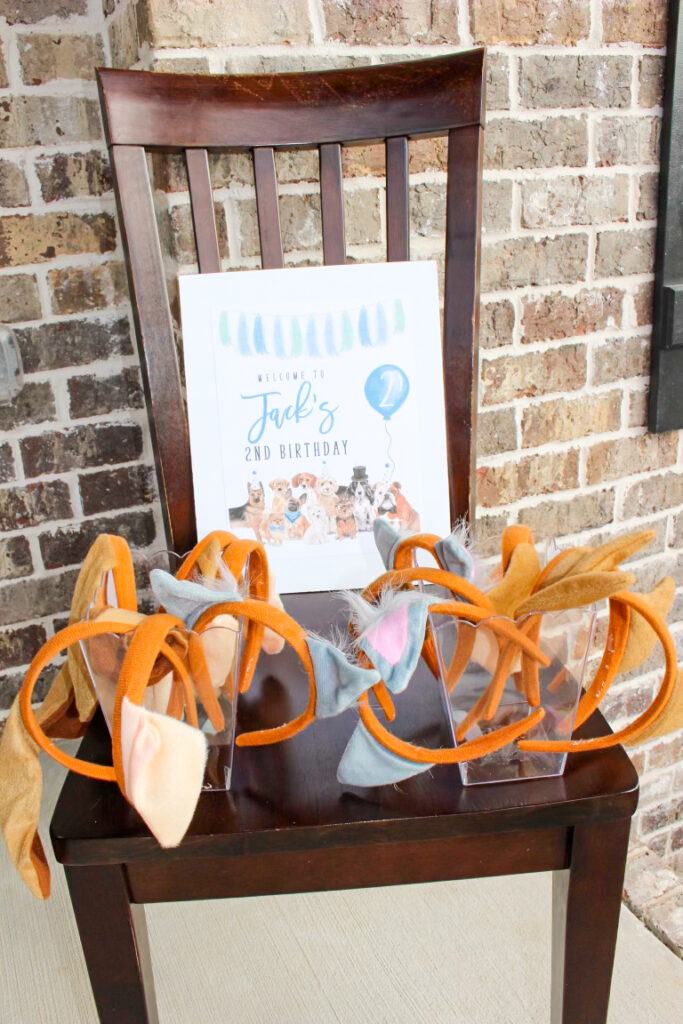 A puppy paw-ty is great for a one, two, or three year old toddler so pick up some dog ears and everything paw printed for an adorable set up. I love this black and white with hints of blues for the main colors – I think it's classic and perfect for a toddler birthday!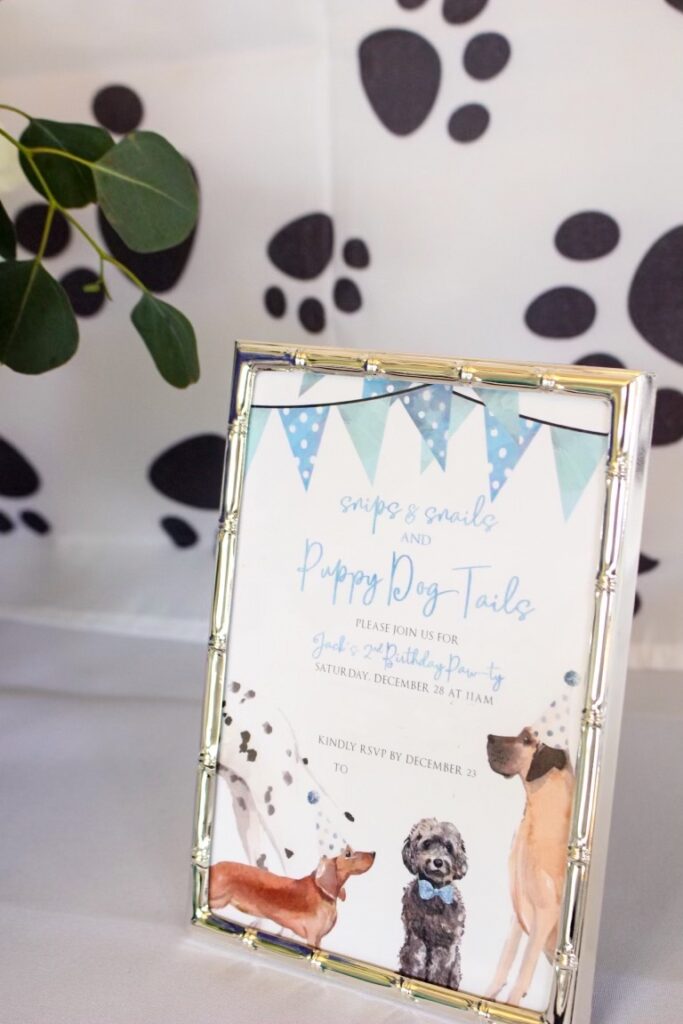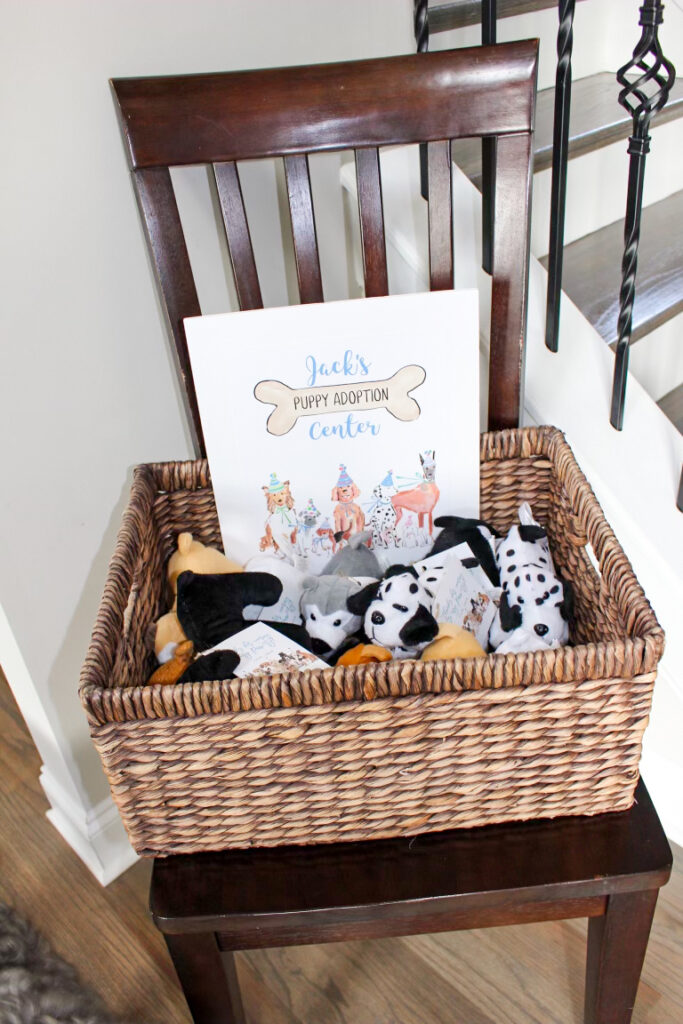 Shop Let's Pawty: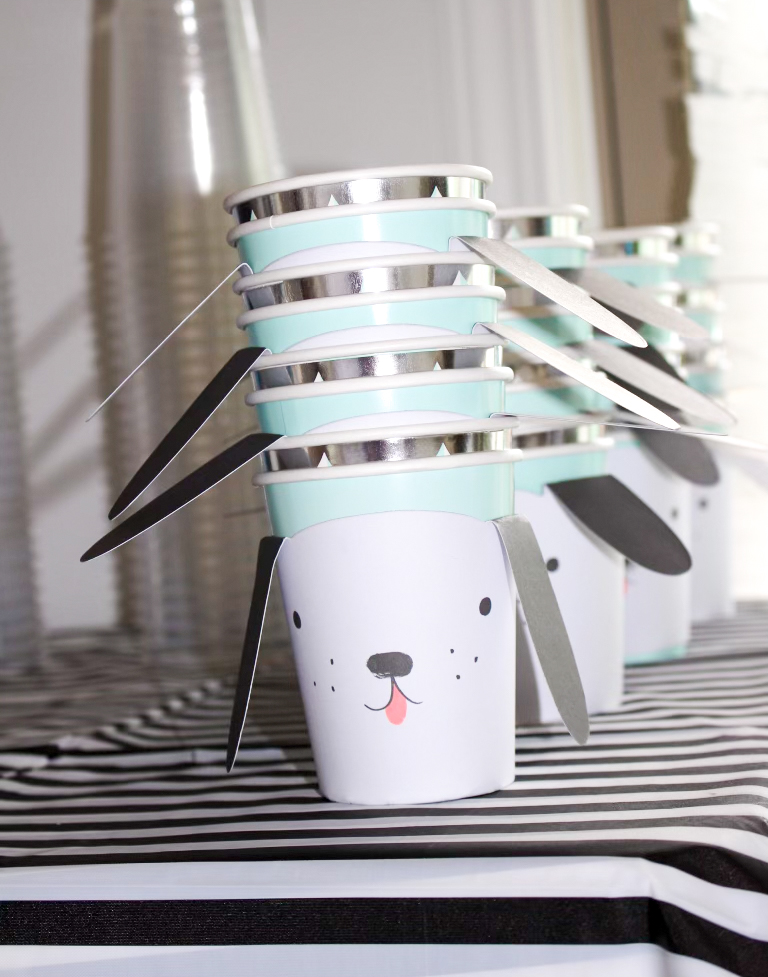 photos by Classic City Glow
Racecar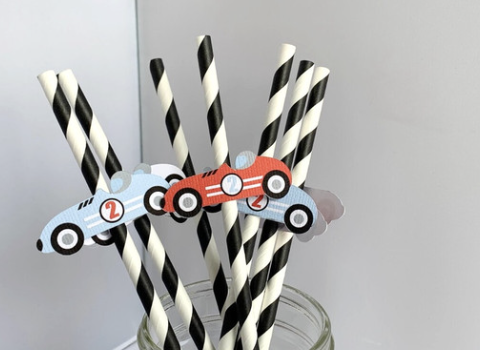 If it's time to celebrate another victory lap, then a racecar themed party is good for any age toddler! It will definitely be a fun party for younger guests and is a great theme for games.
Shop Racecar Party: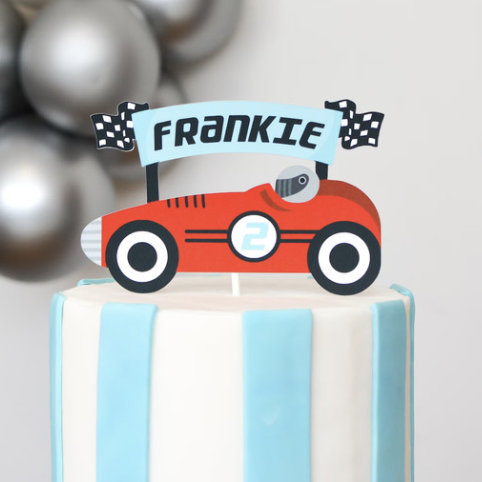 Wild & Three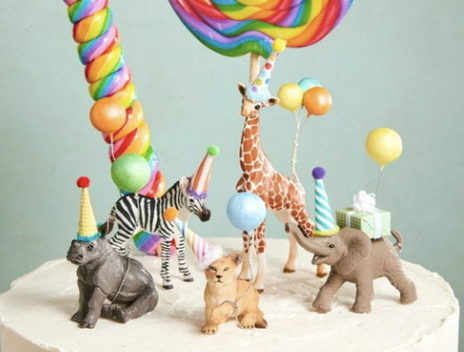 A safari/wild themed birthday party is another theme that works for a lot of ages. You could have a wild one, two wild, or wild & three party, or celebrate your party animal! I found the cutest cake toppers and fun party decor.
Shop Safari Party: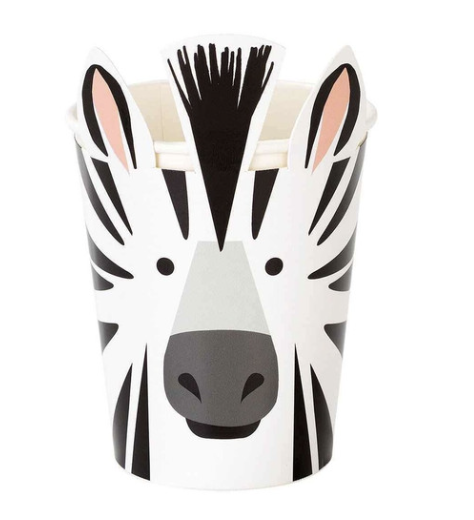 Out of this world
Celebrating another trip another the sun call for an out of this world party! Shop these amazing cake toppers from SouthLakeDesigns and other decor below!
Shop out of this world: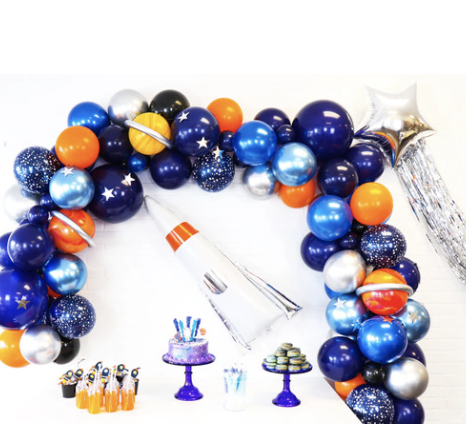 photos from BlushBalloonParty and SouthLakeDesigns on Etsy
day on the farm
Who doesn't love spending a day on the farm for their birthday? I found the cutest party goods from MeriMeri on Etsy and other decor.
shop day on the farm: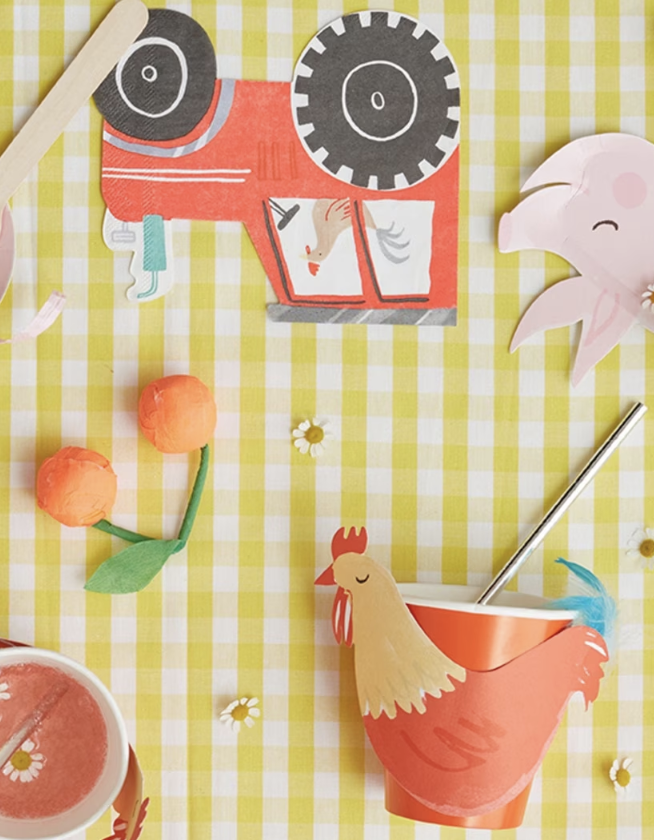 photos from Merimeriinc on Etsy
Choo Choo for two
All aboard! A train theme or "choo choo for two" party is good for all ages and has some of the cuter decorations across themes.
Shop Choo choo for two: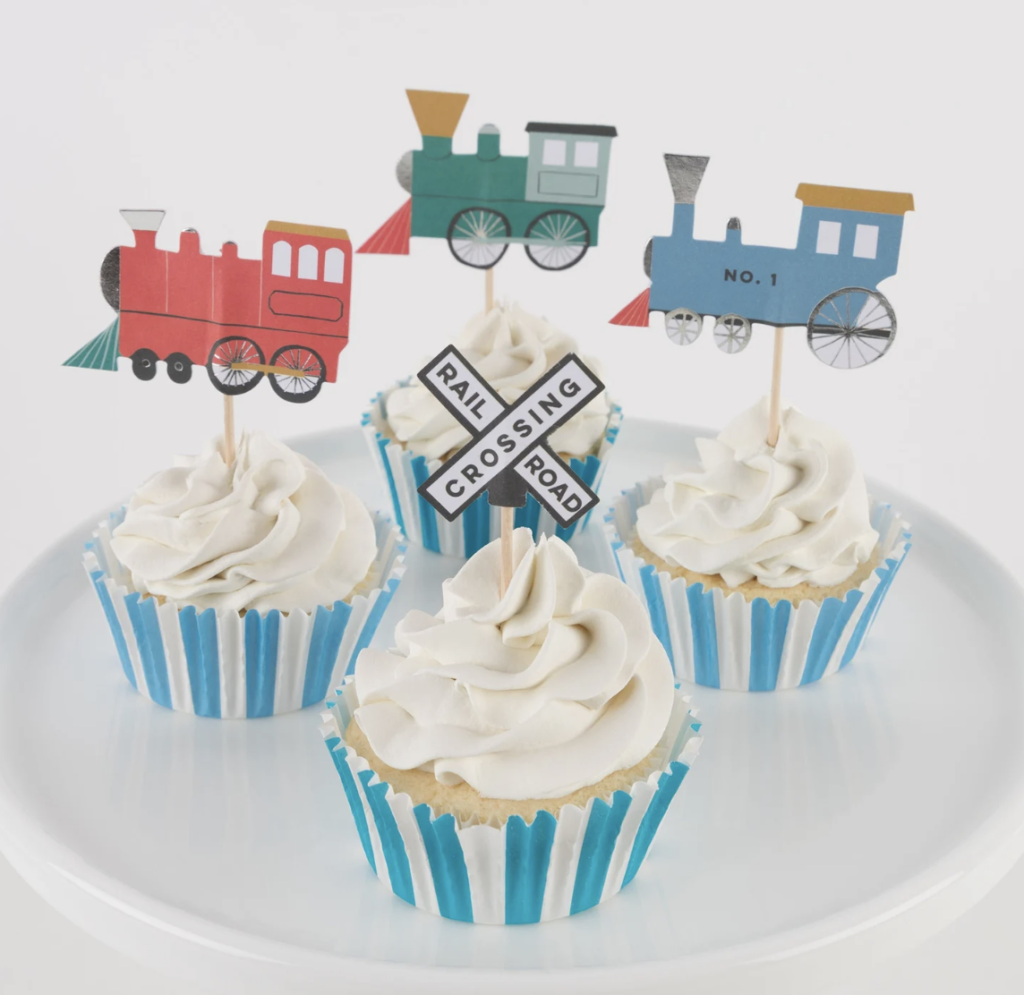 photos from Merimeriinc on Etsy
superhero
It's time to throw a super party for your very own superhero! This amazing comic themed balloon arch from BlushBalloonParty is a good jumping off point for your next party.
Shop Superhero Party: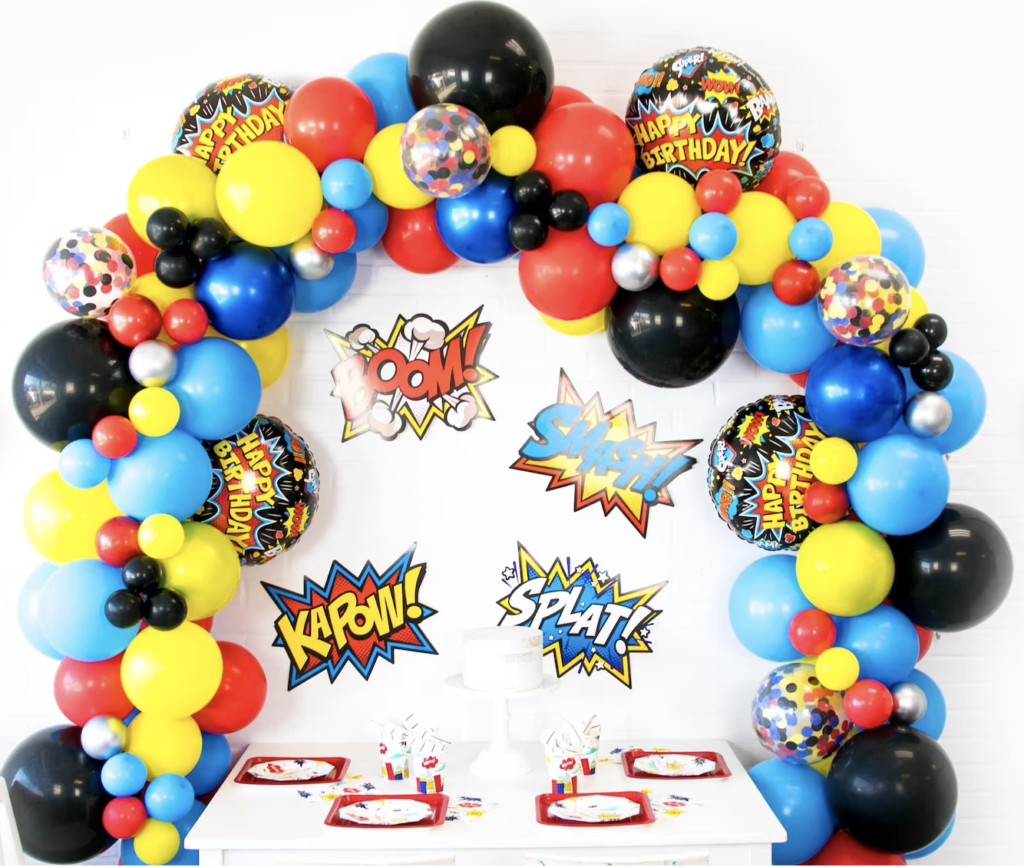 photo from BlushBalloonParty on Etsy
pirate
Ahoy matey! This theme might be better for an older boy but everyone can find the hidden treasure with this party theme!
Shop Pirate Party: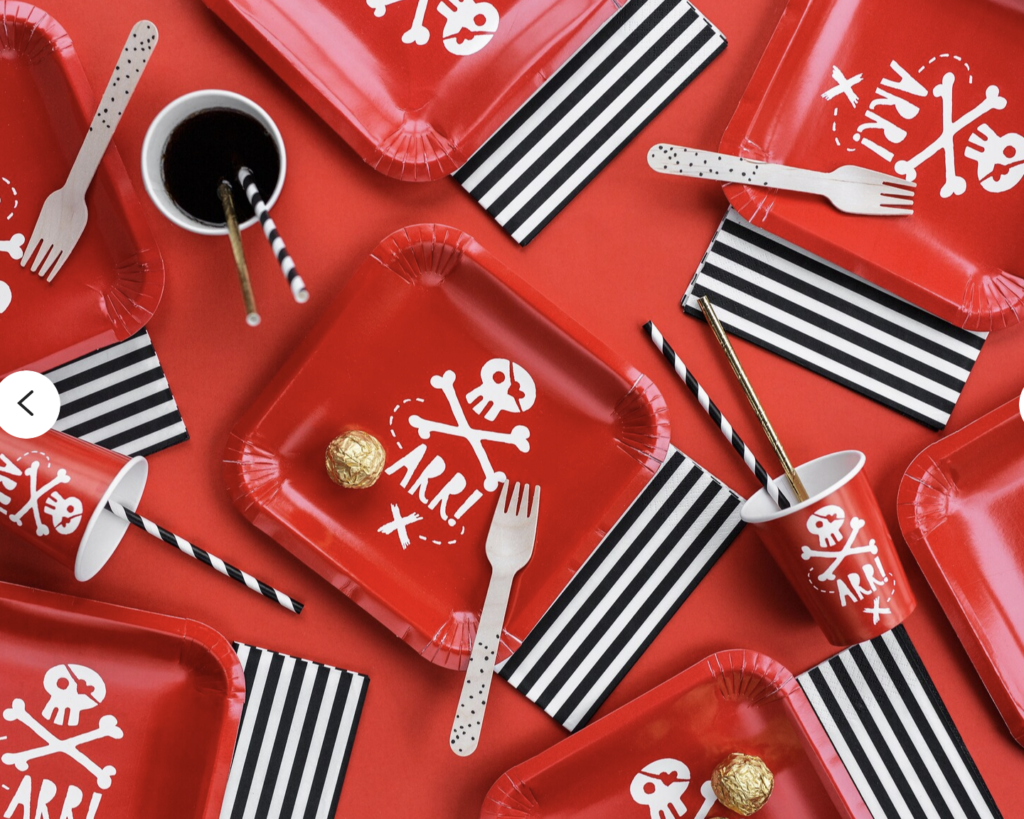 photos from BlushBalloonParty and VooMia on Etsy
If you need more birthday party ideas, then check out these birthday party themes for girls along with these first birthday party themes for boys. Also, make sure to comment below and follow @lo_chandler on Instagram for more seasonal content and tips.
Thanks for reading!
Xo -Lo