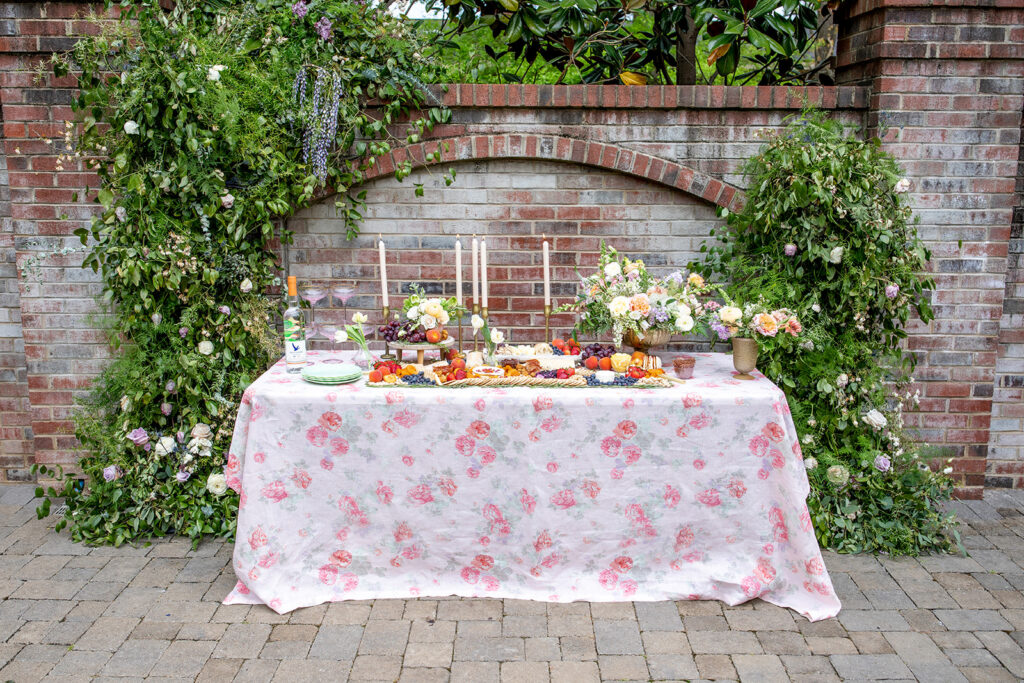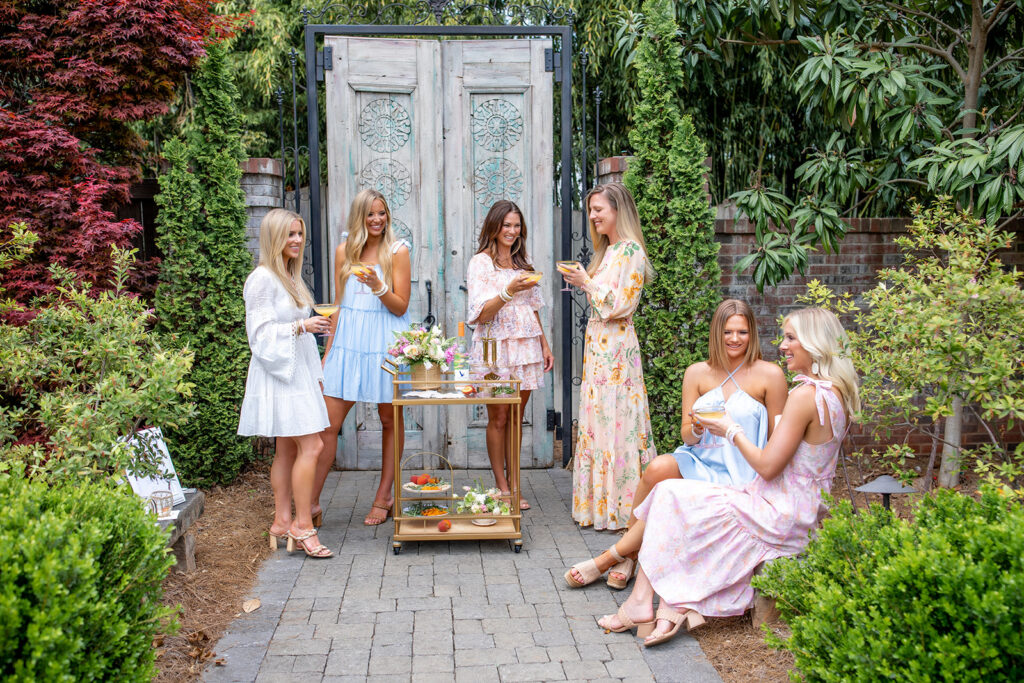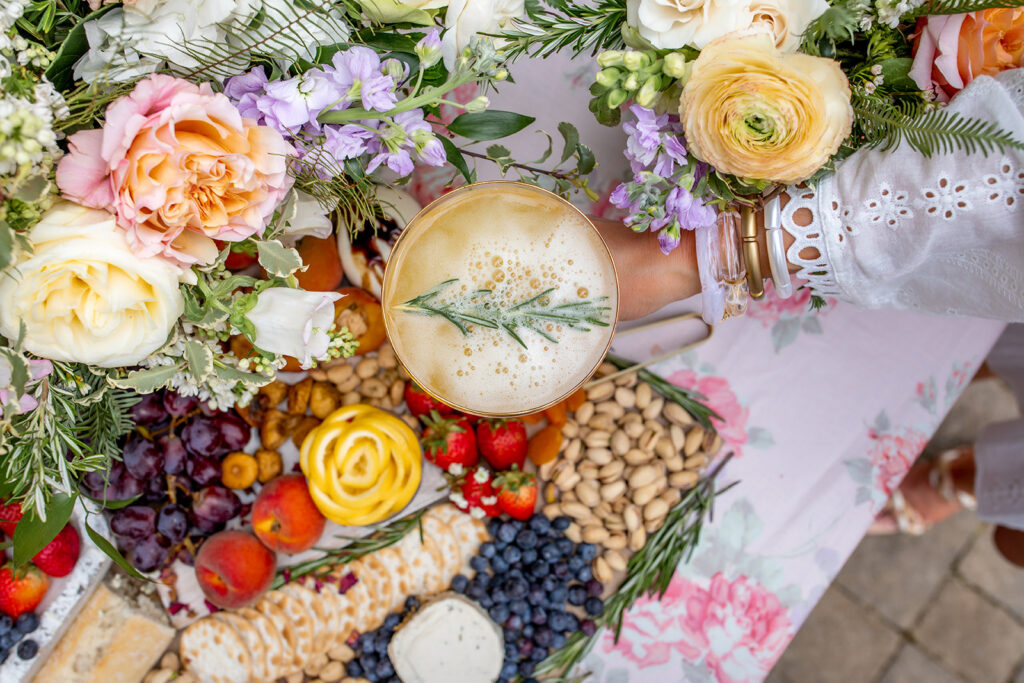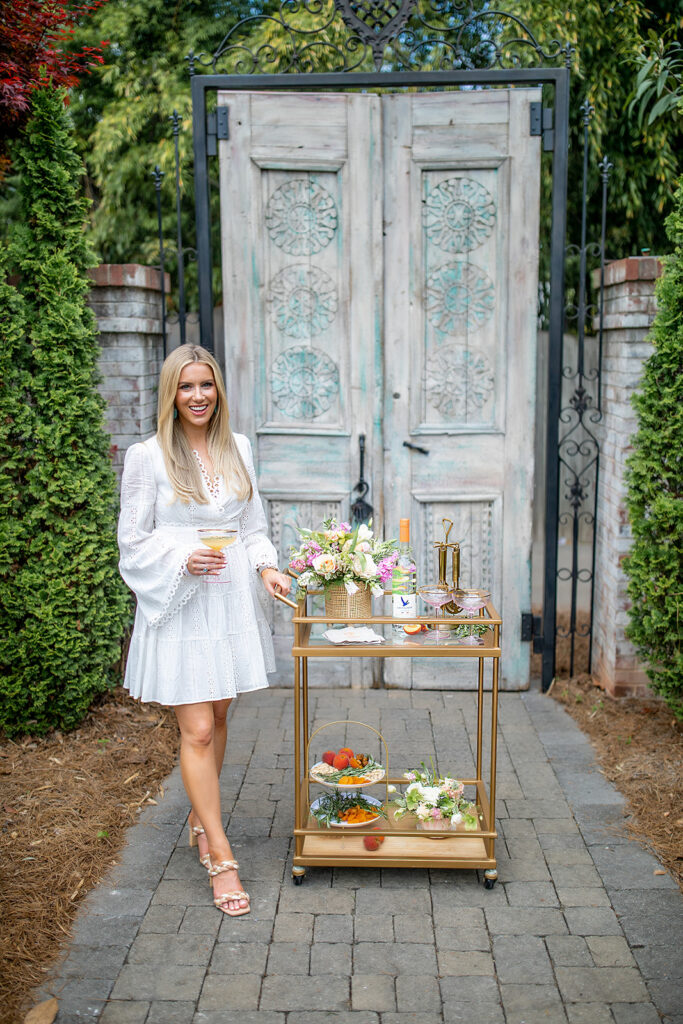 dress linked here
Garden Parties are the perfect excuse to dress up and gather all your girlfriends together for an afternoon! It would also be a great theme for a bridal shower, wedding event, or even a birthday party. If you're thinking about planning one of your own, below are my top tips for hosting a garden party.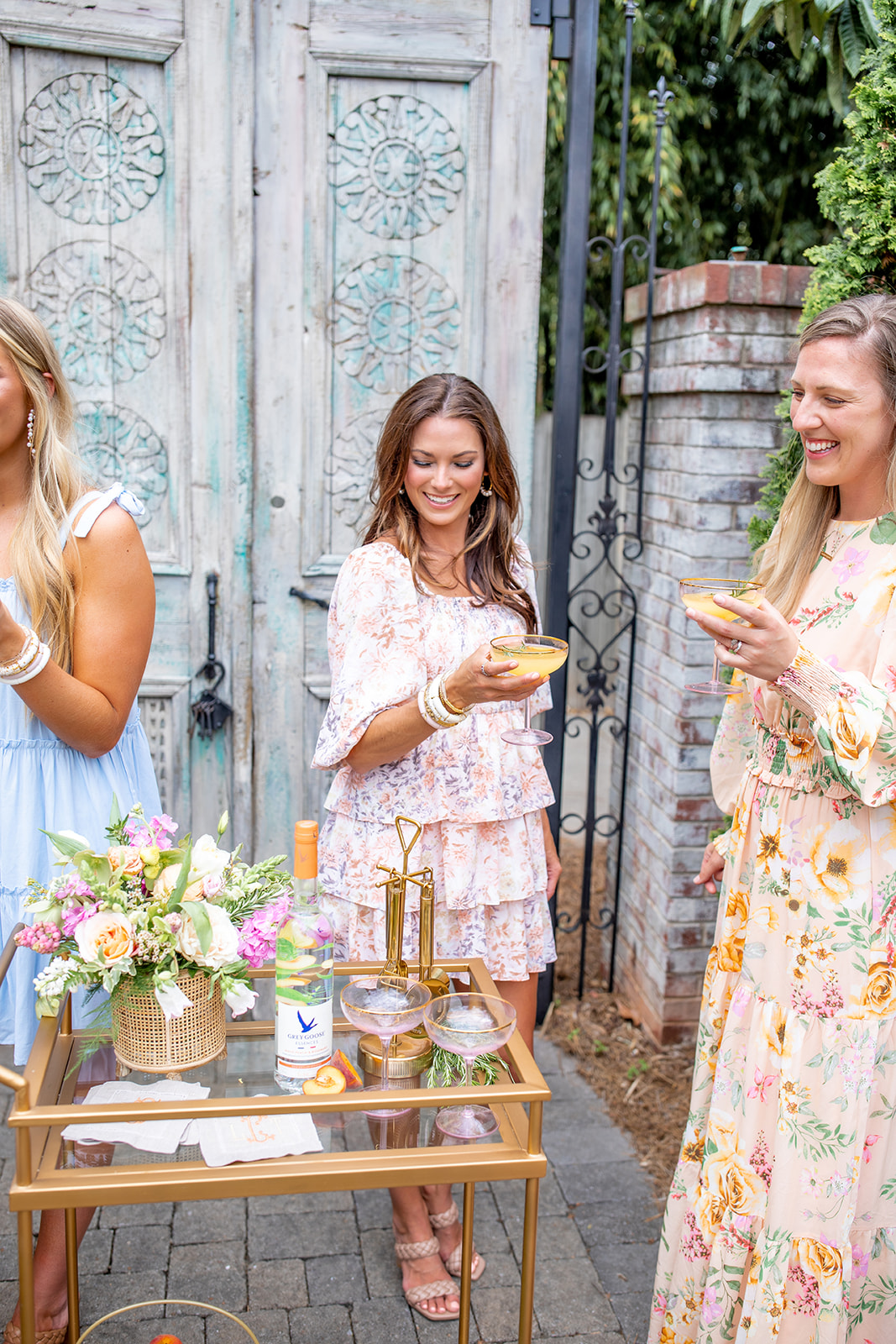 Pick a floral scheme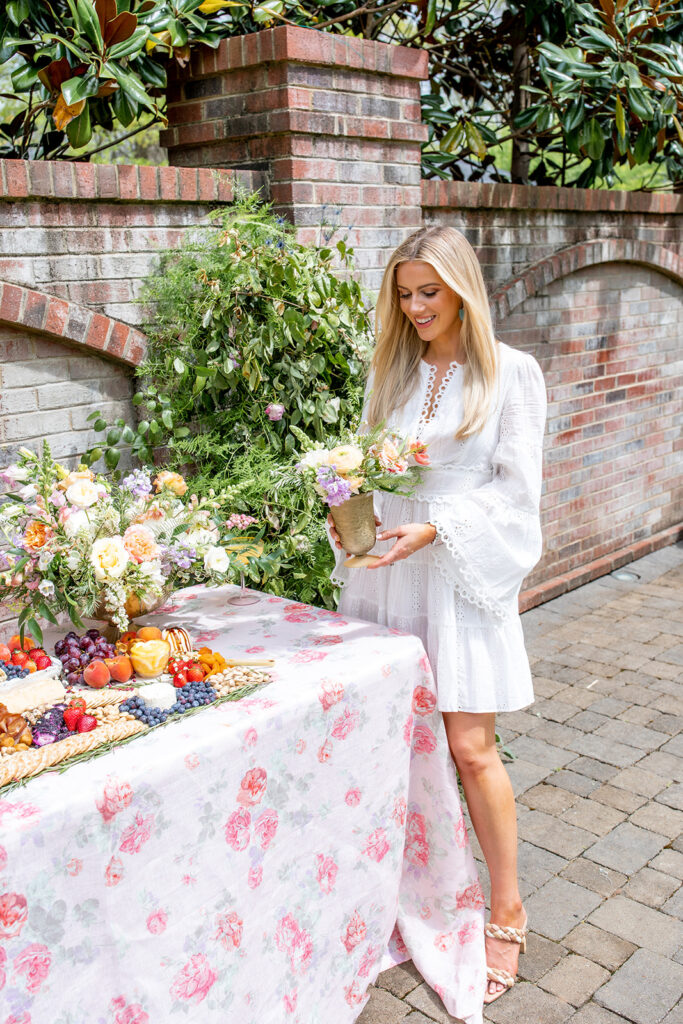 Let's start with the most obvious tip; fresh florals are a must for a garden party! More important than the types of flowers, picking a color scheme will create a cohesive look throughout your space. Try to use the same colors in each arrangement. Bright colors of pinks and purples are fun in the spring, but in the fall you could opt for arrangements of sunflowers and mums.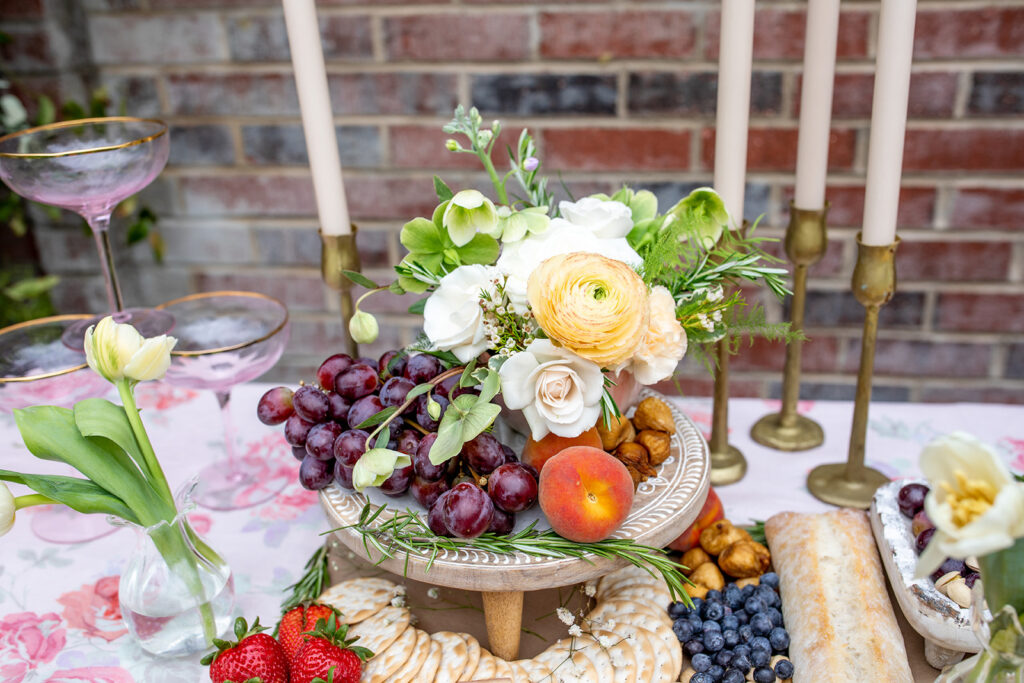 I knew I wanted to use a variety of spring flowers that I couldn't find on my own, so I reached out to my local florist Perryander Studio to create a variety of colorful arrangements. Ligia absolutely understood the assignment!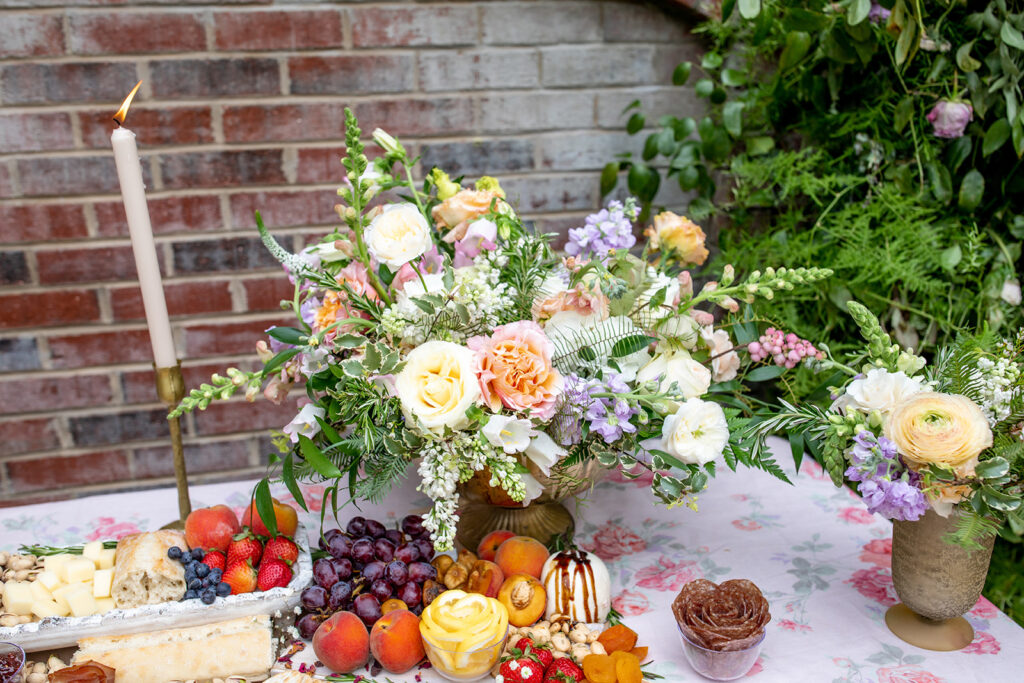 Choose multiple arrangements of various sizes instead of one large one. I placed the largest arrangement on the food table and used several smaller ones throughout the grazing table, using risers to vary the height.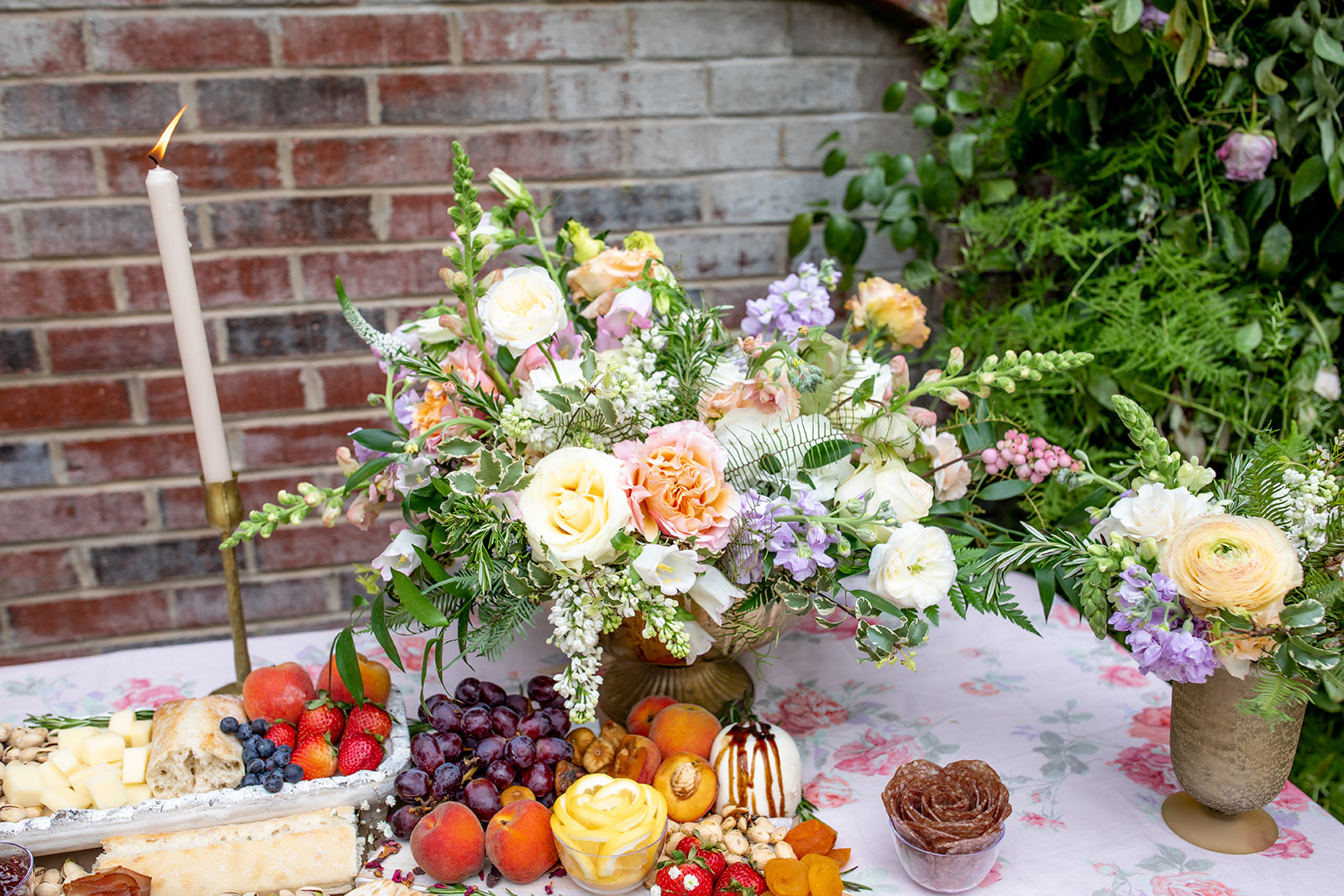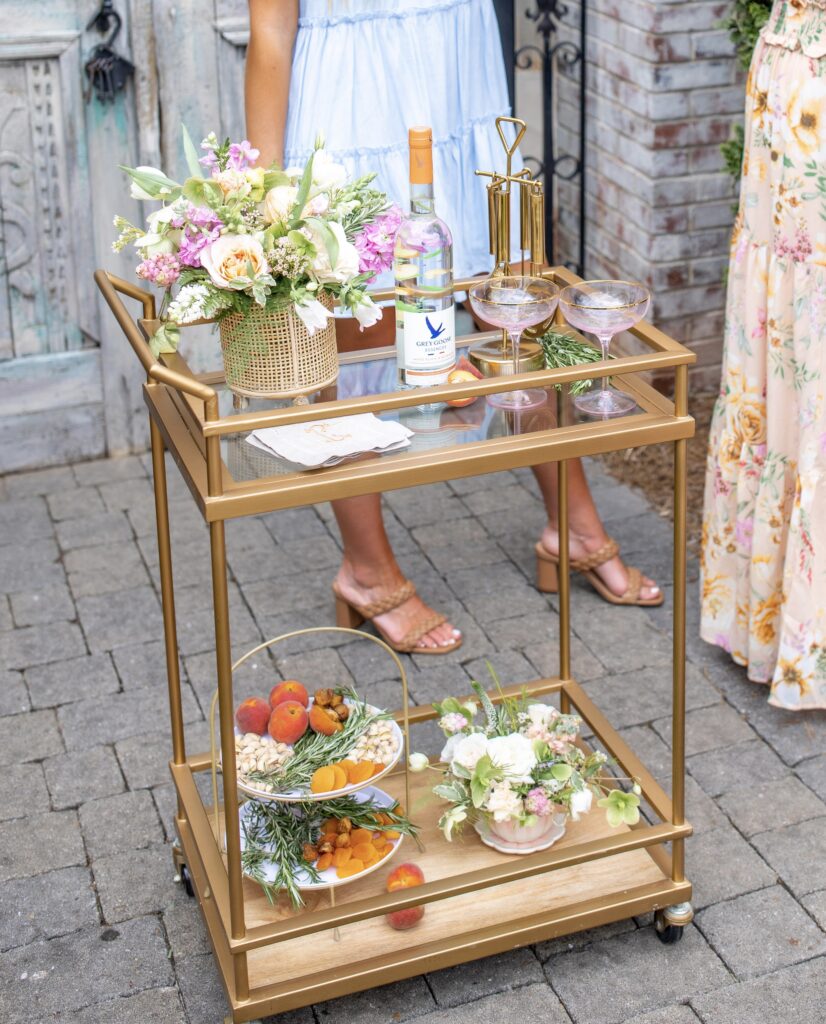 I also used two different sized arrangements on the drink cart to expand on the floral theme. Using different styles and textures of vases adds more visual interest. It doesn't have to be a vase! You could get creative and use ginger jars or even teacups!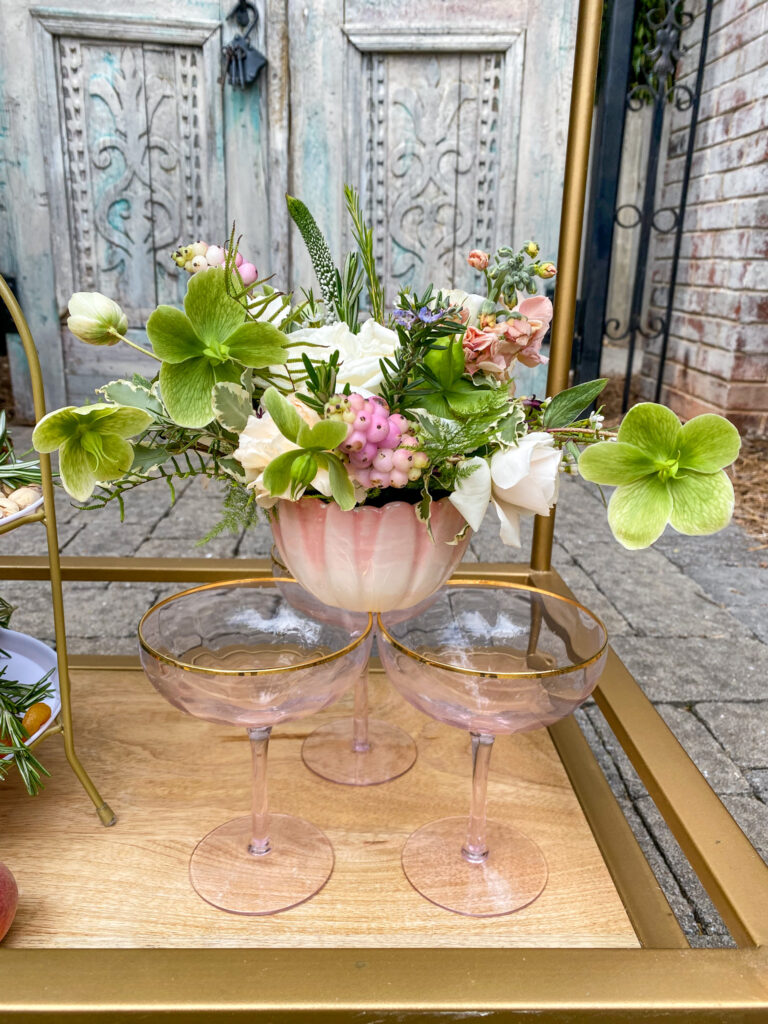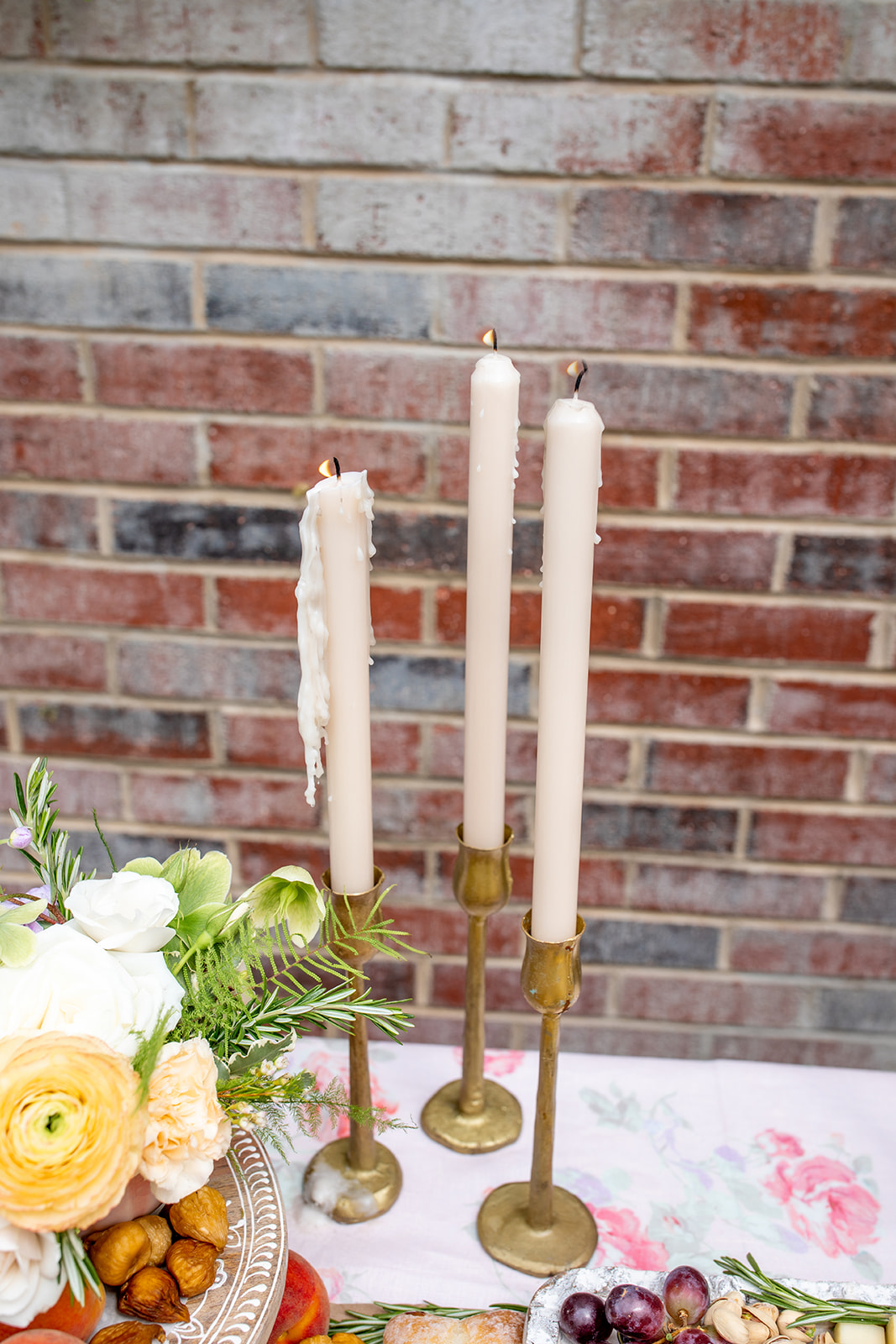 For linens I used this linen tablecloth . You could also use a solid color that compliments your color scheme, but I love the concept of a layered floral look.
Customize Food or Snacks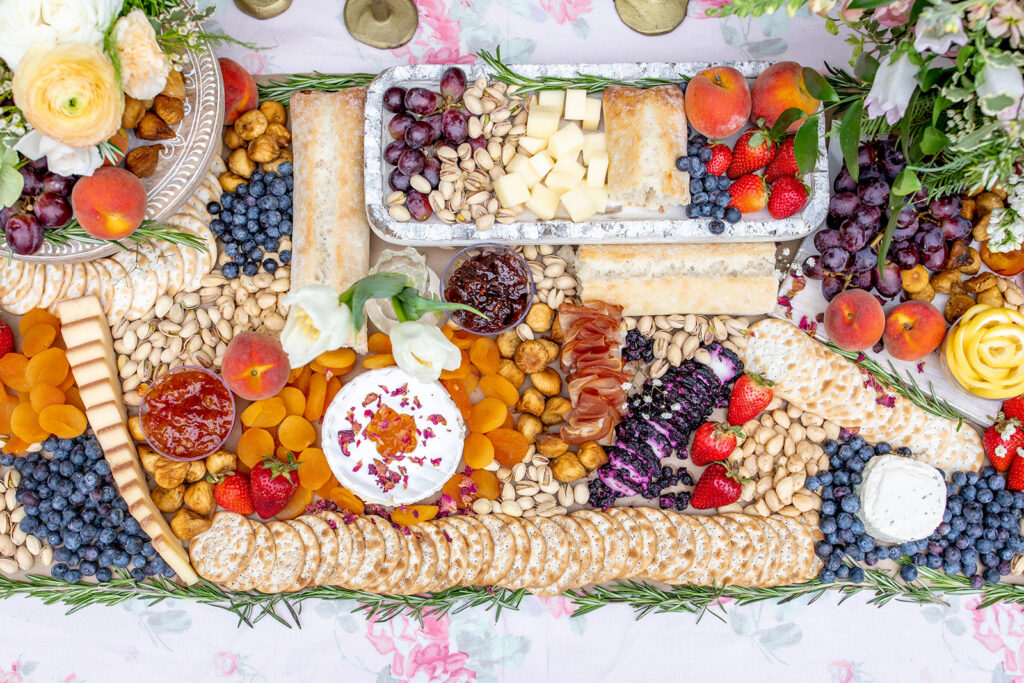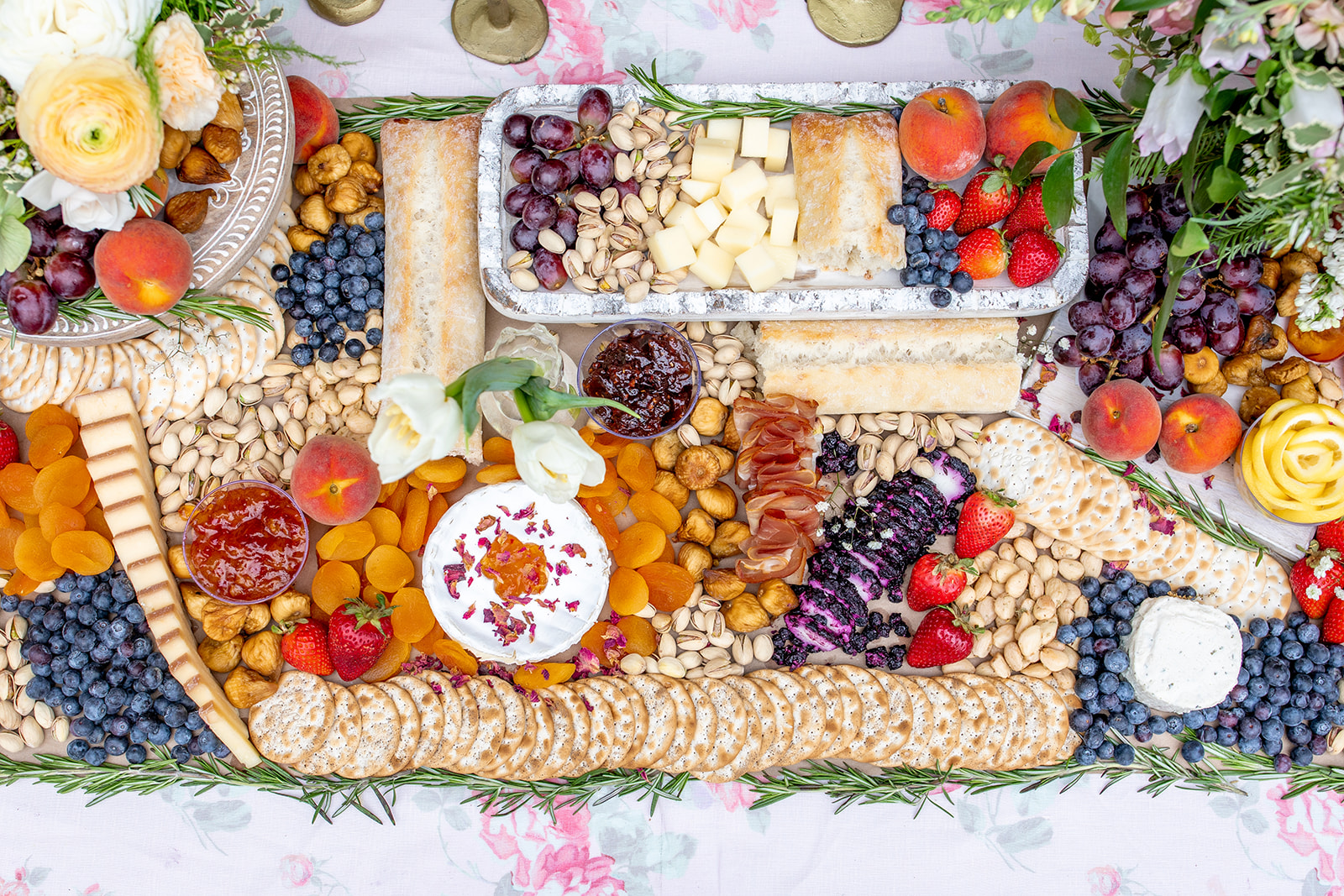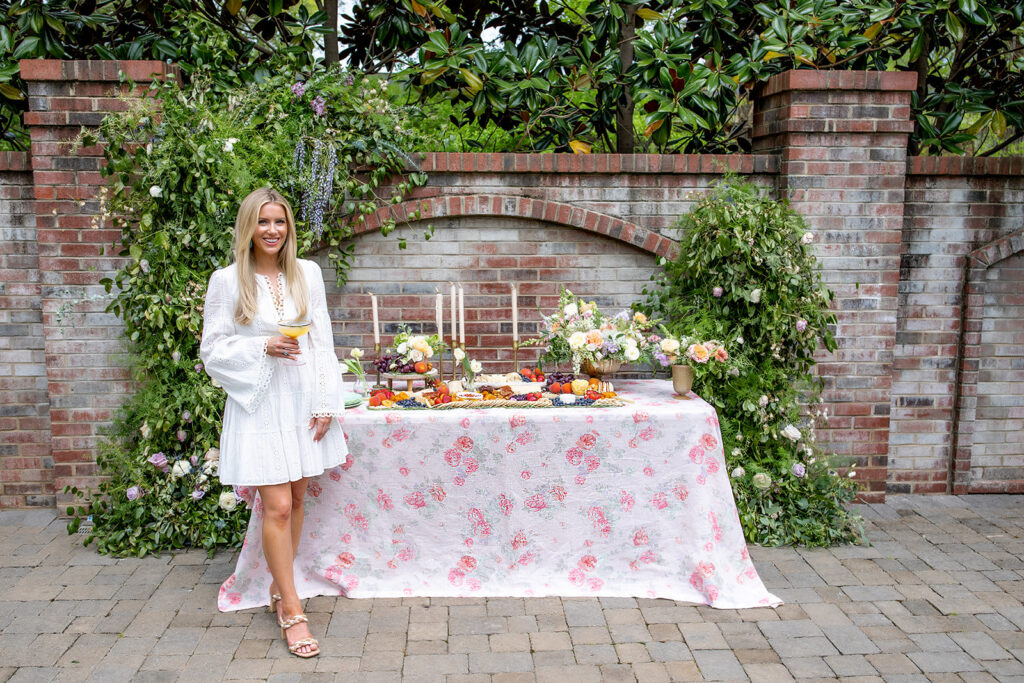 One can never go wrong with a grazing table. I love the idea because it's completely customizable. If you're hosting closer to lunch or dinner time you could go heavier on the meats, dips, and breads to create a more filling spread. If the party is held during non-meal times you could stick to crackers, fruits, and cheeses (this is what I chose).
Have a Signature Cocktail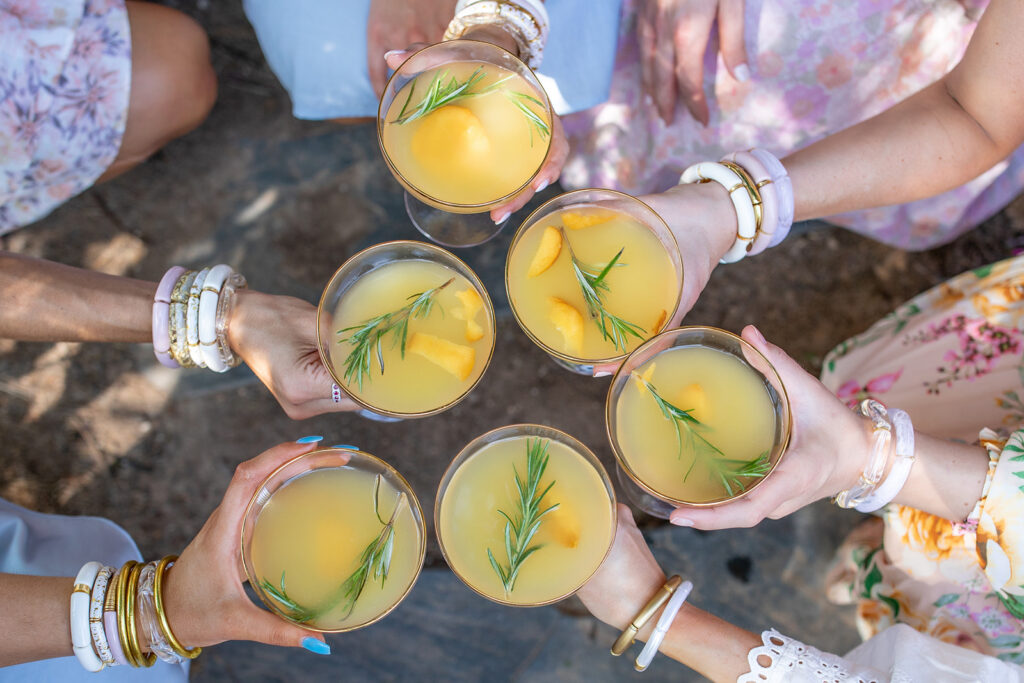 Nothing elevates an event quite like having a "signature" cocktail (bonus if you serve in fancy glassware). I used a peach flavored spirit to make a light & crisp drink.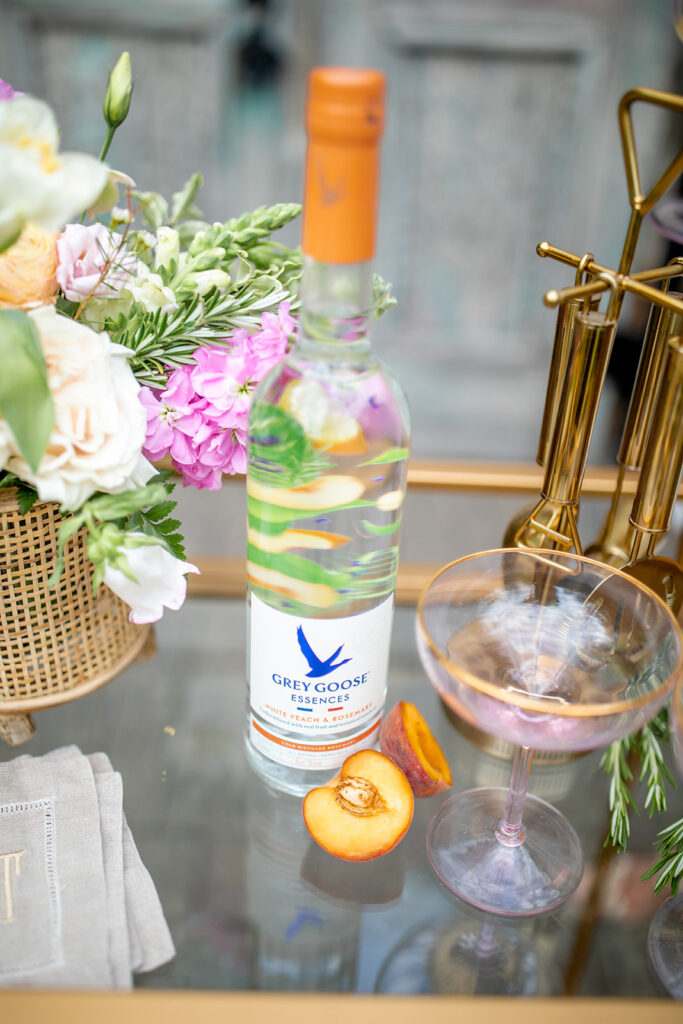 I created a "Garden Peach Bellini" for the party. It's light, refreshing, and just a touch sweet, perfect for a springtime afternoon! I used slices of fresh peaches and springs of rosemary to enhance the flavor. Here's how to make them:
Garden Peach Bellini
When making by the glass:
-fill the glass halfway with chilled prosecco
-add 1oz Grey Goose White Peach & Rosemary
-add 1 oz orange juice
When making by the pitcher:
-fill pitcher 3/4 full with chilled prosecco (this took me almost 2 bottles)
-add 5 oz Grey Goose White Peach & Rosemary
-top with orange juice until desired color and sweetness is reached (about 1/2 cup)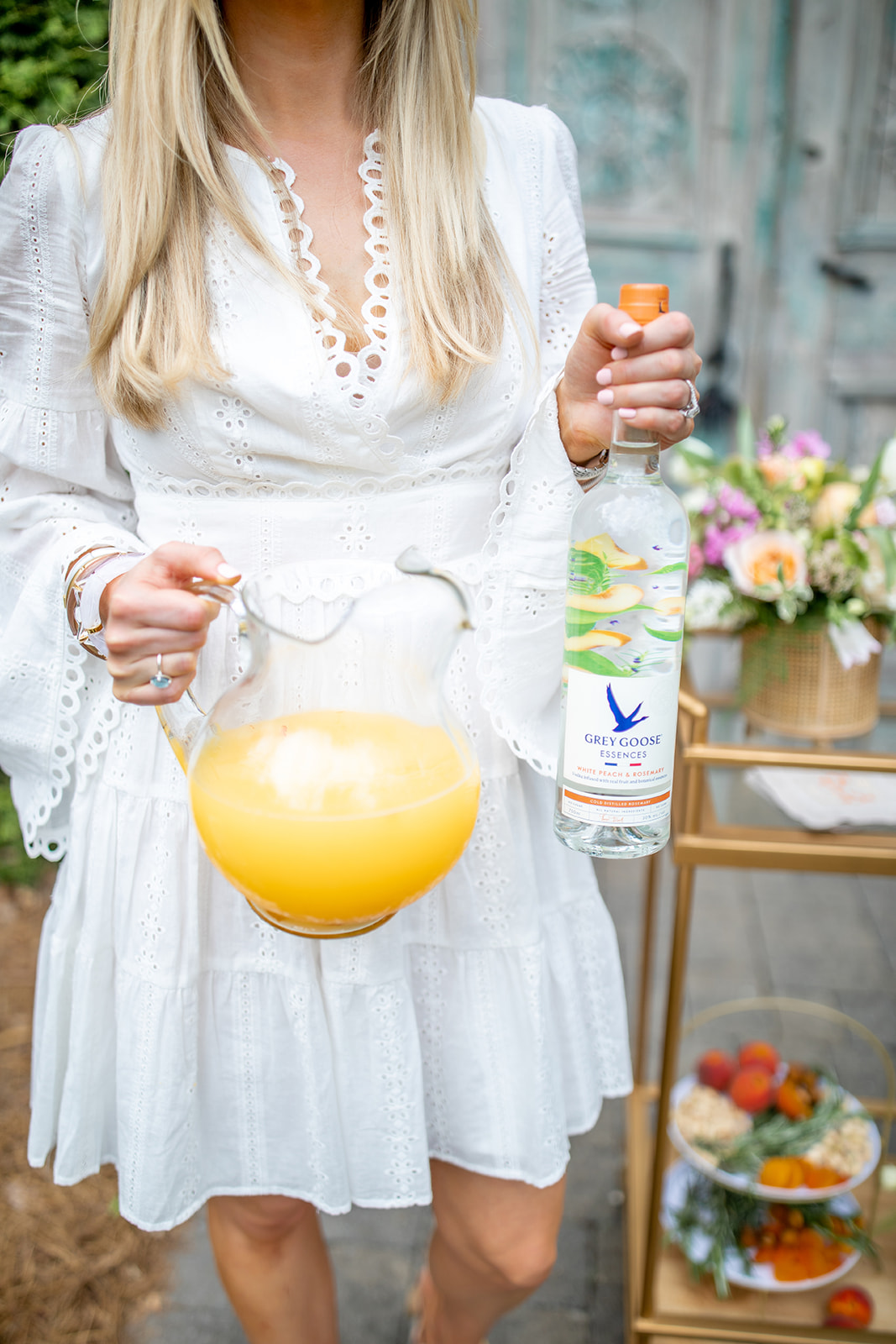 I made the cocktail in a large pitcher so it was easy to top off everyone's drink throughout the party.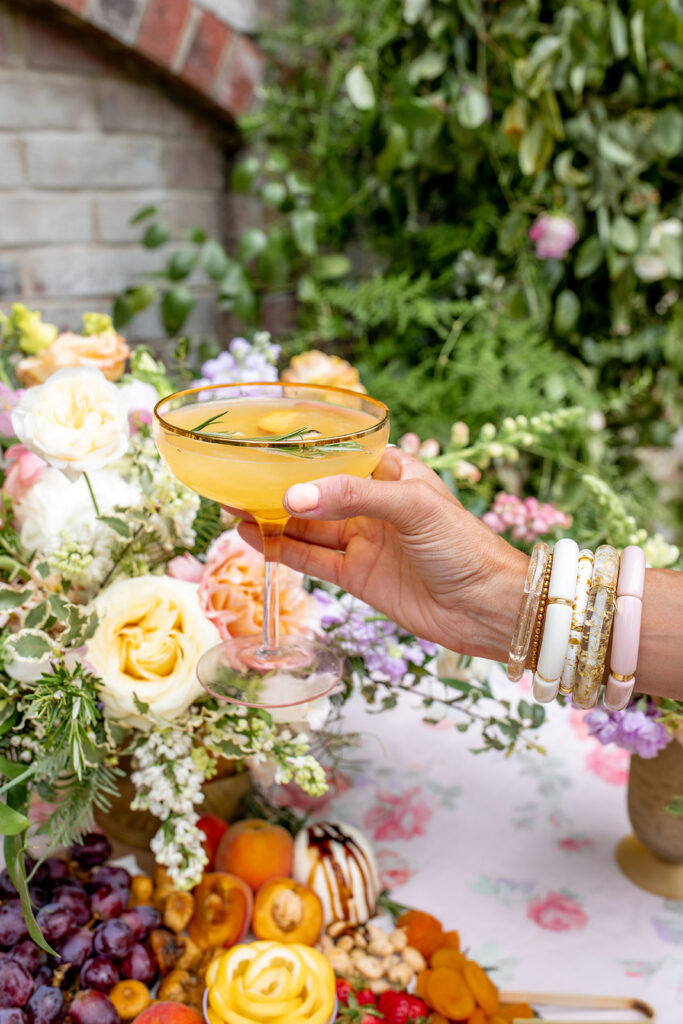 Not a peach fan? I also have a recipe for Strawberry Sangria that would be perfect for an outdoor gathering.
Share & Inspire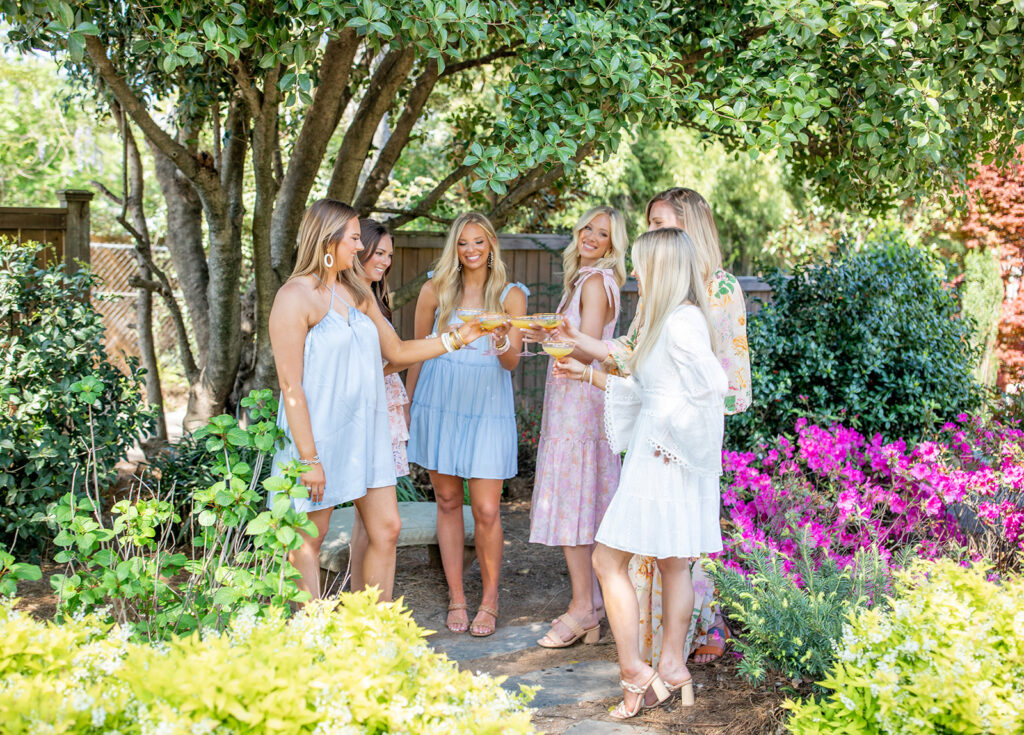 We decided next time we want to make this like a traditional holiday "cookie swap." Ask for each guest to bring their favorite flower to the party (bring enough for each guest to have one) and everyone can take home one of each flower for a unique bouquet they can enjoy all week long!
Start a Tradition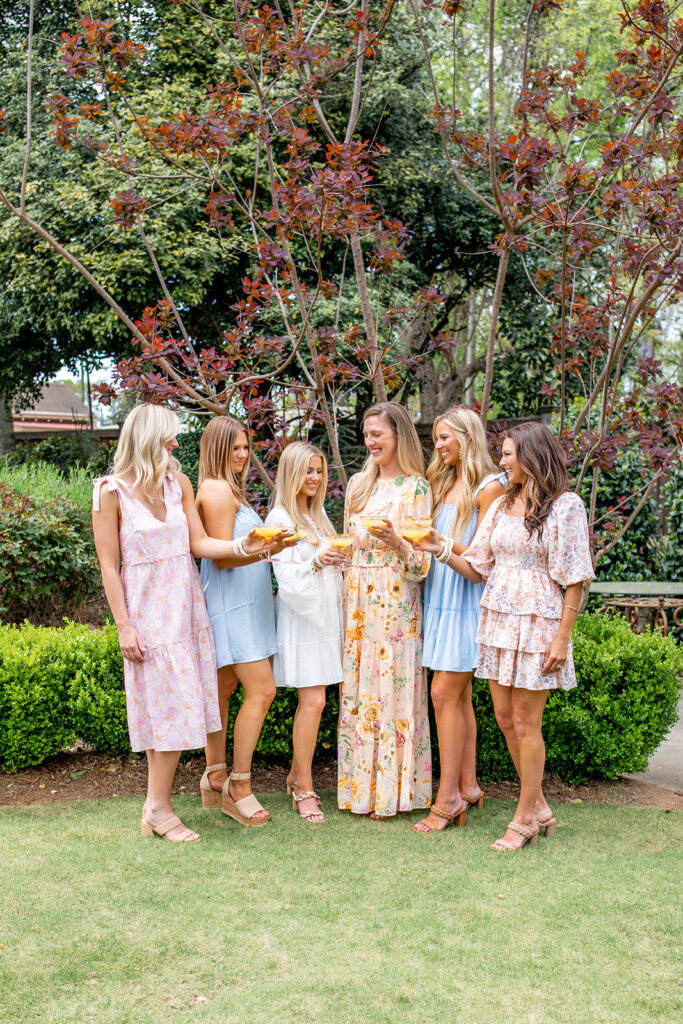 This would be such a sweet memory to create each year! Making it a tradition would be a fun event to look forward to whether you chose to celebrate the start of spring, Mother's Day, or even a birthday!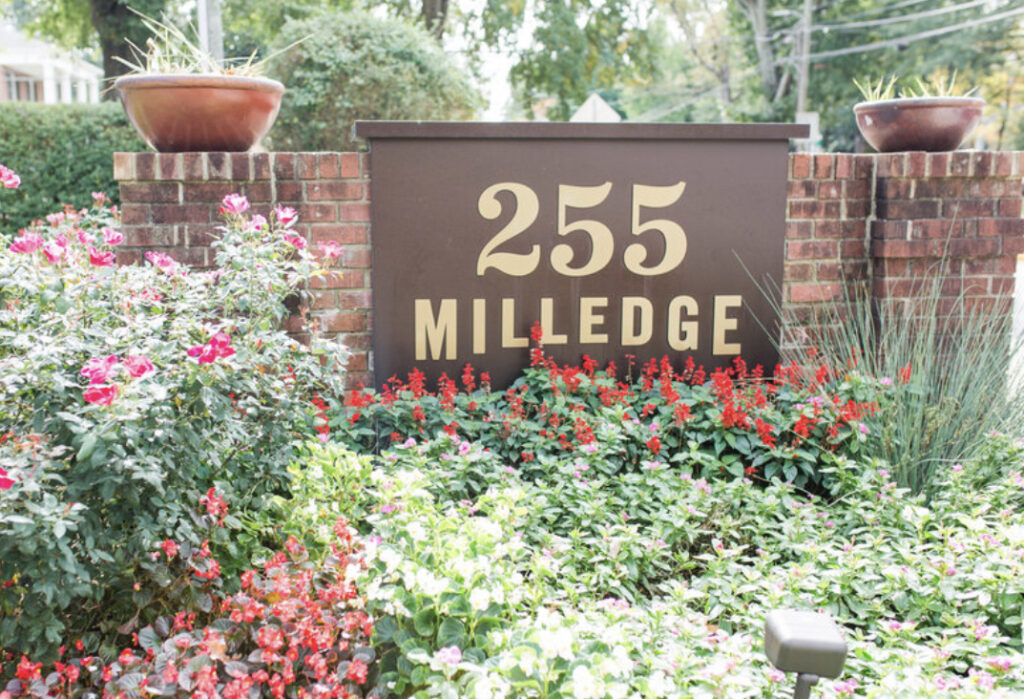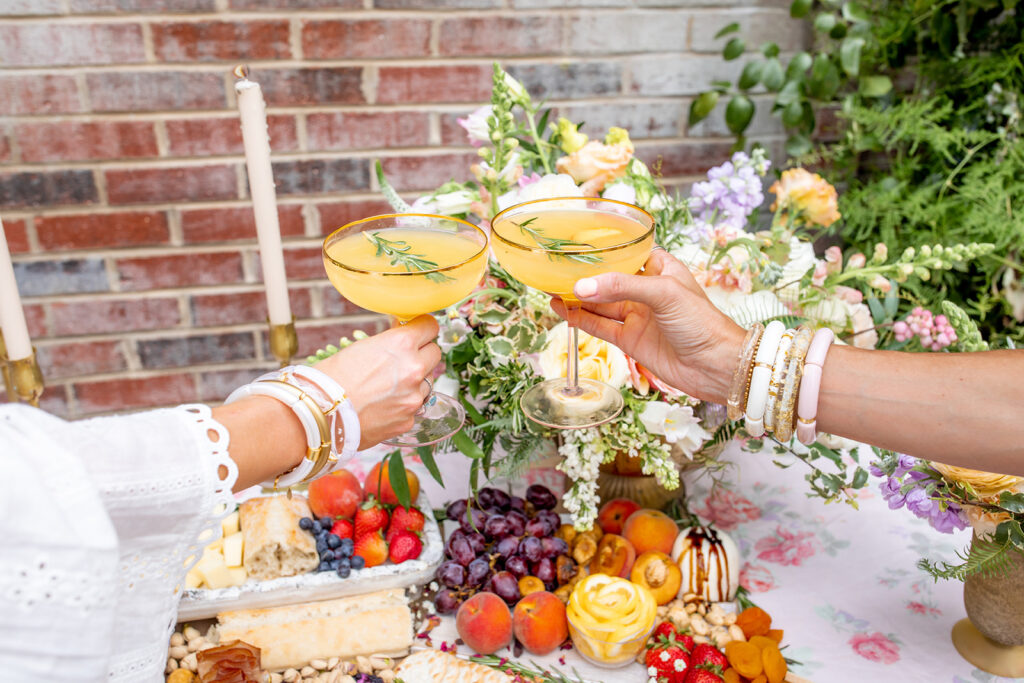 Shop the Post
scroll through the images below and click an image to shop

Thank you so much for reading my tips for hosting a Garden Party! If you plan one of your own be sure to tag me on Instagram @lo_chandler so I can see!
Xo – Lo
This post is brought to you by Grey Goose.
Photographs by Repurposed Photography
Flowers- Perryander Studio Food- Grazefully Curated Venue- 255 Milledge
White Dress- Fabrik Athens Hair & Makeup- Mckenzie Bone Jewelry- MillieB Designs