Q & A with an aesthetician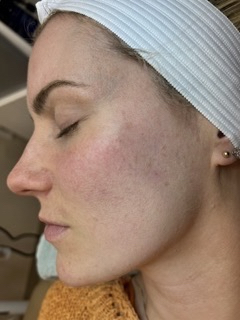 If you've ever been curious about a chemical peel, here's everything you need to know including procedure details, recovery, and benefits! I interviewed an aesthetician at Georgia Skin Cancer & Aesthetic Dermatology to ask the top 10 questions most patients want to know before they get a peel. I also got a peel myself and took photos each day so you can see the progress of the peeling. Keep reading to learn everything you should know about a chemical peel!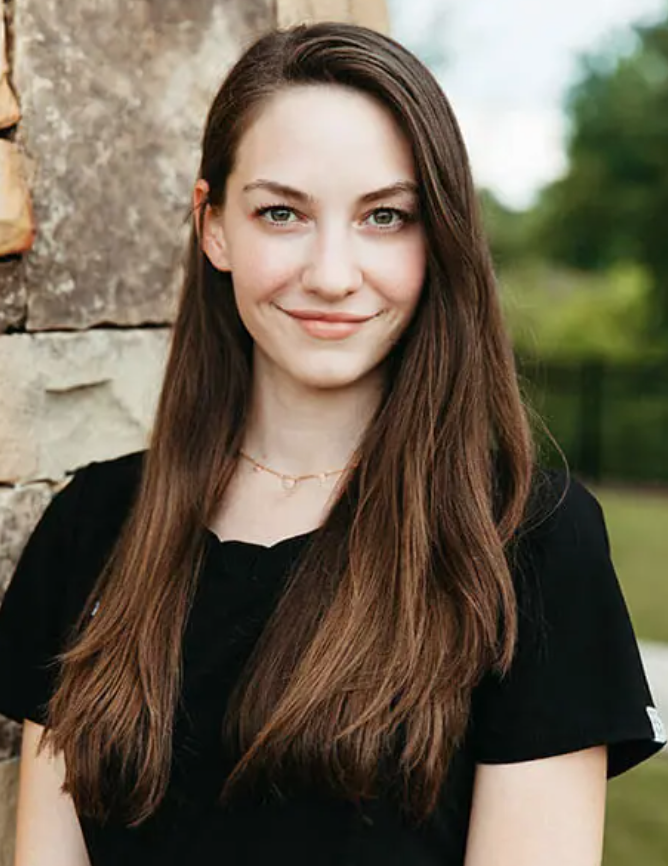 1. What is your name and title? I'm Mikayla Marcengill, licensed Aesthetician and Laser Practitioner.
2. What is a chemical peel? A chemical peel is a skin resurfacing treatment that helps increase skin cell turnover, lighten pigmentation, and improve texture on the skin. The vi peel in particular is a medium- depth peel, meaning that it reaches all the way to the dermis, unlike superficial peels that only reach the epidermal layer.
3. How soon should I come in before a big event? Before events it is best to have a chemical peel treatment at least 3-4 weeks in advance. This will give your skin a chance to recover. As far as big events, depending on your concerns, you may need more than one peel. In that case, it is best to start your treatments 3-4 months before your big event (wedding, anniversary, etc.).
4. Is there any prep I should do before my treatment? Prepping for a chemical peel is simple. Just avoid your retinol, hydroquinone, and any AHA/BHA products at least 7-12 days prior to your treatment.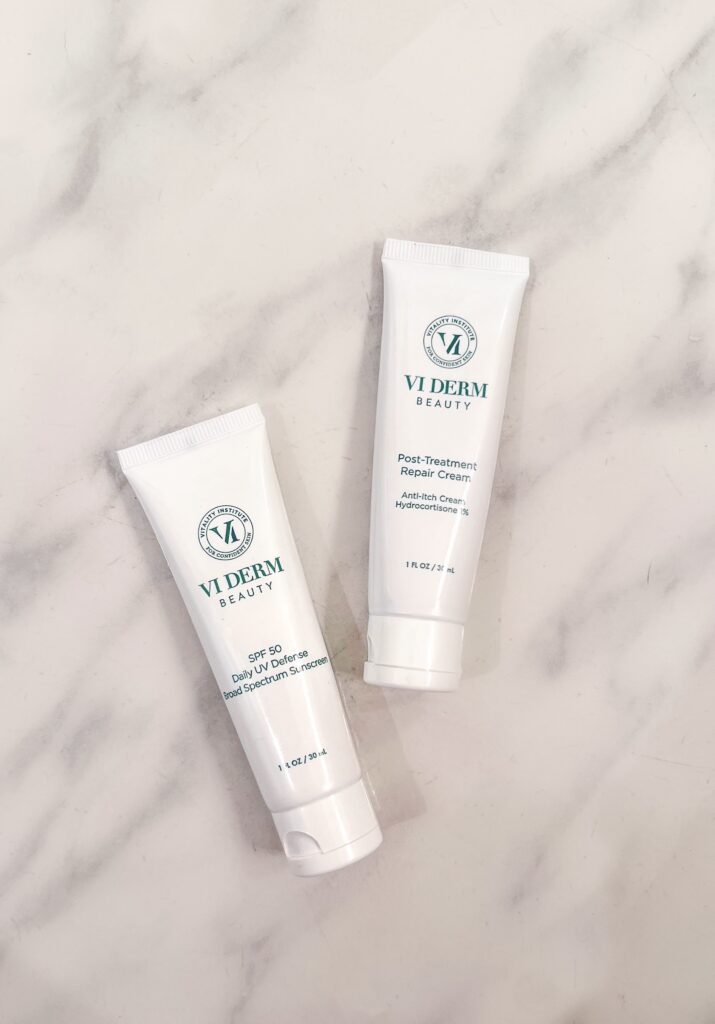 5. What type of aftercare will I need to do? The downtime for one of these peels is about a week, but you want to avoid heavy sun exposure for at least 2 weeks. The VI peel treatment includes an aftercare kit that you will take home and use for the next 7 days after your peel. We also suggest that you avoid sweating and excessive heat for at least 5 days after the initial application of the peel. During this time, your skin hasn't quite fully peeled and the sweat has no where to go, so you can develop water blisters on the skin.
6. Are there different types of peels? There are different types of peels for different concerns.
Superficial peels are great for mild skin discoloration, oily skin, mild acne, and skin texture. These types of peels are great for maintenance throughout the fall/ winter months. You typically only peel for a few days after.
Medium depth peels are great for heavier pigmentation, active acne/ breakout prone skin, post inflammatory hyperpigmentation, and aging skin. You will peel for about a week, and may have purging breakouts after skin has peeled.
Deeper peels provides the most correction and a doctor would administer the treatment. This peel reaches to the deepest layer of the dermal layer and is great for treating deeper wrinkles, scarring, and sun damaged skin. The recovery for this treatment is between 2-4 weeks.
7. Is there anyone who is not a candidate for a chemical peel?  Contraindications to chemical peels include:
Women who are pregnant.
Patients who are on Accutane or has been in the last 6 months.
Active rosacea
Eczema on the area being treated
9. Can I have a chemical peel if I currently use a retinol? It is best to avoid retinol for at least 7 days prior and 7 days after your skin stops peeling.
10. What benefits will I see from this facial? Chemical peels are great for improving texture on the skin, fine lines and wrinkles, congested pores, breakout prone skin.
Day 1 (day of peel)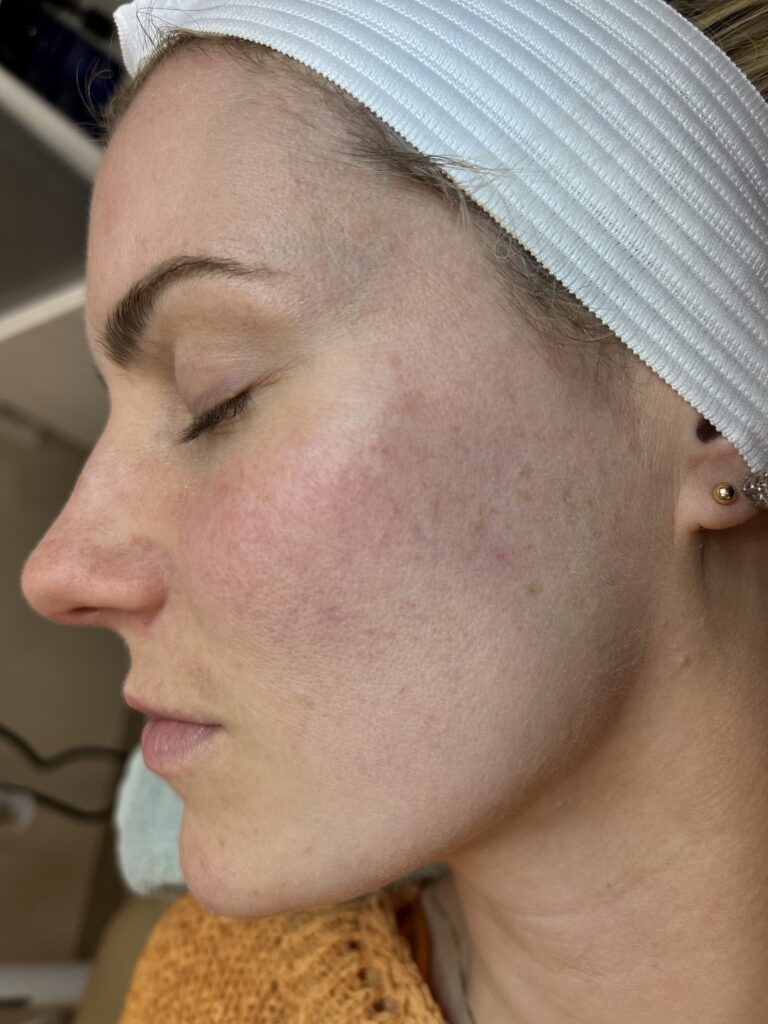 My skin immediately before the peel was applied.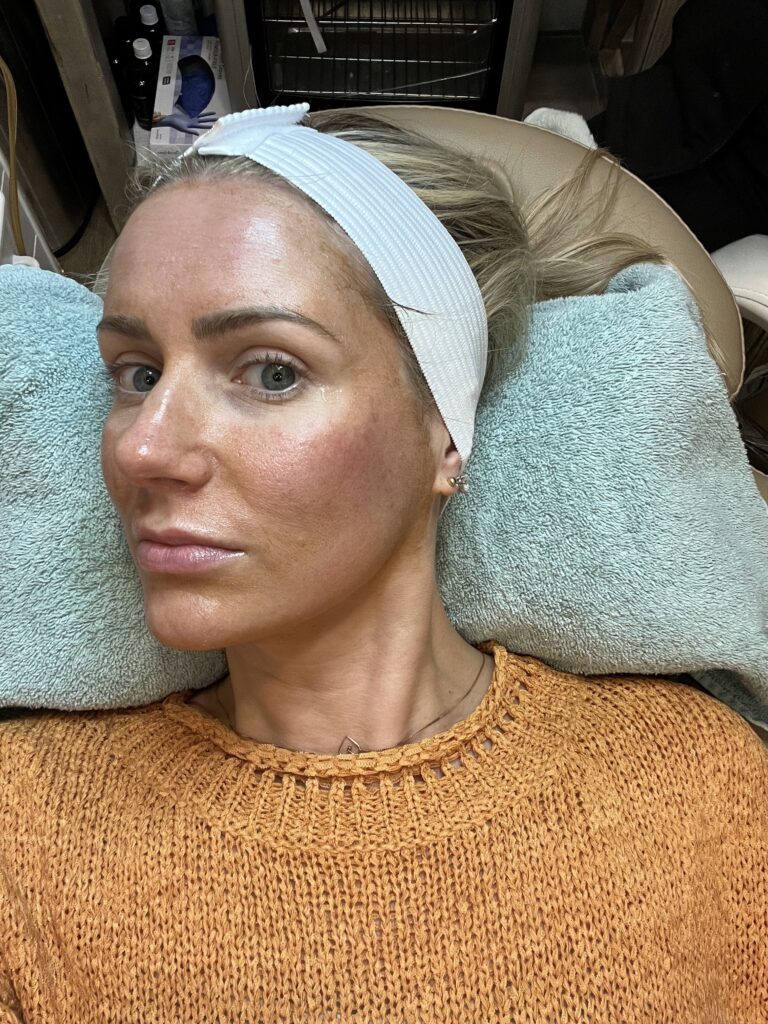 Immediately after the peel was applied. I chose a medium depth peel so I was prepared to have about a weeks worth of downtime (no sun exposure and heavy peeling). The peel itself was a brown liquid solution, to apply she dipped gauze in a small cup and applied it the same way you would apply a toner.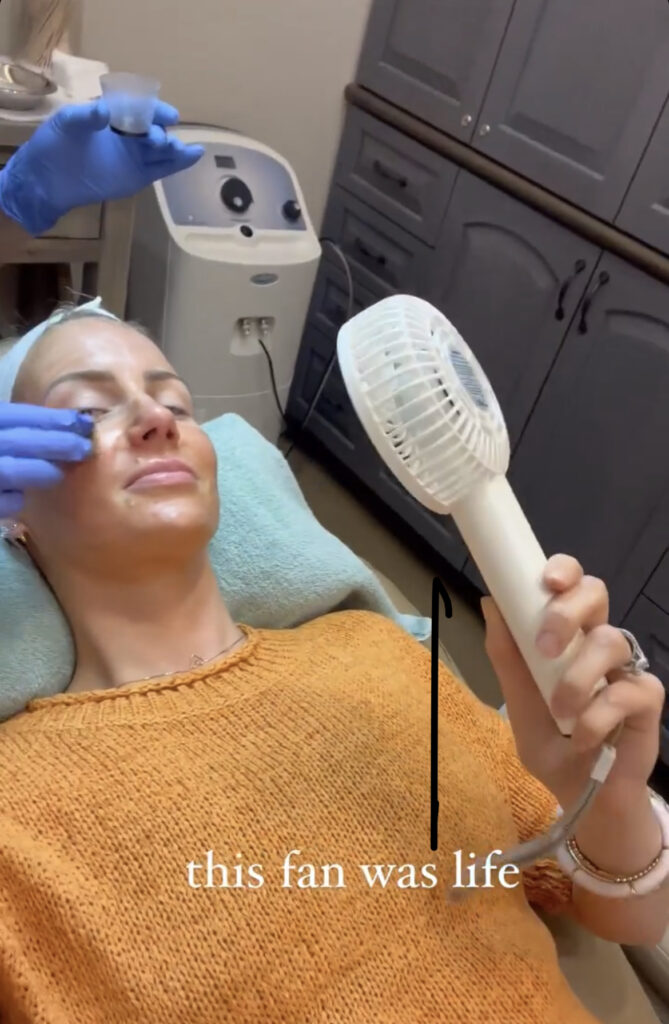 The VI peel that we did is an orange color and will stain your skin, I wasn't expecting that part! It had a strong smell, kind of like a nail salon. I could feel a slight burning sensation as she was applying it, but they provided me with a handheld fan that I held up to my face the entire time which greatly helped.
Note: I have asthma and the solution triggered an asthma attack for me the first day. I had to take my inhaler the day of the application. If you have asthma I would recommend talking to your doctor before your procedure and asking your aesthetician to apply the peel in a well ventilated room or with the windows open.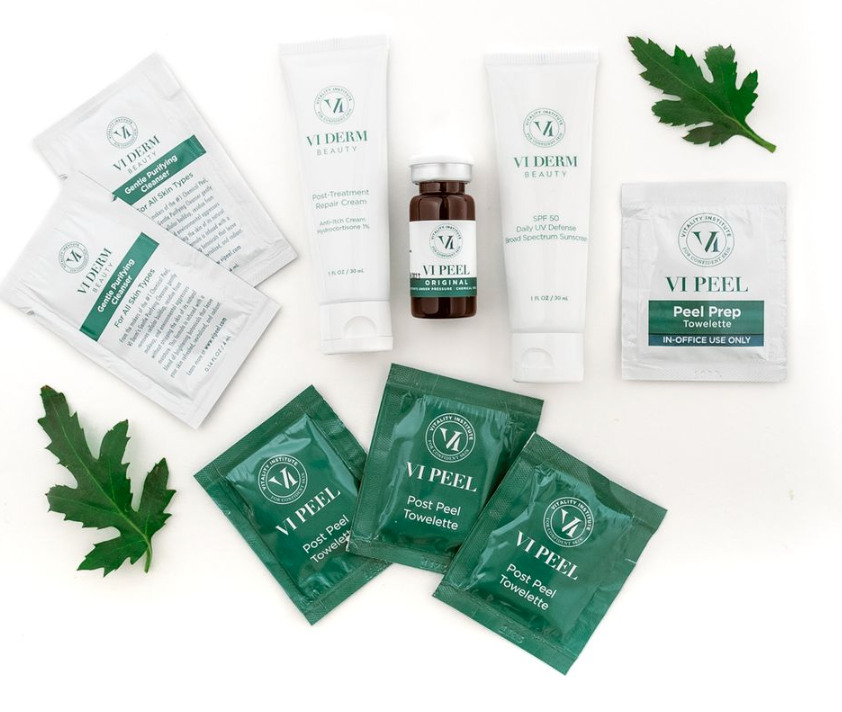 I received a packet with after care instructions, the first 2 days you'll have to apply special cleansers and towelettes. I have an instagram story highlight showing the process of applying the aftercare, you can watch that here.
This first night I woke up in the middle of the night to a burning sensation. I applied another layer of the post-treatment repair cream and that helped relieve some discomfort. I was told the next day that I could take a Benadryl, I wish I would have known that on the first day! I HIGHLY recommend taking a Benadryl before you go to bed on nights 1 and 2.
Day 2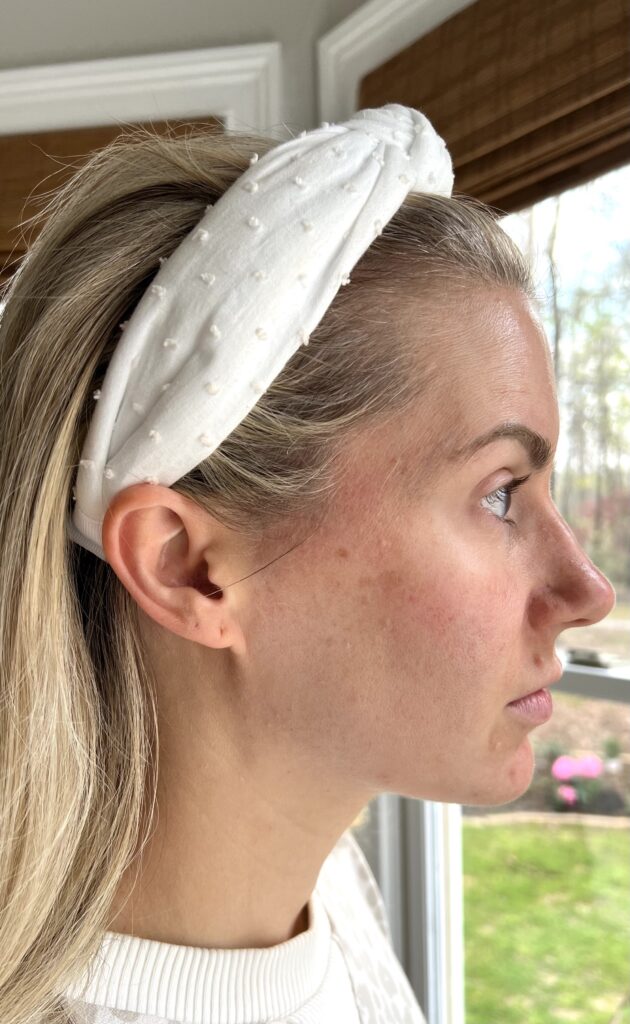 The morning after..not much to note other than my skin was stained orange. My skin felt very tight this day, I took a Benadryl before bed to help with any discomfort.
Day 3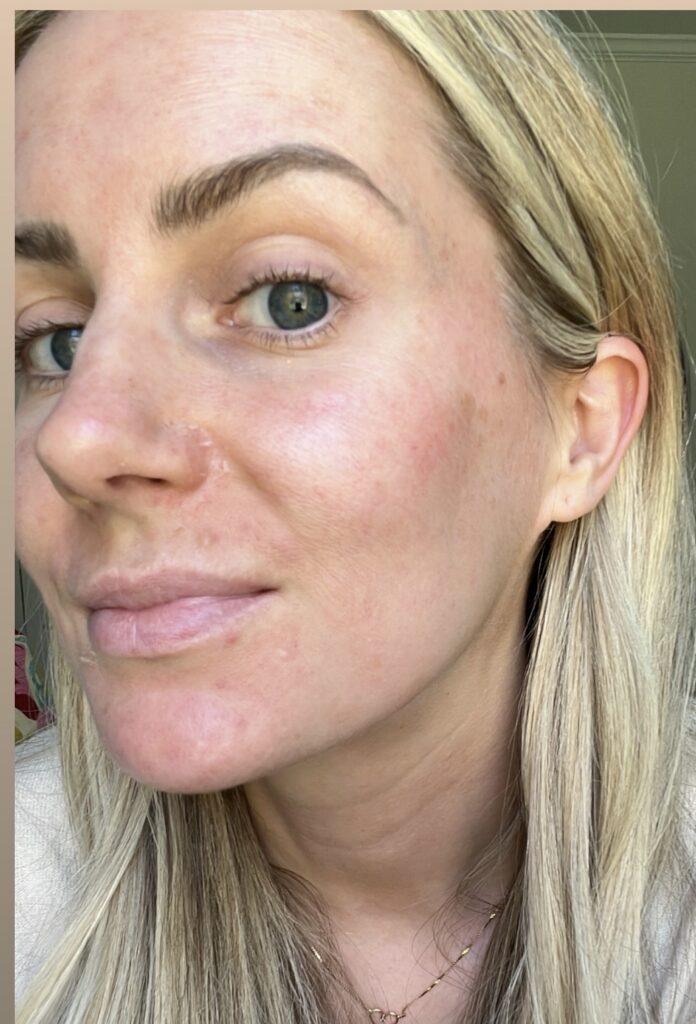 The first signs of peeling took place this day around my nose and mouth. They said this is typical because those areas of the face experience the most movement.
Day 4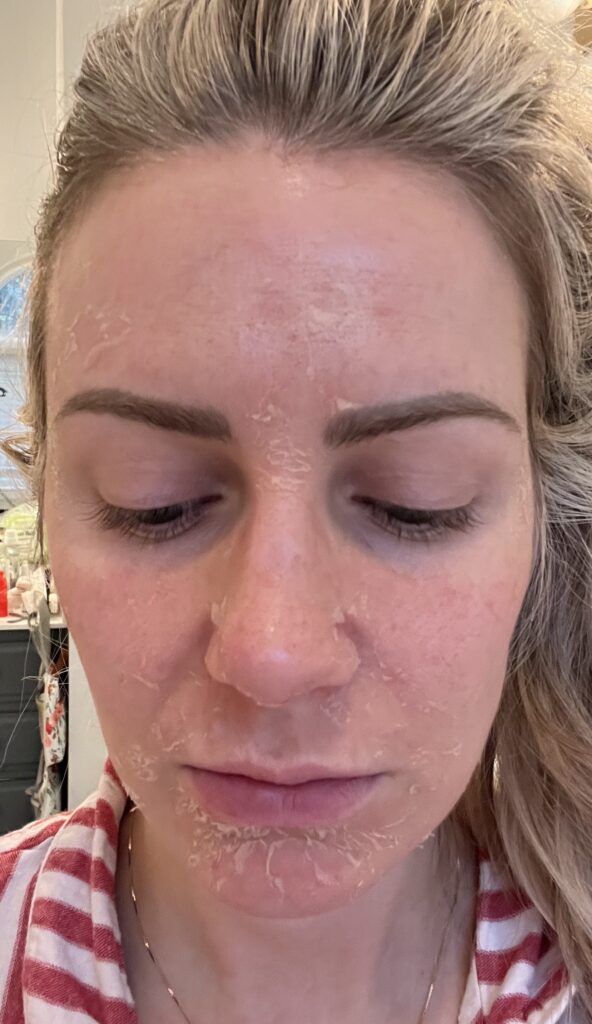 Day 4, right when I woke up. I audibly gasped when I saw myself in the mirror. At this point all of the discomfort was gone and I didn't feel like I needed any Benadryl or extra repair cream. This part didn't hurt at all, it just wasn't fun to look at!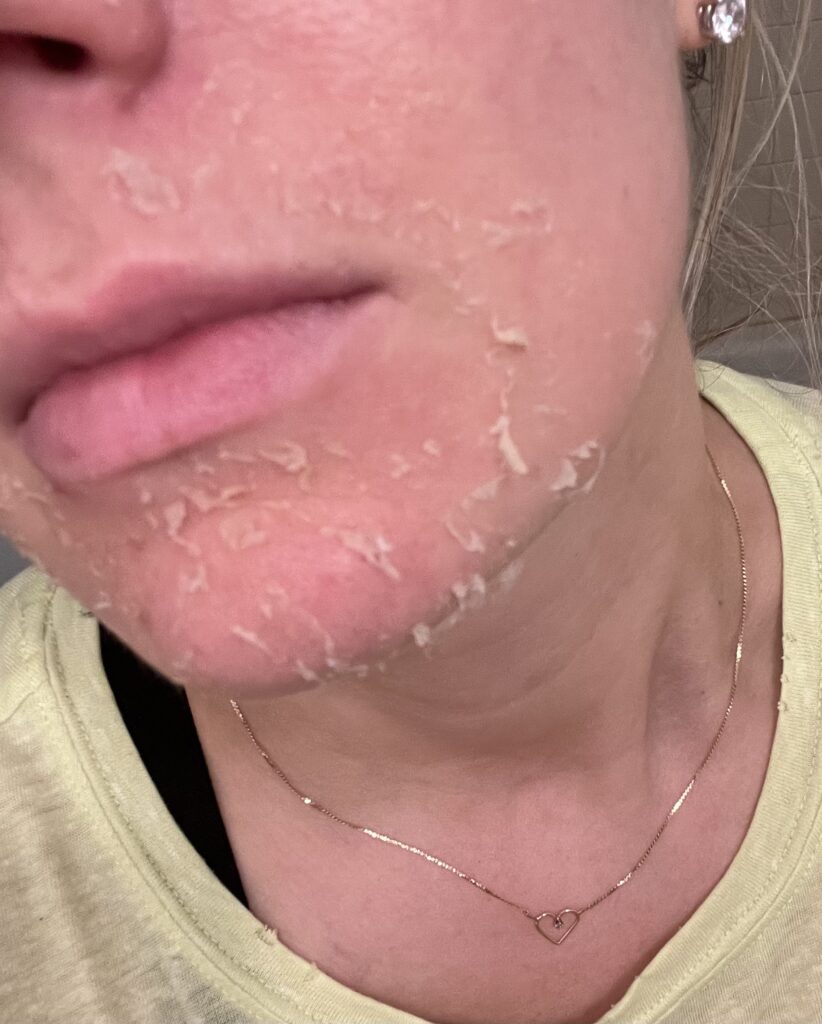 End of the day on day 4. It peeled a bit more throughout the day.
Day 5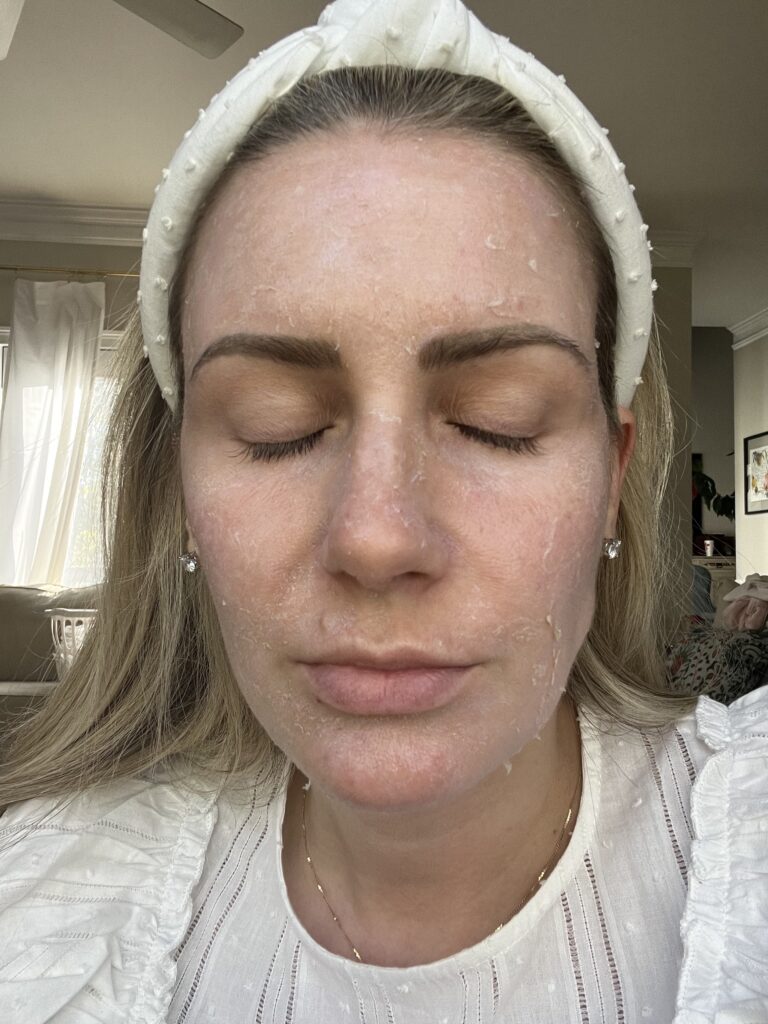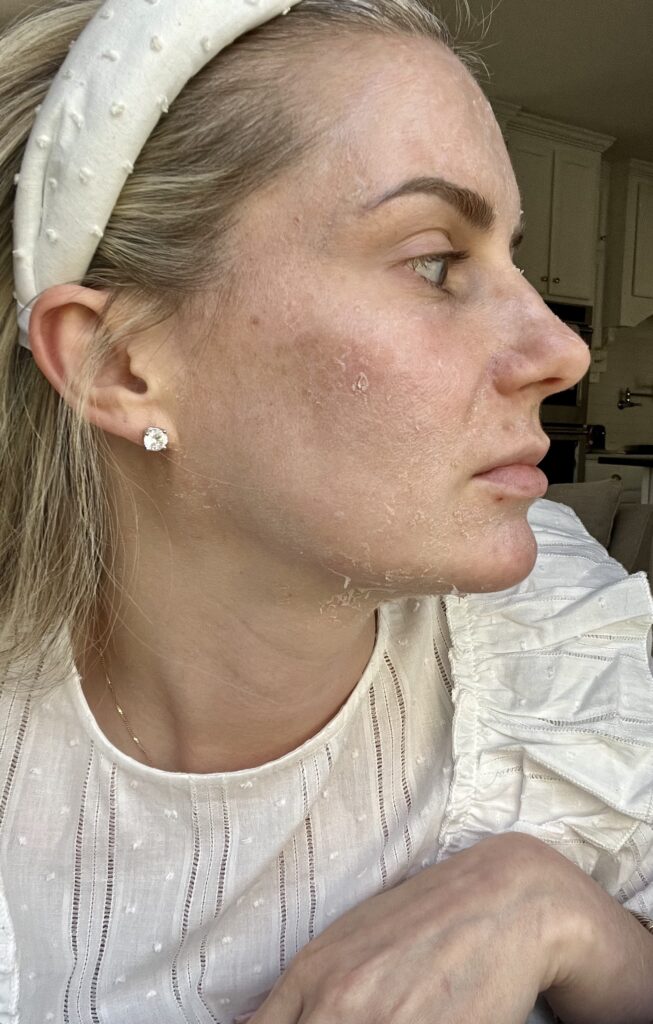 I had to leave the house on Day 5 so I LOADED up on sunscreen which is why my face looks white. I also wore a large sun hat and sunglasses while in the car. I wanted to avoid getting any direct sun on my face.
Day 6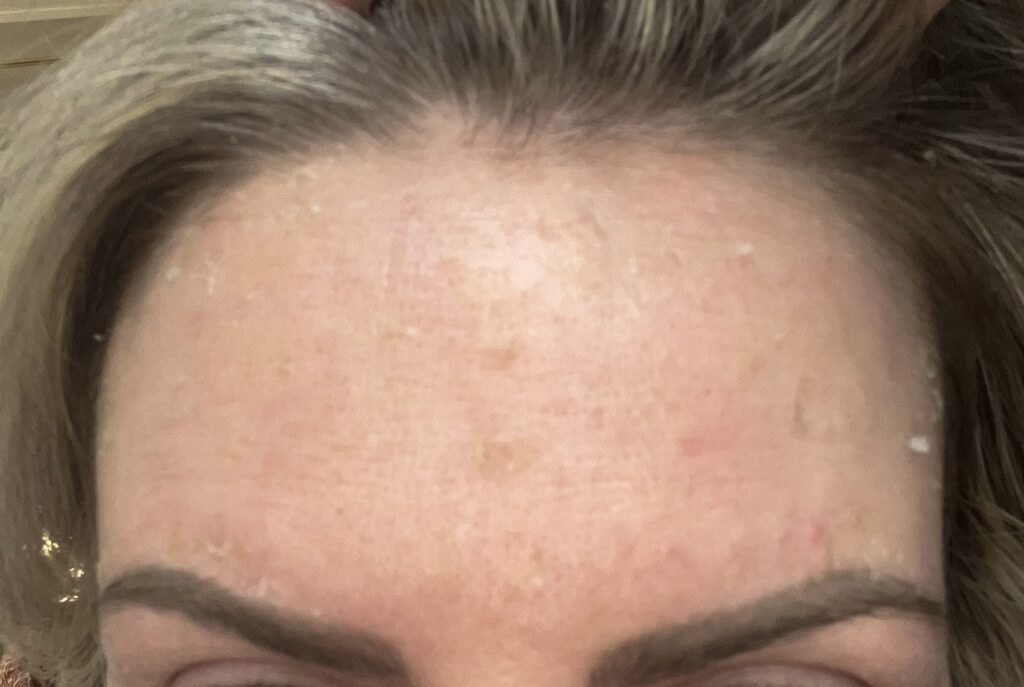 All the peeling from around my nose and chin was gone by day 6. The last places to peel were my forehead and outer cheeks (again because these areas move the least). Some of my skin was still stained orange!
Day 7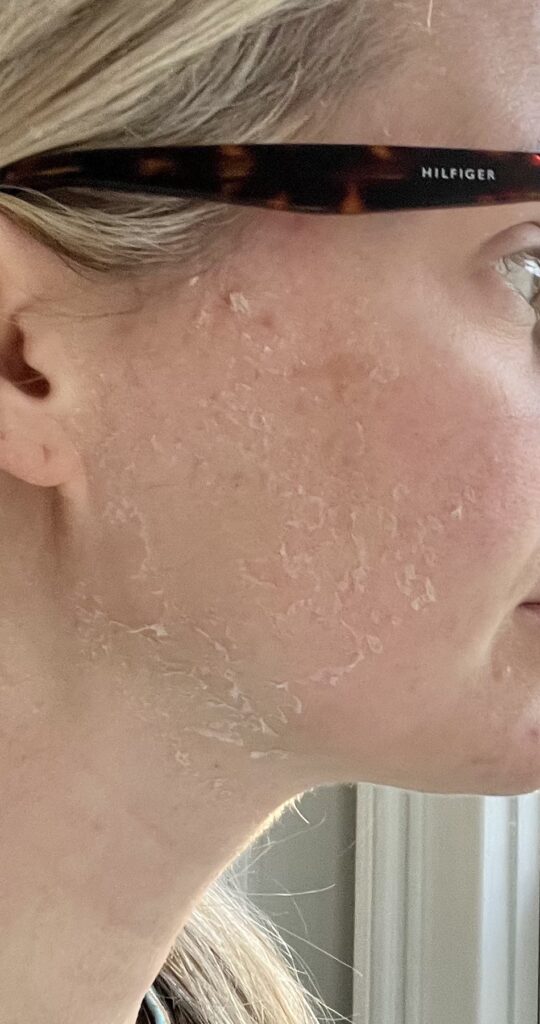 The very last part to peel was my outer cheeks and neck. This continued to peel off on days 7 & 8 and was completely gone by day 9.
I started my regular skincare routine and began wearing some makeup again on day 8. My skin was SO dry that second week, especially around my eyes. I normally have very dry skin and usually apply a generous amount of moisturizers and hydrating serums in the evenings before bed. I could tell a difference in the skin around my eyes from not using any moisturizer for a week. It took another full week for my skin to feel fully hydrated again.
Results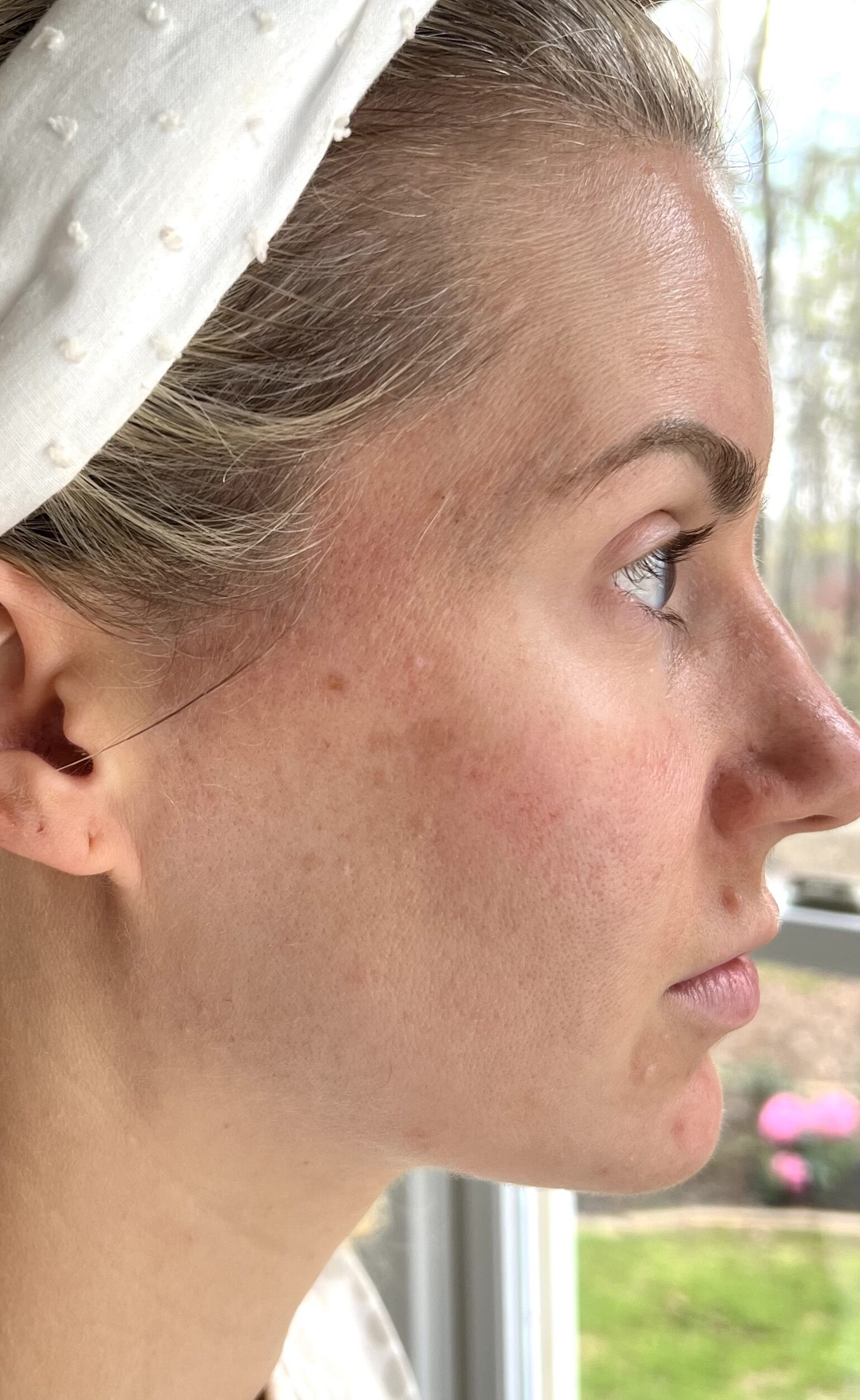 morning after the peel was applied (before peeling began) vs 2 weeks after the peel
These photos were both taken in natural lighting next to a window (no makeup, no filter). Although it's still visible, my melasma is significantly reduced! The biggest difference I noticed was the improved texture and clarity of my skin. It's SO smooth and baby soft. My pores are significantly less noticeable and my fine lines are softened.
The first time I wore makeup afterwards I was shocked at how my foundation went on and how smooth and even my skin looked! I've actually been wearing less makeup lately, as my skin looks so good that I feel comfortable in just a tinted moisturizer and some mascara!
I absolutely LOVE my final results and am so happy with how my skin looks. I definitely recommend a peel if you're looking to significantly improve the appearance of your skin.
Thank you to Georgia Skin Cancer and Aesthetic Dermatology for partnering with me on this post! And a special thank you to Mikayla Marcengill for telling us everything you should know about a Chemical Peel. If you're local to Georgia they have multiple locations for you to make an appointment. They also have their own line of skincare products linked here (the neck cream is my favorite).
If you want to learn more about skincare procedures, check out this post on everything you need to know about the Diamond Glow Facial!
Thanks so much for reading!
Xo- Lo