I've been so excited to finally share Dottie's nursery reveal! This was a fun project and I absolutely love how the room ended up coming together. Keep reading to see the before, during and after of the room and what we did to get there.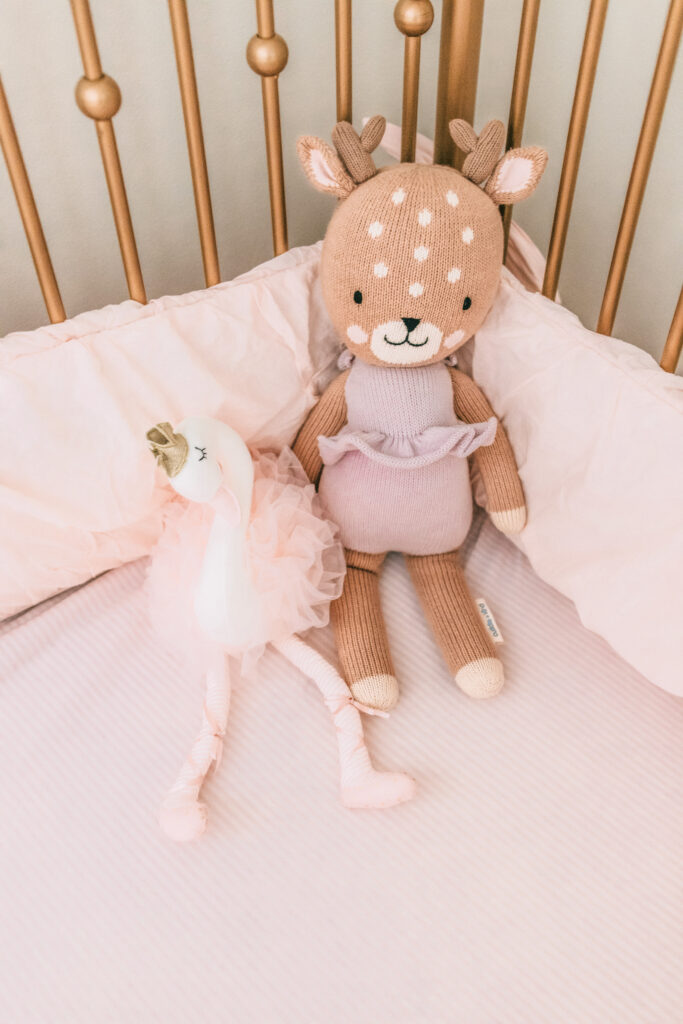 BEFORE
Here's what it looked this the day we moved in. The walls were eggplant purple and a light pink, it definitely belonged to a teenage girl so I thought it was a sweet "full circle" moment when we found out we were having a girl and could make this space into a girl room one more time 🙂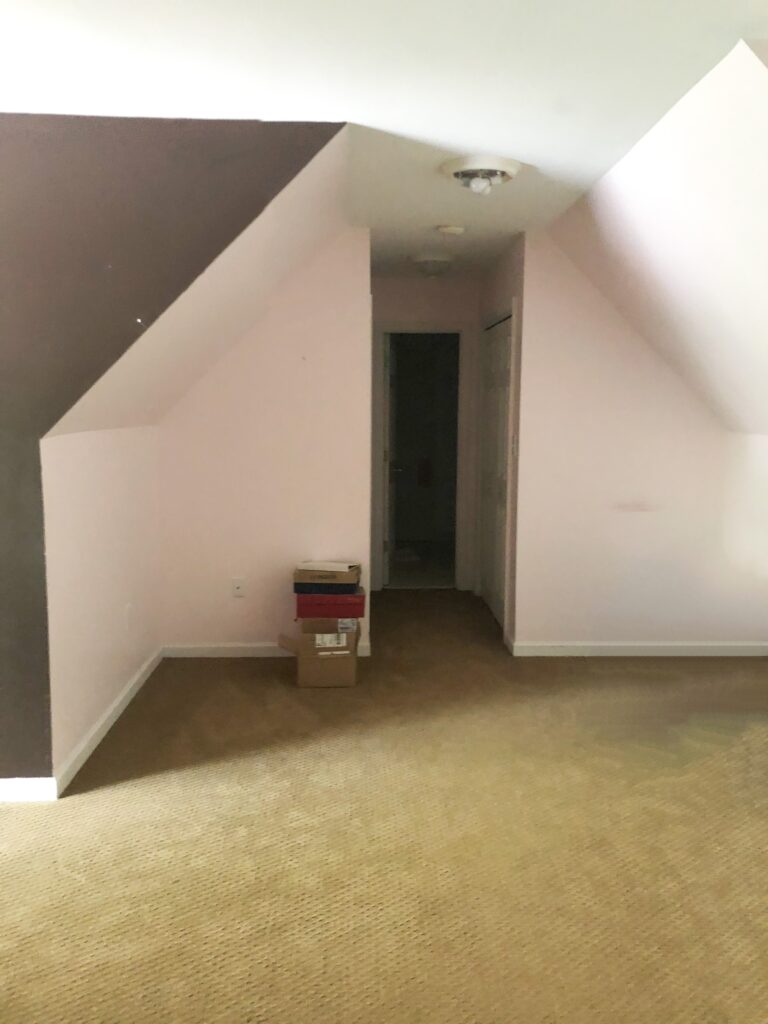 AFTER PAINT
We originally turned this room into my office/ guest bedroom. We painted the walls Pale Oak by Benjamin Moore and swapped out the light fixtures for canned lighting. I just had my desk and a guest bed in here for about 2 years. Here's pics of that right after we removed all the furniture to begin the nursery transformation.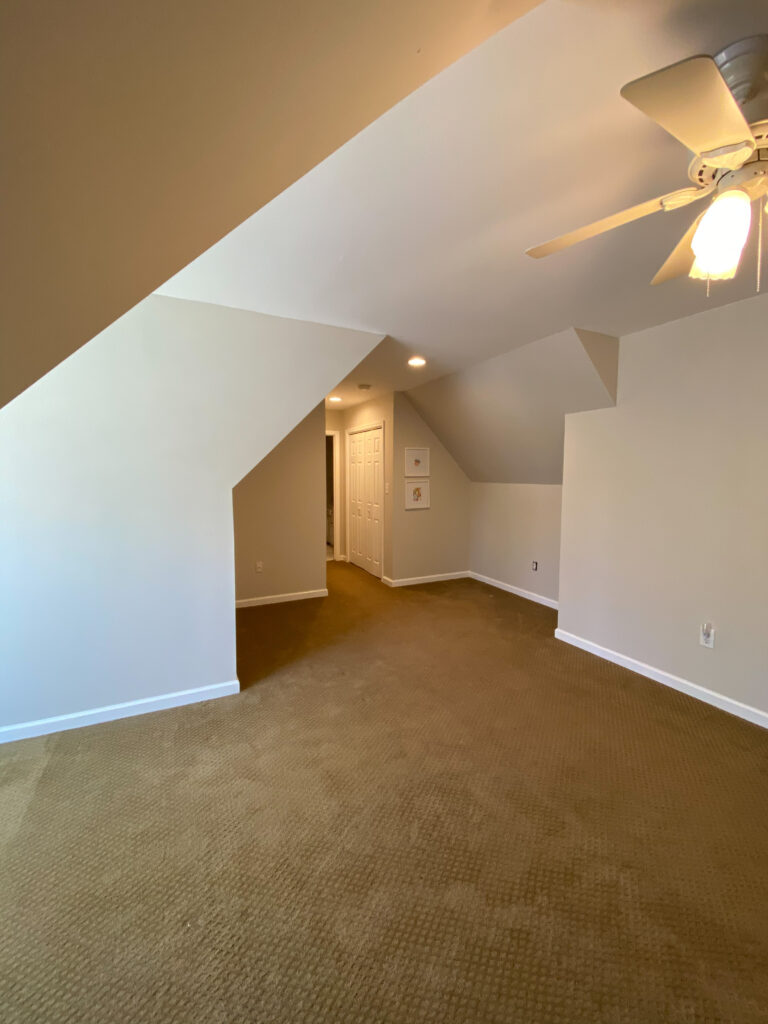 AFTER HARDWOOD
It stayed like that until we found out we were pregnant! When we decided on this room for the nursery, I wanted to start over with a blank canvas so I repainted the walls White Dove by Benjamin Moore. Trey decided to hardwood the floors as his first DIY quarantine project. We stained them dark walnut to match the rest of our house.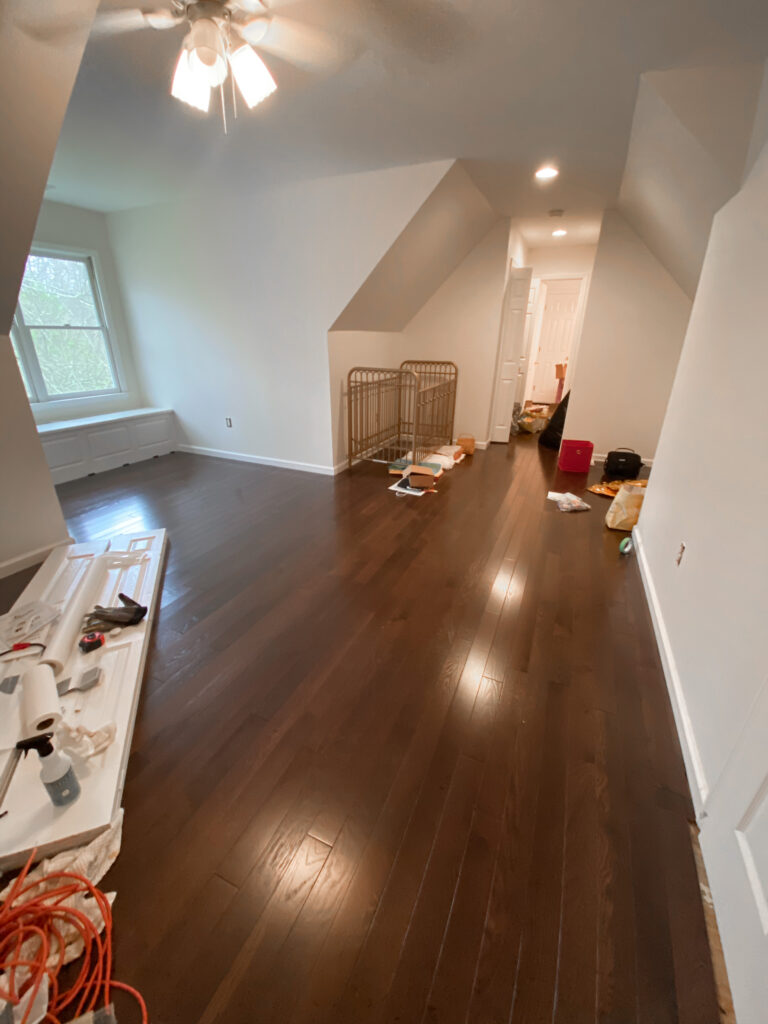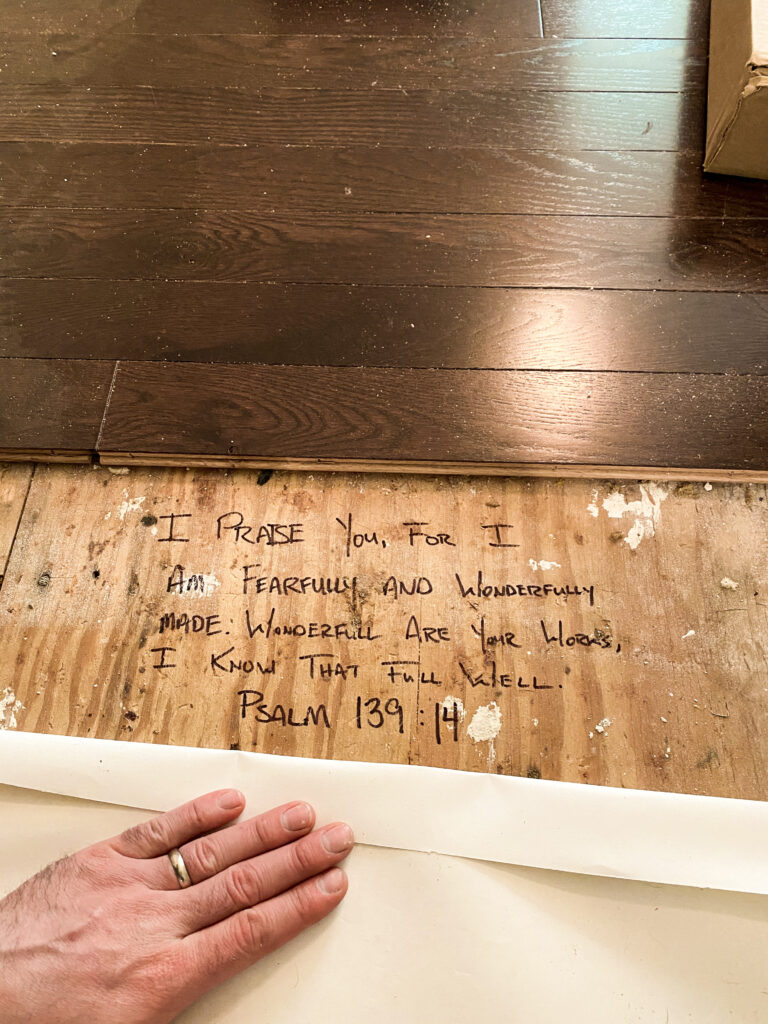 We wrote this bible verse at the nursery door entry before we laid the hardwood. I pray she always knows she is fearfully and wonderfully made!
THE FINAL PRODUCT!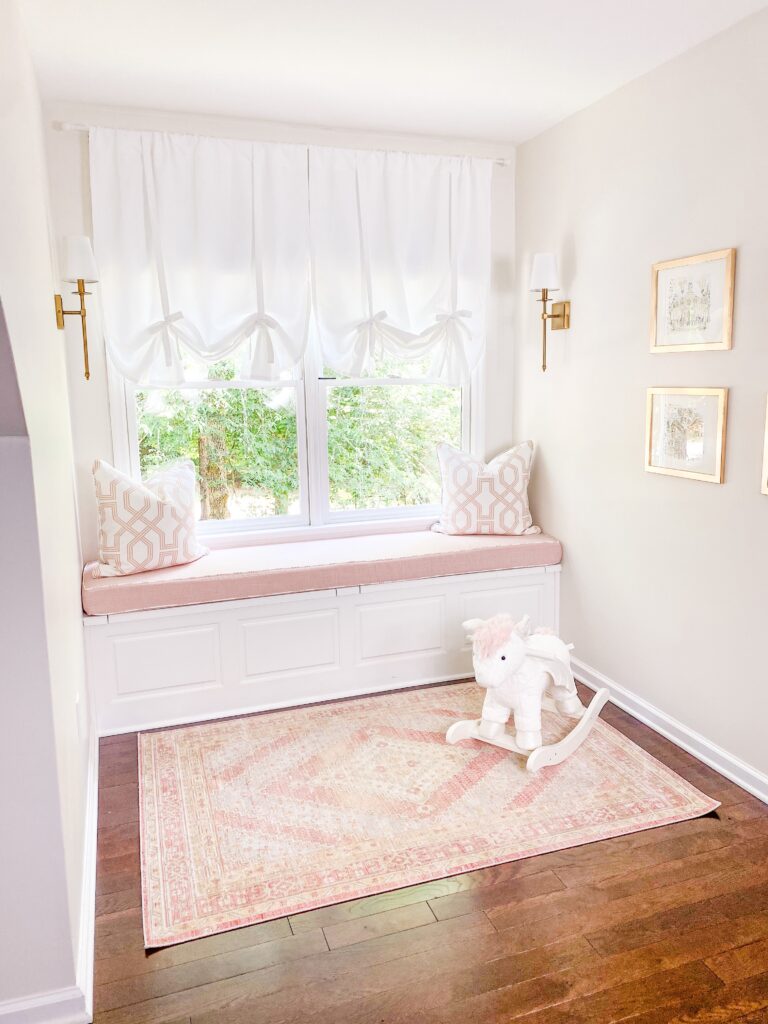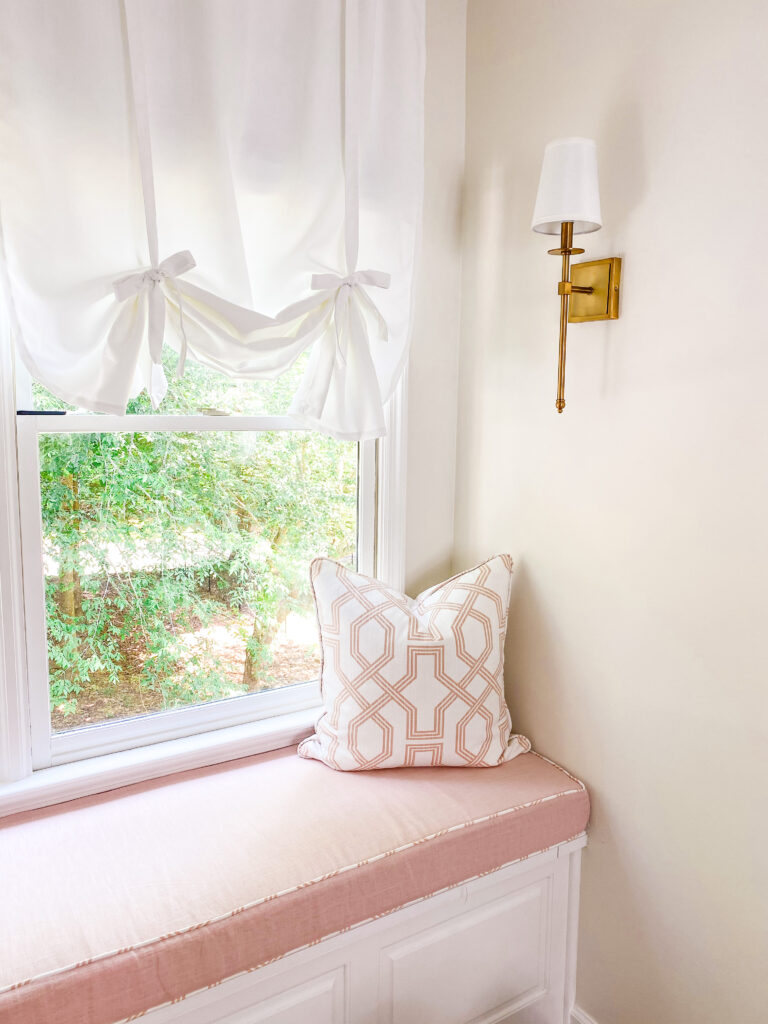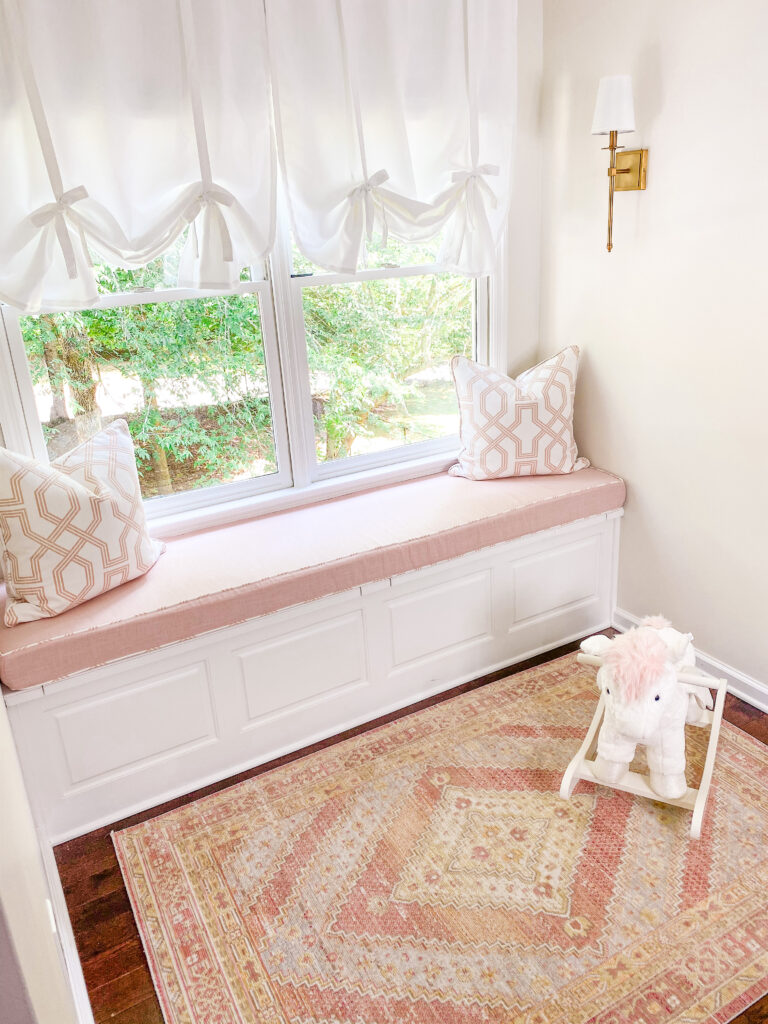 This room is such a funky shape, it was difficult so take a full room shot once the furniture was in, so we will go section by section 🙂 This window seat nook is my favorite part of her room! It lets in the most gorgeous morning light, I know she will love to curl up and read in this spot one day.
Scroll through below and click on an image to shop

Paint Color : White Dove by Benjamin Moore.
Her window seat is custom from Cushion Source, the exact fabrics are below!
Cushion Fabric: Highland Taylor Pacific Blush (72809T-BLS)
Cushion Welting: Scott Living Ander Cameo/Luxe Linen
Pillow Fabric: Scott Living Ander Cameo/Luxe Linen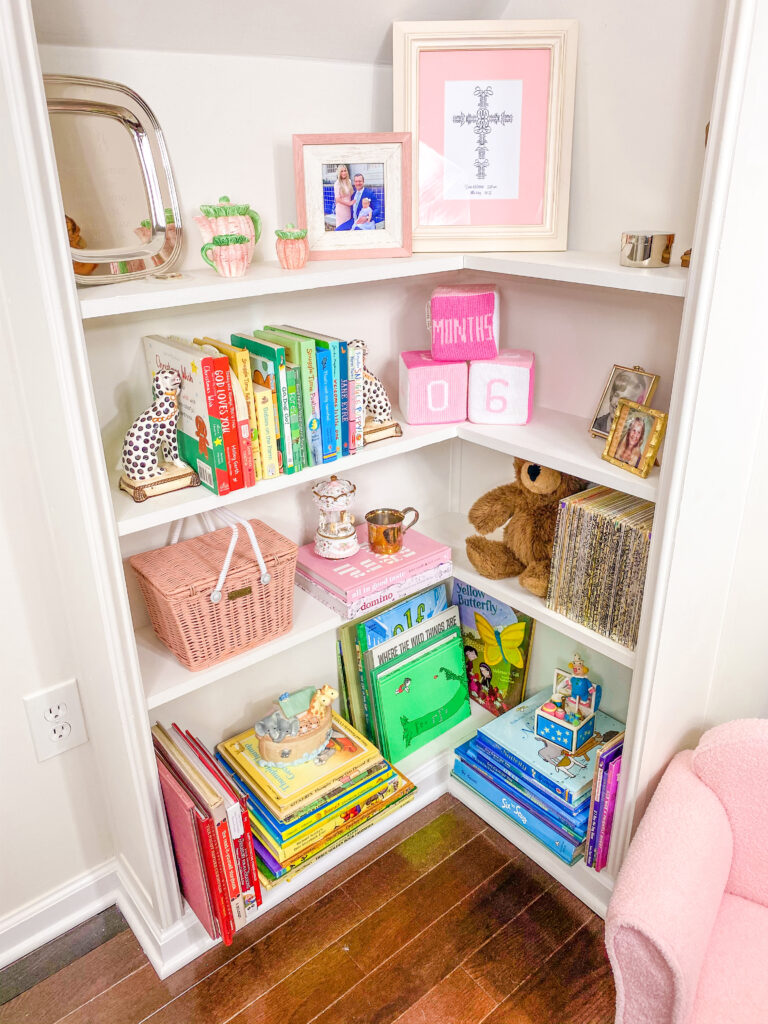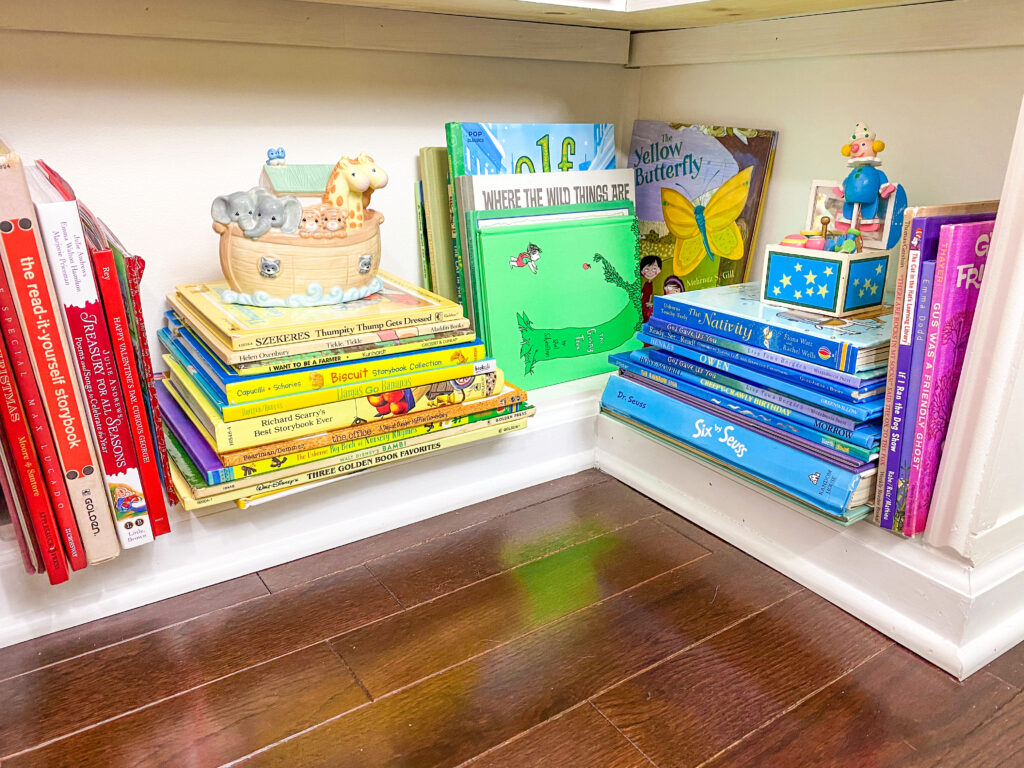 Trey built this little bookshelf in a corner of her room. I've used it to store her books and keepsakes, but it won't be long until all the breakables have to be moved to the top shelf! Almost everything on these shelves were either gifts from family (carousel and piggy bank from her grandparents) or passed down from our childhood (Trey's favorite stuffed bear, silver cup and blue music box). She is named after my mother and grandmother (they are both named Dorothy) so I knew I wanted to incorporate something to represent them as well. I found two small gold frames and added my favorite pictures of them.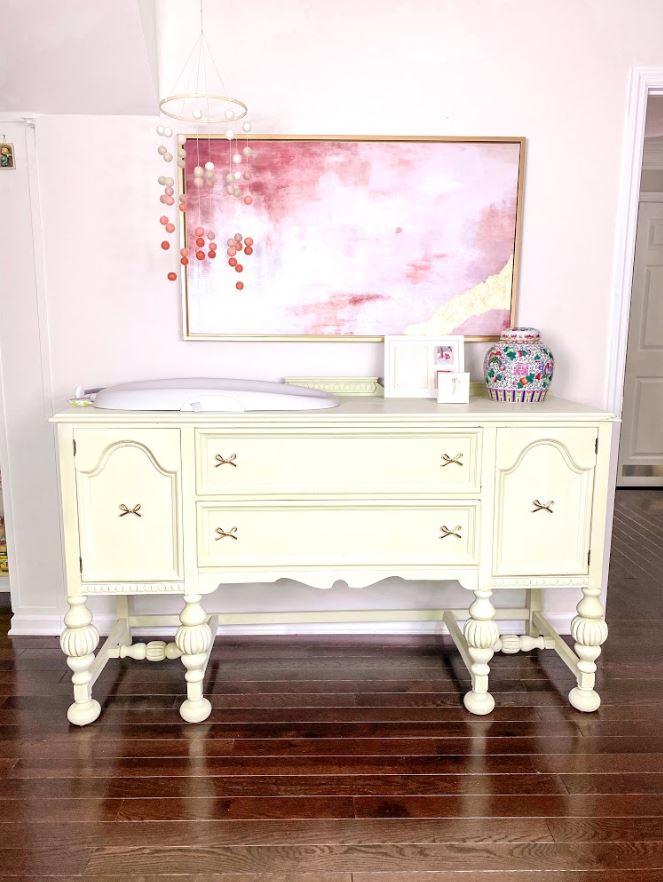 This piece came from Trey's Grandparents, it was their dining room buffet! It was originally a dark stained wood and he was able to sand and repaint it. After adding the bow handles, mobile, and some art it repurposed beautifully as her changing station and dresser.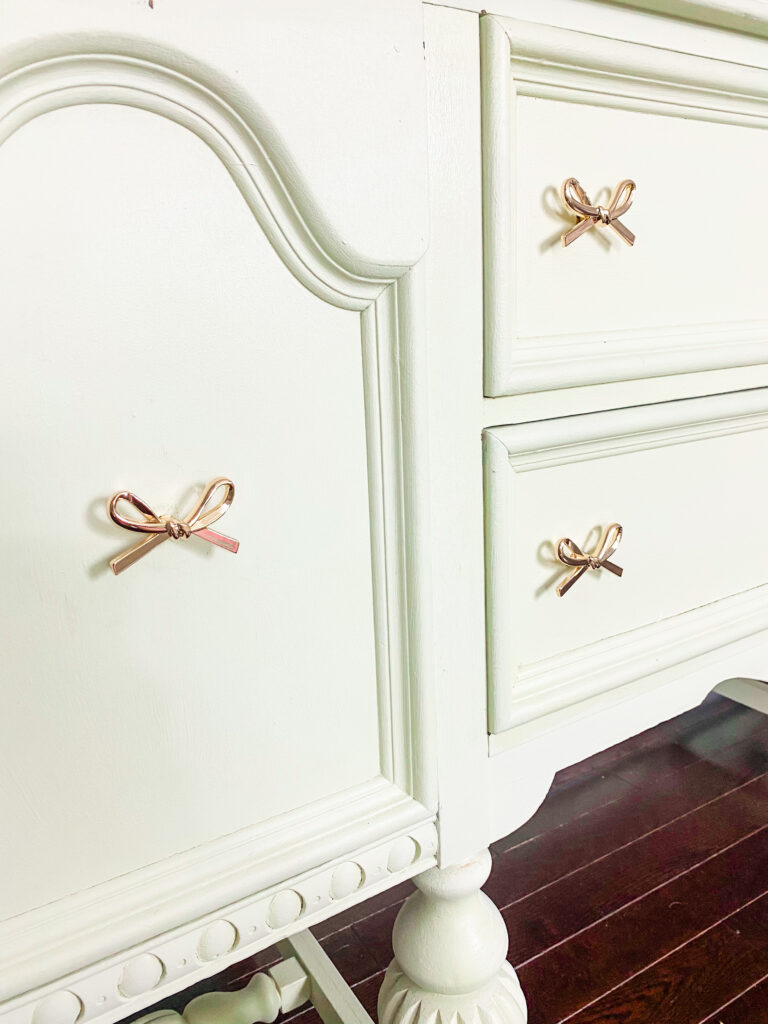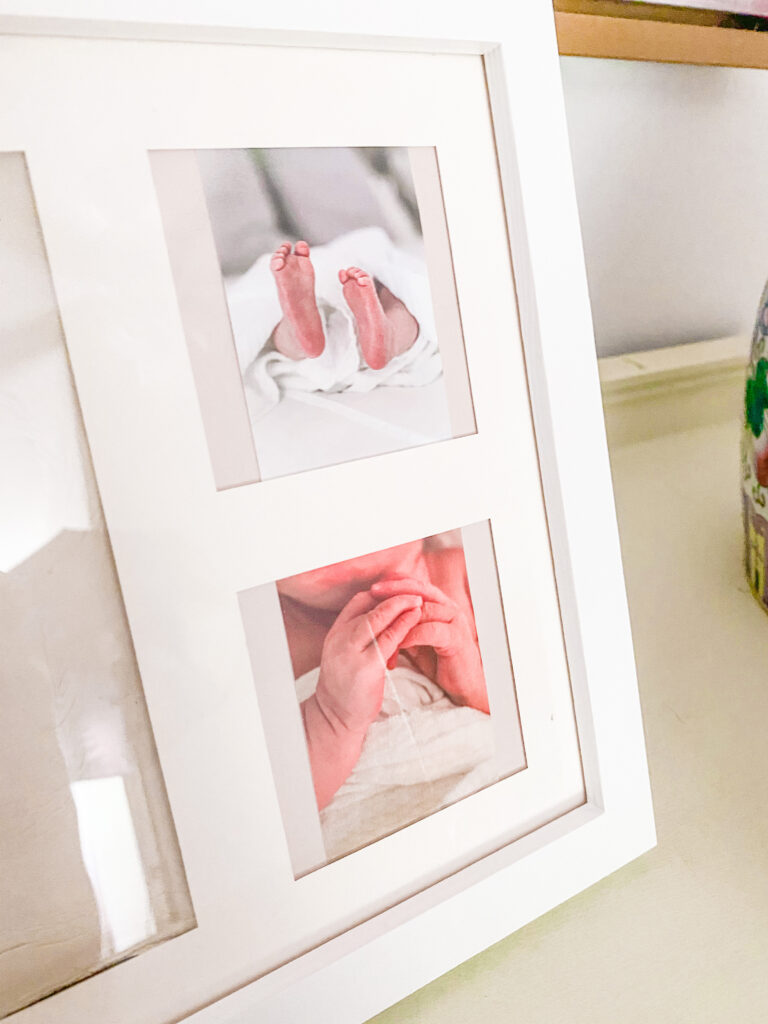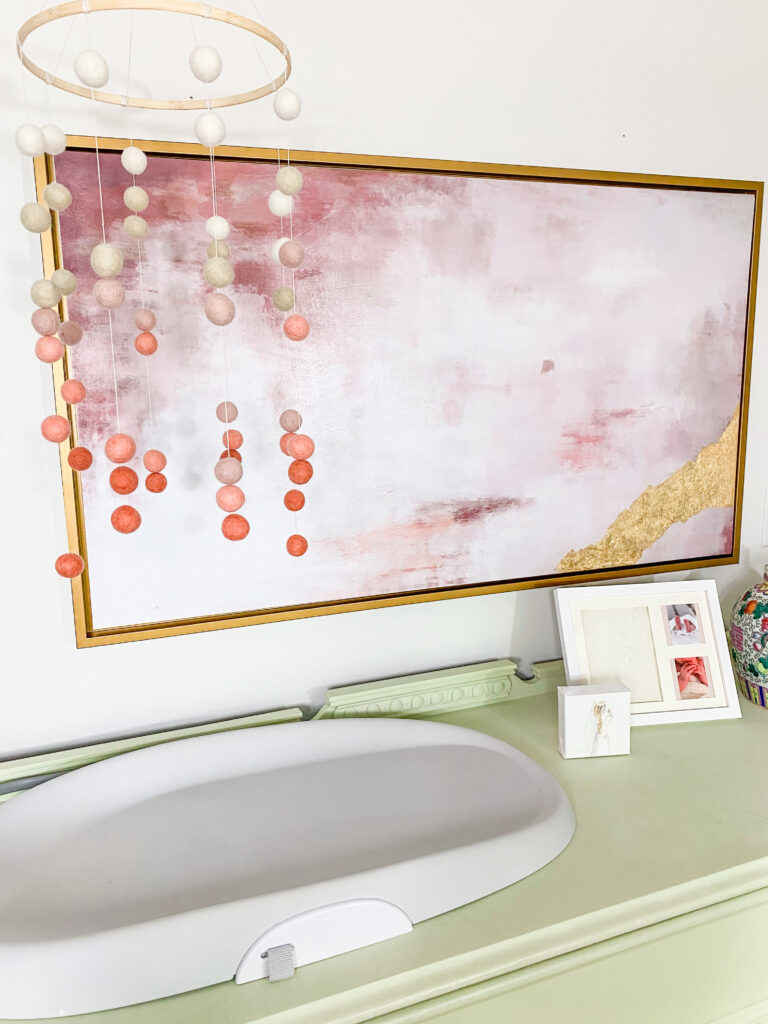 I decided to put a mobile over her changing station and I'm so glad I did! It keeps her entertained during changes. Trey got me the hand & footprint frame for Mother's Day while I was pregnant so we were able to take imprints of her hand and foot when she was just a few days old. I love keeping it on the dresser so I can see those tiny little hands every day.
Scroll through below and click on an image to shop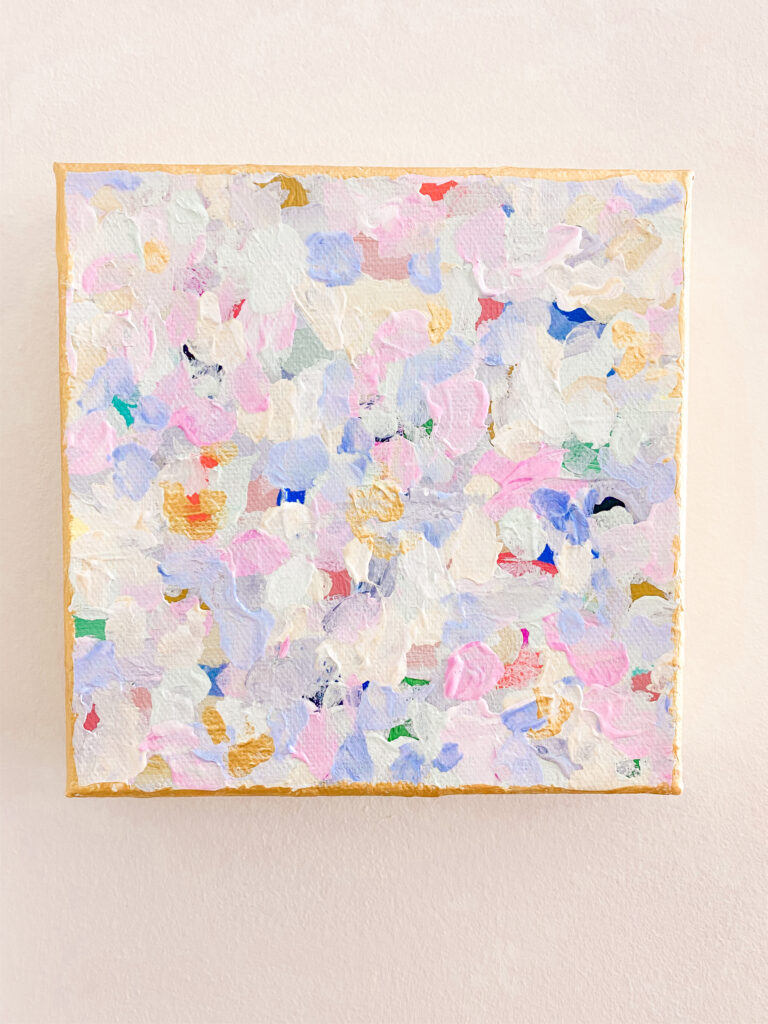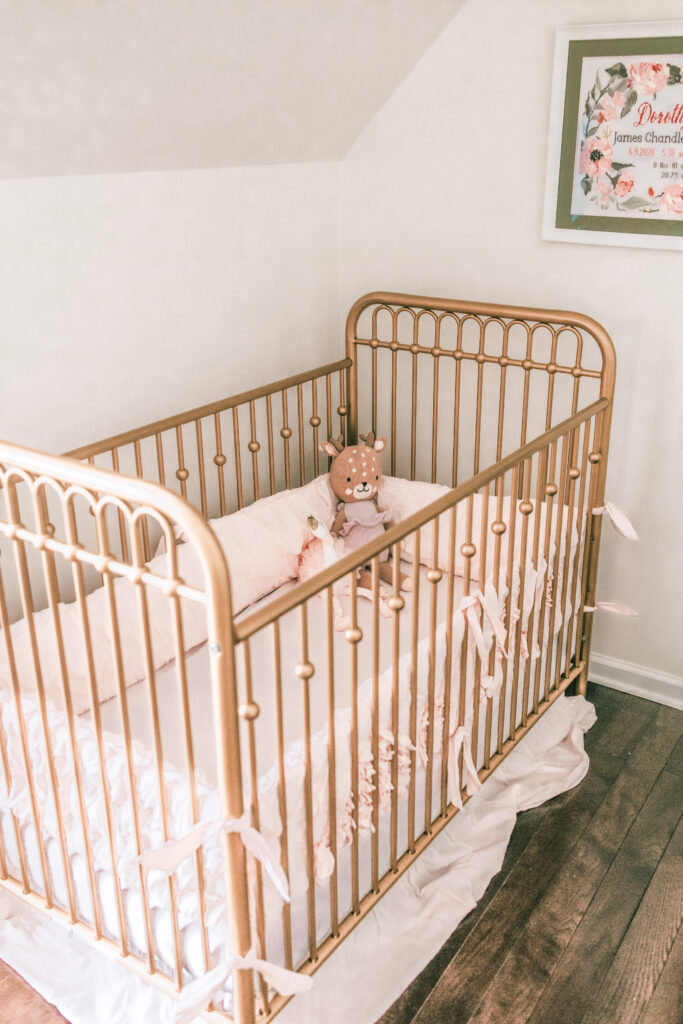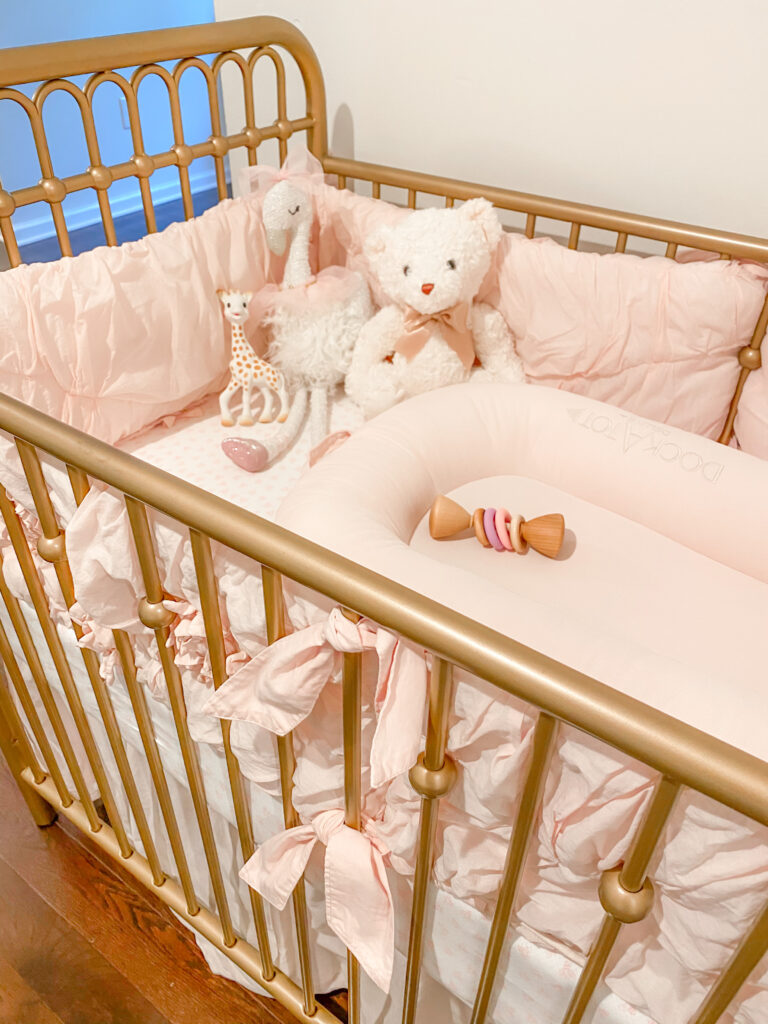 I can't link all of her bedding, but the crib skirt and bumper are both from Restoration Hardware (I don't have all of this in her crib when she sleeps, it was just for the picture). I highly recommend the Newton Mattress, as it's the safest one I found on the market, you can use code LO_CHANDLER50 for $50 off!
Scroll through below and click on an image to shop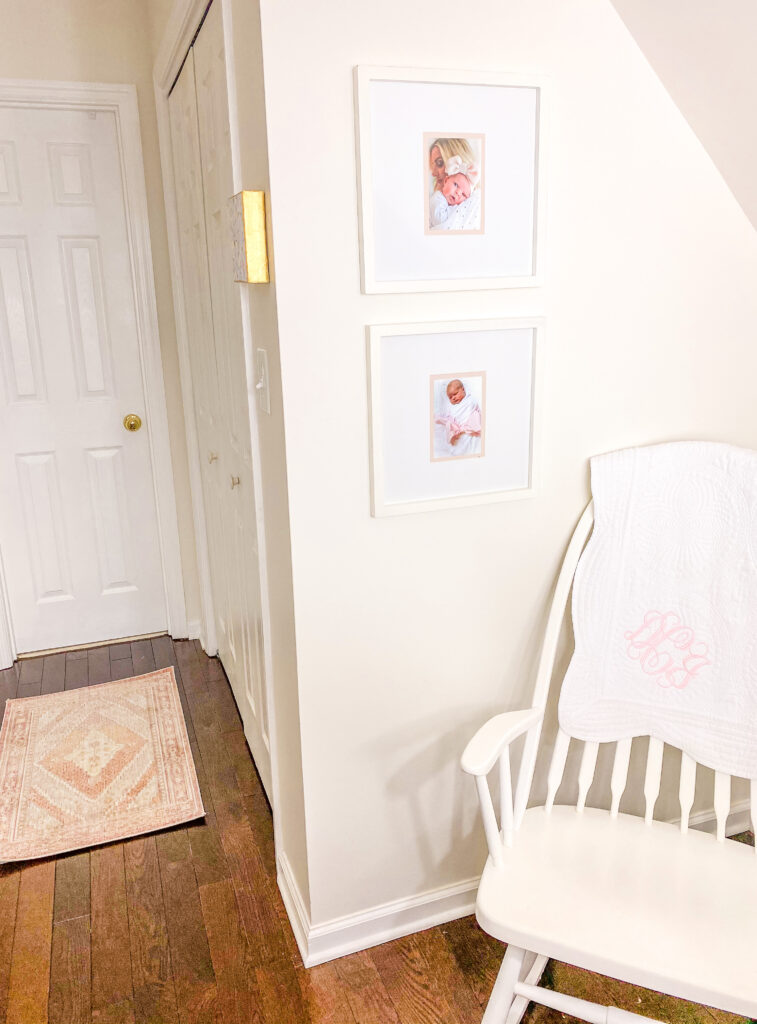 This rocking chair was mine as a baby, I was so excited that my mom kept it after so many years! It was originally a honey colored wood and Trey sanded it down and painted it white. Her monogram blanket and rug are linked below!
Scroll through below and click on an image to shop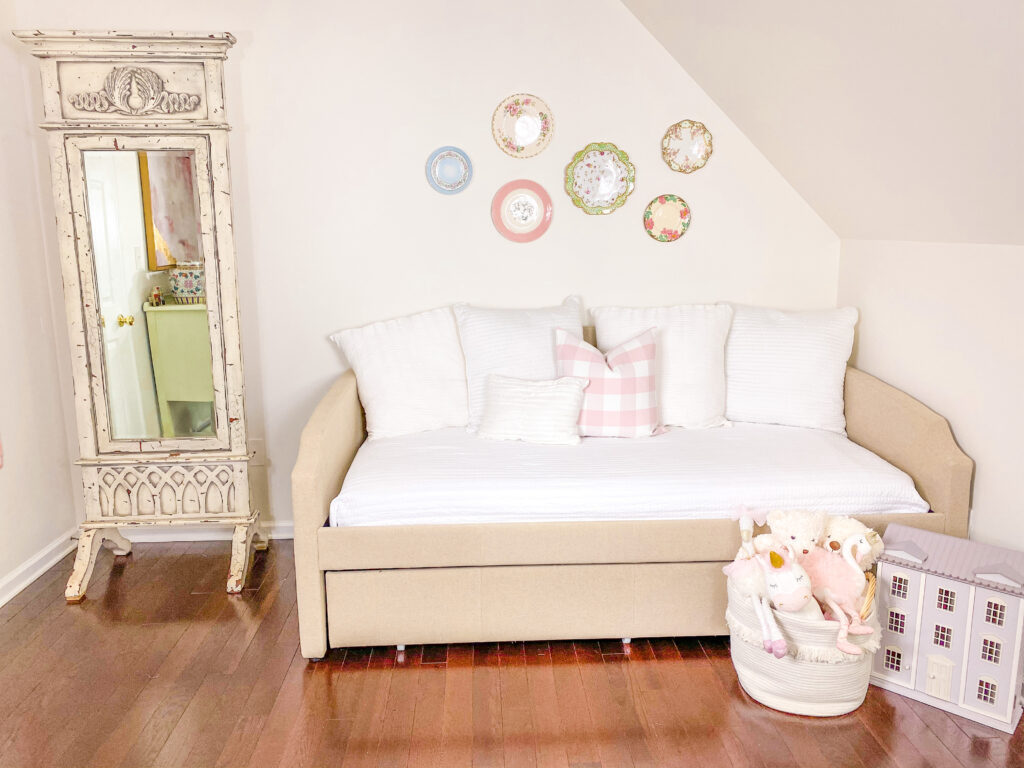 This is such a funky shaped room we debated over what to do in this extra corner. We decided to add a day bed with a trundle to have extra sleeping space when we have family over. I figured this could also be her "big girl" bed later on down the road and that she would like the trundle for sleepovers. This exact daybed is from Wayfair and already sold out, but they have lots of similar options on their site. The mirror is an antique Trey bought me when we lived in Atlanta. The plates are from both of our grandmothers and a few that we found at an antique store.
Scroll through below and select an image to shop !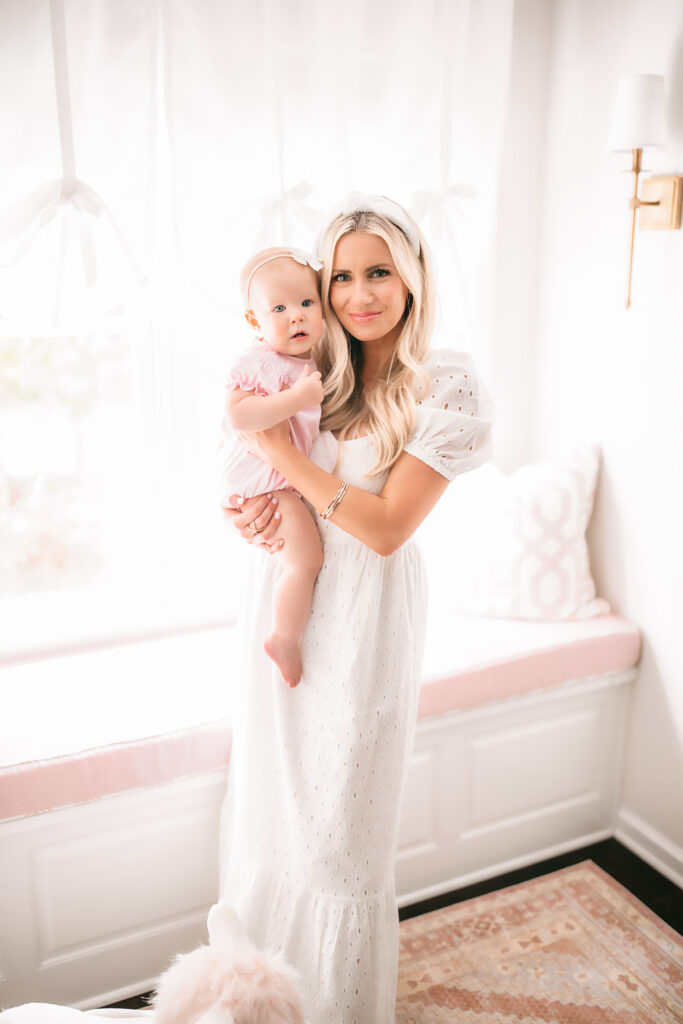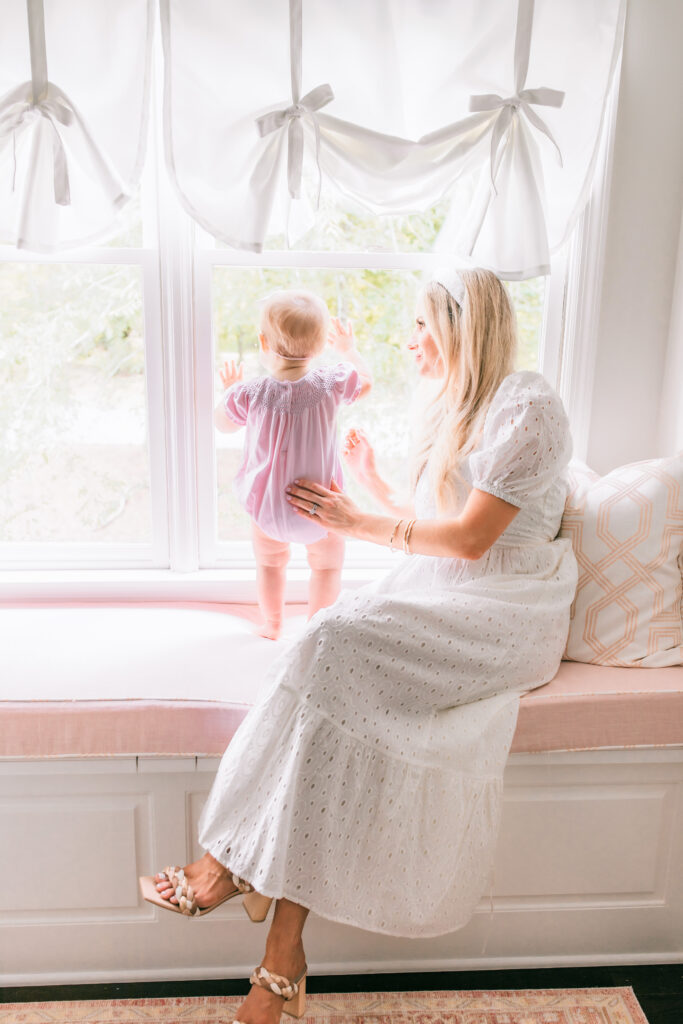 There you have it! We couldn't be happier with how her room turned out and loved making it our own.
For more home content, check out our living room reveal.
Thanks so much for reading!
Xo- Lo & Dottie