With the excitement of the holidays behind us, it's time get ready for the cold, long weeks between New Year's and Valentines Day. This time of year can be refreshing but for most kids, it means back to school and waiting for spring break. So I've come up with 13 fun winter activities for kids that will keep them busy while having fun! Below, you will find day trips, crafts, and at home activities for kids or the whole family!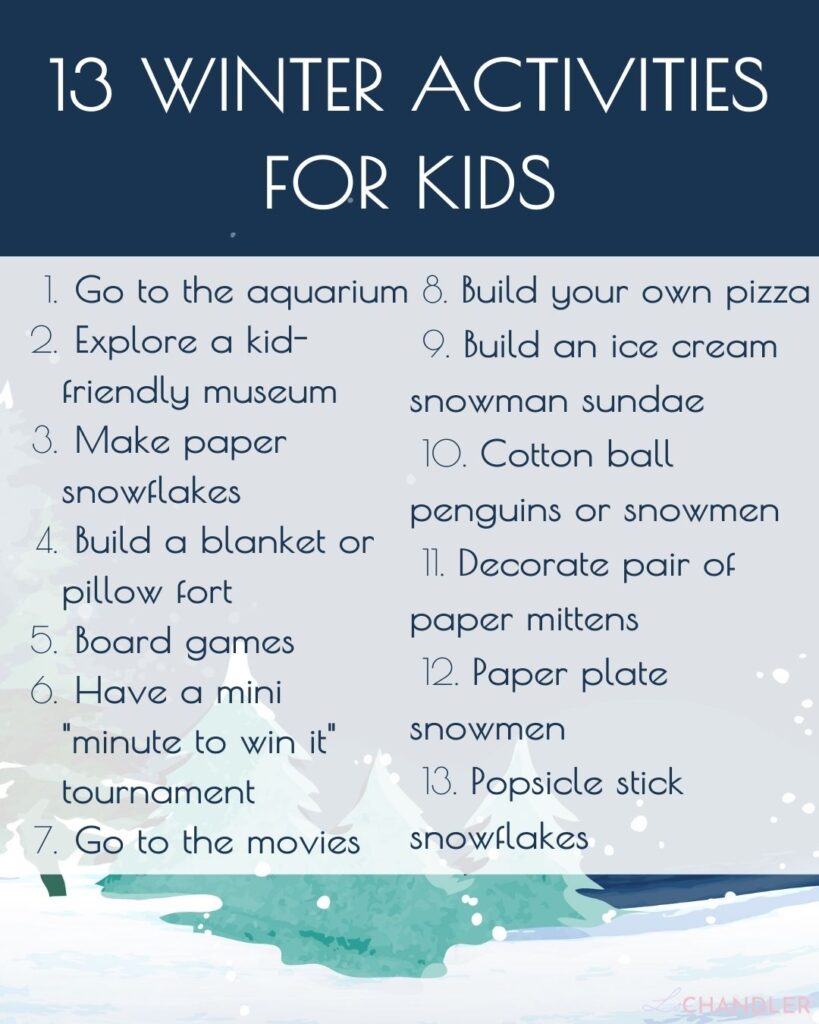 Day trips
Get out of the house while still staying inside with these 3 easy day trips!
Aquarium
Going to the aquarium is such a new and exciting experience for kids. Even if they've been before, it's hard to top the larger than life tanks and rare sea creatures! Make it more interactive by playing under the sea bingo!
Under the sea bingo:

museum
Usually, museums will have kid weekends or free museum Sunday, so make sure to keep up to date with local events this winter! Also, most museums have a kid area/floor focused on interactive pieces and sometimes the opportunity to make their own art!
The movies
Even though we can stream just about anything from the comfort of our homes, getting out and going to the movies can be a fun, spontaneous activity. Again, kids' tickets are usually discounted and a matinee will have you home by dinner!
Play from home
Maybe it's just too cold or everyone feels like staying home one weekend. Get creative with these 3 play from home activities listed below for the ultimate kid-friendly weekend!
build a blanket/pillow fort
A true classic! Simply gather all of your blankets, comforters, pillows, and build a cozy fort perfect for movie watching or playing games.
minute to win it Tournament
If you want a bit of friendly competition, playing easy minute to win it games is sure to bring out the competitive side of everyone. Three very easy to explain/shop for games are "cookie face", speed stacking, and "defying gravity".
In cookie face, the player will try to slide a cookie from their forehead into their mouth without the use of their hands in under a minute. Pick up or bake your favorite cookies and you're good to go!
Speed stacking sees who can stack the most cups in one minute without the structure crashing.
Defying gravity is very easy: don't let your balloon touch the ground during the minute or you're out!
Shop Minute to win it supplies:

build your own pizza
Want to get creative with lunch or dinner? Next time you're grocery shopping, pick up some mini pizza crusts with everyone's favorite toppings and you've got a day filled with fun and delicious pizza!
crafts
Winter crafts can be hard since we're done with the holidays but Valentine's Day is just a little too far away. I've linked supplies for 3 super simple winter crafts that will keep everyone busy until it's time to make Valentines.
Paper snowflakes
For this craft, fold a piece of construction paper into as many halves as you want. The more halves, the more intricate of a design! Then start alongside the edges with borders or any shape. Unfold for a beautiful and unique snowflake!
Shop paper snowflake supplies:

cotton ball Penguins
These turn out so cute! Follow this adorable cotton ball penguin craft and I've linked all the supplies! You could also make cotton ball snowmen.
Shop penguin supplies:

popsicle stick snowflakes
You will start by painting (I linked non-toxic acrylic) or coloring your popsicle sticks. Then either glue or hot glue the sticks into the shape of a snowflake (think of a plus sign on top of an X). Let dry and decorate with stickers or jewels.
Shop paper snowflake supplies:

These are some of my favorite winter activities that are fun and keep you warm! Don't forget to comment which of these fun winter activities for kids you're most excited to try out this season!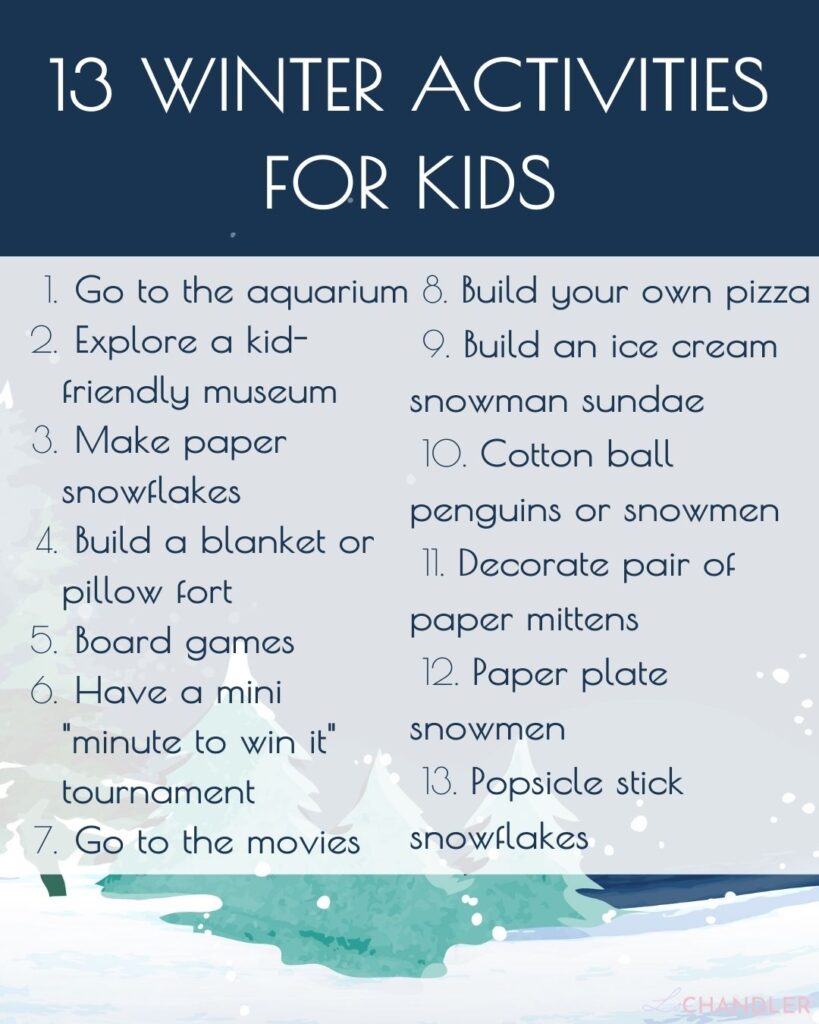 Also make sure to follow @lo_chandler on Instagram for more recipes, tips, and seasonal content like the best products to organize your Christmas decor.
Thanks for reading!
Xo -Lo