What is more refreshing in the summertime than a rosé wine slushy?  Absolutely nothing!  I saw this Southern Living Recipe a few weeks ago and wanted to try it immediately.  I decided the grenadine sounded a little too sweet, so I played around with a few ingredients and came up with my own version.  It is PERFECT for summer, and isn't too sweet which I love.
A few tricks and tips – don't put the wine bottle directly in the freezer, it will bust (obvi).  Most recipes will call for freezing the wine in ice cube trays, which I did for about half the bottle..but it was WAY easier to just dump the wine in a gallon zip lock bag and throw it in the freezer (minimal effort, people..that's my motto).  I set the zip lock bag in a baking dish to avoid spills, and stuck it in the freezer the night before.  If you're wanting to make it the same day, it needs to chill for 4-6 hours.  Go ahead and make the simple syrup when you freeze the wine so the berries have time to infuse the syrup.  I made mine the night before and stuck it in the fridge until I was ready to blend.  The whole process takes 10 minutes at most, waiting for the wine to freeze is the longest part, but it's totally worth it.
I also want to try this using rosé (not frozen) and ice cubes to see if that would still taste good, like an "instant frosé." Has anyone tried that?!  Let me know..I have 0 patience and would be super excited if that tasted just as good.
So without further ado, here's the recipe!
INGREDIENTS
1 bottle Rosé
1 1/2 lemon (juiced)
1/4 cup vodka
1/2 cup water
1/2 cup sugar
2 cups strawberries (frozen or fresh)
DIRECTIONS
Pour rosé into ice cube tray OR in gallon zip lock bag.  Freeze until solid, 4-6 hours or overnight (it won't be as solid as ice, it will be more of a slushy consistency.)
Make a simple syrup combining water and sugar in a pot and boil until sugar is fully dissolved.
Pour simple syrup over 2 cups of strawberries and refrigerate.
Combine frozen rosé, lemon juice, vodka, and strawberry simple syrup (including the strawberries) into blender.
Blend until desired consistency (you can add more rosé or strawberries to adjust).
Serve in a fancy glass and garnish with your favorite straw or stirrer!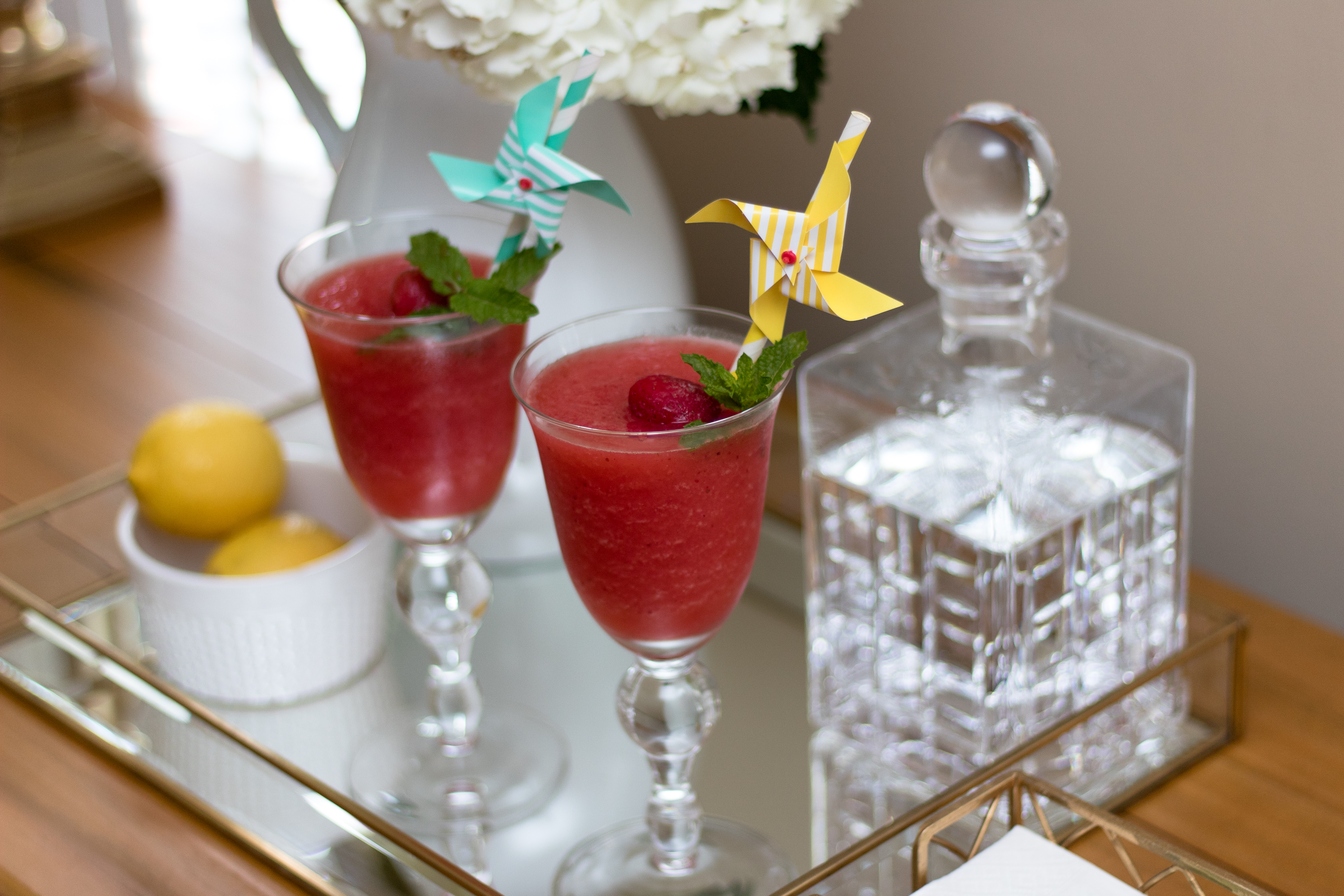 I hope you love it as much as I do, let me know if you try it!!
XoXo
Lo
Click images below to shop the post!