This day is finally here!  I have been thinking about starting a blog for years now and I am so excited to officially launch my new blog, Lo-Chandler.com.
Being that this is my first post, it seems apropos to acquaint myself with you.   My name is Loren Chandler, but my friends call me Lo.  I live in Atlanta, Georgia with my husband, Trey, and our two dogs Sam and Owen and work full time in medical device sales (orthopedics, holla at me if you break a bone).  My job requires me to wear scrubs to work every day…EVERY. SINGLE. DAY.    I have a serious obsession with all things relating to fashion and makeup, so by Friday afternoon I'm always dying to put on sequins head to toe and bright red lipstick.  Before I get to the point where I'm bedazzling my scrubs, I thought I'd start a blog as a creative outlet to make my work week more bearable.
I am border-line obsessed with really enjoy reading blogs, and when I'm not working or sleeping, there is a 93% chance I'm looking up fashion and home decor inspiration from my favorite influencers.  Who would have thought that a regular girl could find a new romper or bed spread, blog about it, and then halfway across the country somewhere it inspires other fashionistas and their closets?  I love the sense of community that blogging brings, and I'm excited to hopefully be a small part of that.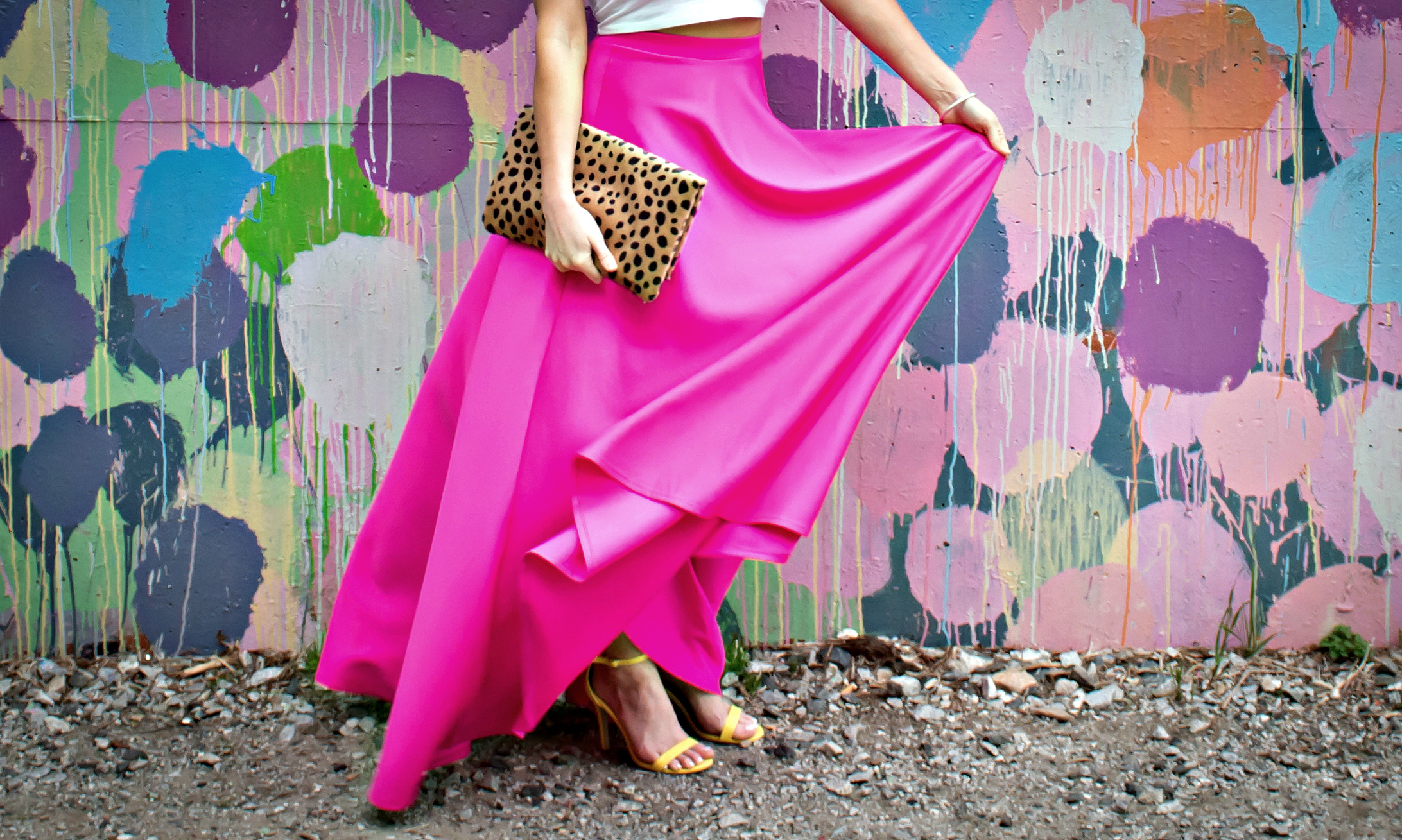 I love trying out products and discovering new brands, and I'm constantly updating my friends on my latest finds.  Whenever I find a new foundation, a sale on shoes, a new brunch spot (really anything!) my first reaction is always "oh so-and-so would LOVE this" and immediately send a message with why they can't go on another second without this great new thing in their lives.  I genuinely enjoy sharing tips, tricks, and products that I know my friends will love or make their lives easier.  I think this blog will basically be an extension to the group text I have with my girlfriends where I share everything and anything I think they #need.
I bought this pink skirt about a year ago.  I showed it to my mom and she said "I love it, that's so YOU..but when will you ever wear that?"  I had no idea, I just knew I #neededIt and today seemed like the perfect excuse 🙂  I mean if you can't wear hot pink and leopard to announce a blog launch, then when can you?!  I'm sharing some of my accessory details below, scroll through and click the photos to shop!  This chunky necklace surprisingly works with so many outfits and this similar leopard bag is under $50!   Also, 10 points to the shade of lipstick I'm wearing for having the greatest name ever. (so fetch)
I'm beyond excited to embark on this journey!  I hope to entertain, inspire, and make some friends along the way.
XoXo – Lo
p.s. – I would love to hear from you, feel free to say hi below or send me an email at [email protected]