Charleston, South Carolina is the cutest city to meet up for a girls trip! The coastal town is rich in history and has tons of things to do and even more great places to eat. Before we left for the trip I asked for recommendations from my friends on Instagram and received a TON of responses from experienced visitors and locals. I compiled all of the responses and created a list of the most recommended restaurants & rooftops that Charleston has to offer for a girls trip! I also included the exact places we went, what we ordered, and our reviews! Keep reading to see the ultimate Girls Trip Itinerary for Charleston, SC!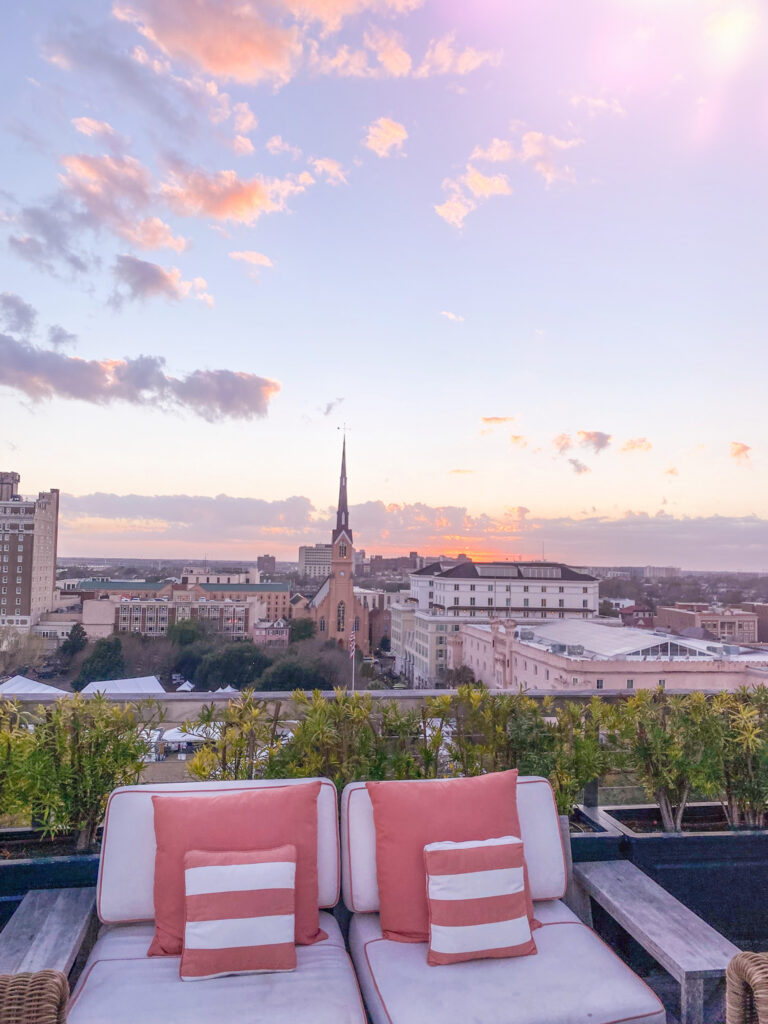 Note : For this girls trip we were looking to eat, shop, eat some more..and maybe find somewhere fun to have a few cocktails in the evening. If you're more interested in touring the city or visiting amenities like golf courses, parks, boat tours etc. I recommend this website.
Where To Stay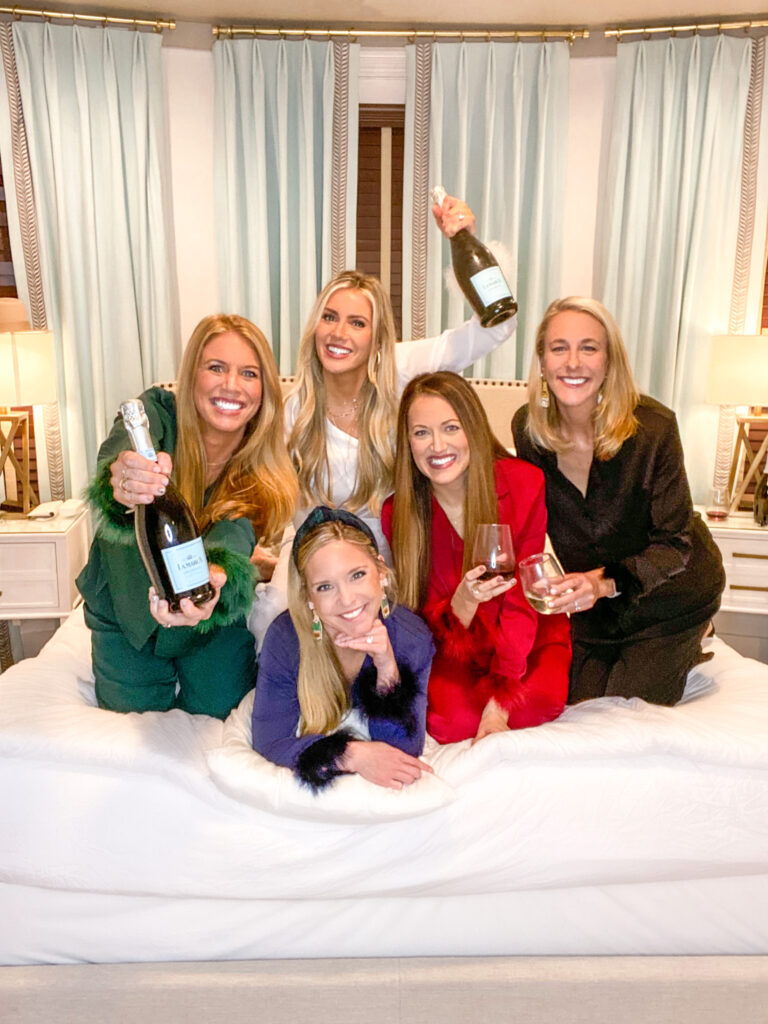 We chose an Air BNB that was walking distance to King Street, as we wanted to be able to walk to most of our destinations. We booked through The Inns and stayed at their property on Spring Street. The property was newly renovated and can sleep up to 10 people!
One thing to keep in mind when booking is there is no parking. You have to park in a parking garage which was about a 10 minute walk from the house (we were able to pull our cars up to the front door to unload luggage first). We were hesitant about this at first but it ended up being no big deal because we didn't need our cars all weekend, as everything was walking distance to our house.
Where To Eat
There are SO MANY fabulous restaurants in Charleston. I highly recommend making your reservations several weeks before your trip, as spots will fill up far in advance. If your first choice isn't available, my friend (who is a local) recommend getting on Resy/Open Table and selecting the 'notify me' option. She said she often sees openings pop up last minute!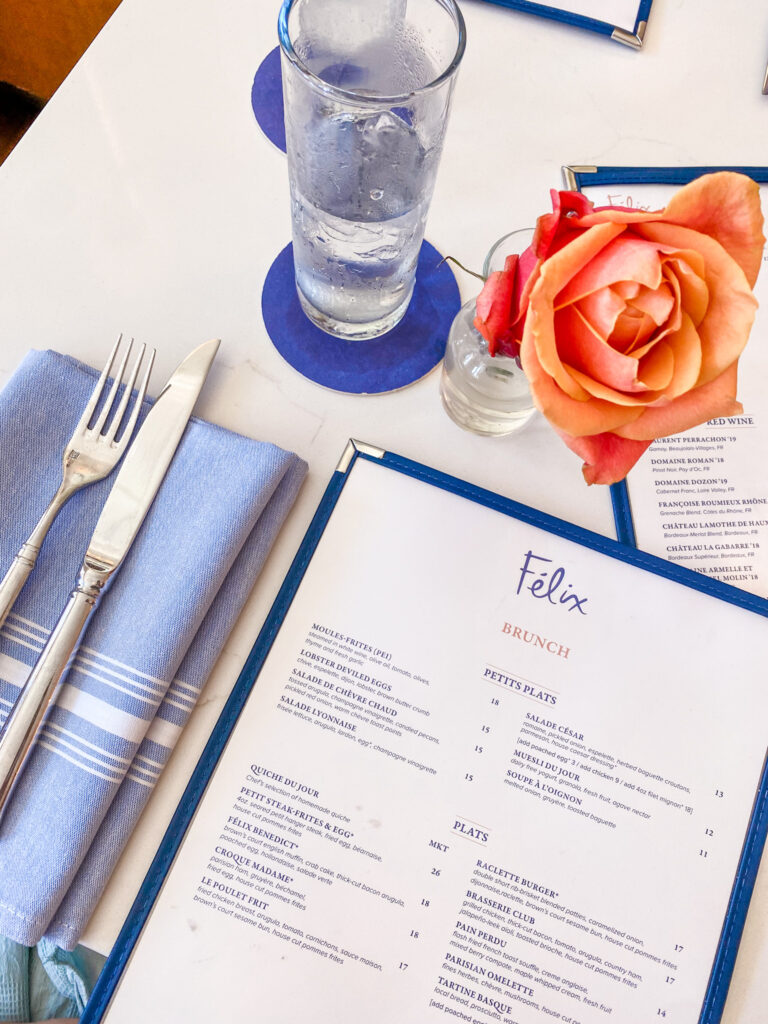 BRUNCH / LUNCH
WHERE WE WENT :
-Felix – Incredible brunch with a modern, bright atmosphere. We shared the "Felix Flight" which was a bottle of champagne + 4 juices for DIY mimosas. So fun for a group! Highly recommend the Lobster Deviled Eggs and the Tartine Basque!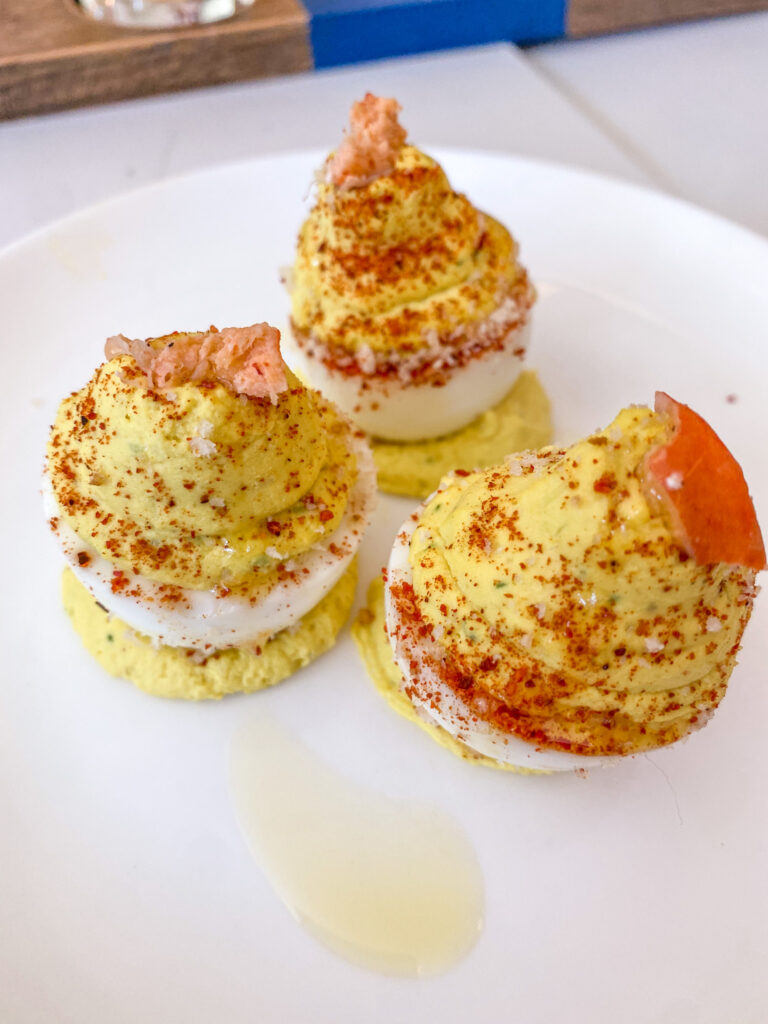 -Hall's Chophouse – HIGHLY recommend gospel Sunday brunch. The gospel choir singing in the background was truly something to experience and the service here was hands down the best of the trip. I got the salmon salad and a side of collards with a Bloody Mary to drink. If you like your Bloody's with a kick, ask for a side of their homemade Worcestershire sauce and add in about a tablespoon, it was divine! My friends got the French Toast and the Omelets, rave reviews by all!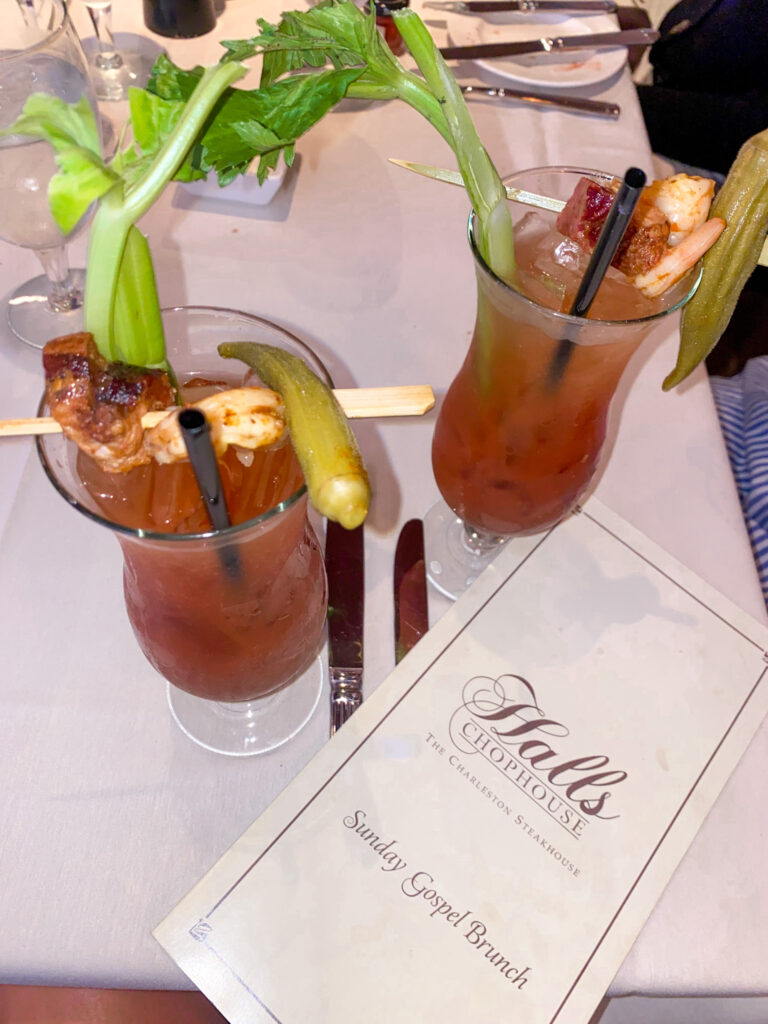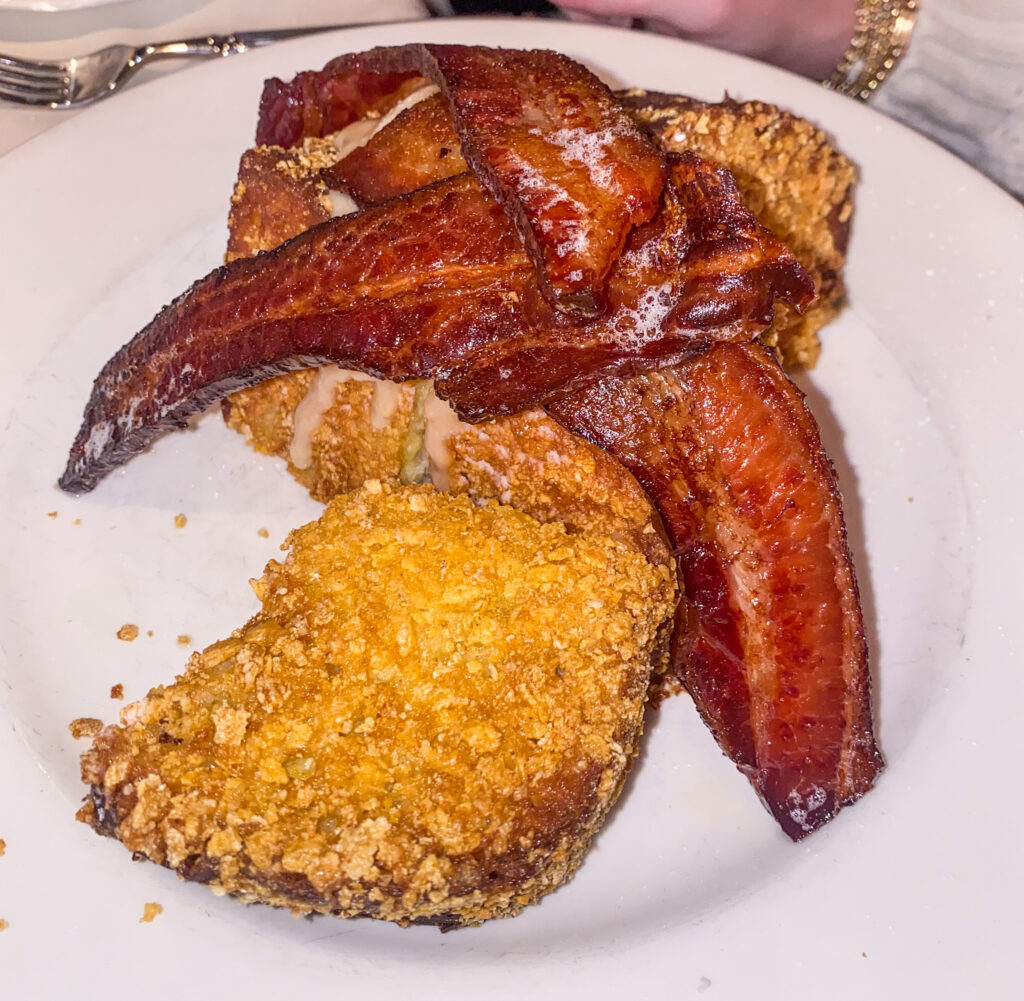 ADDITIONAL BRUNCH/LUNCH RECOMMENDATIONS:
Cru Cafe –  Gourmet comfort food, famous for their Four Cheese Macaroni.
Basic Kitchen – Light, breezy, casual spot with healthy fare.
167 Raw – This New England style Oyster Bar came highly recommended by several people! At the time of this post, they don't take reservations and we were told theres usually a long wait so we decided to pass, but worth considering if you're an oyster lover! I was told by so many people that it's worth the wait!
Fleet Landing – located right on the water, gorgeous view at sunset!
Husk – locally sourced Southern dishes served in a restored Victorian-era home.
82 Queen – Beautiful courtyard located on Queen St. with Southern food and a great outside atmosphere that is very quintessential Charleston.
Millers All Day- Super fun vintage vibe that is walkable to nice shopping and stores. It's an easy everyone will love something brunch place.
The Darling – Cute raw bar, good cocktails
Park and Grove-  Good salads & good wine. Healthy, light, and easy.
Frannie and The Fox – (Sunday brunch only, but also a wonderful lunch and dinner ) This fairly new spot is located inside the Hotel Emeline. The atmosphere is inside/outside with an LA feel. Wonderful spot for cocktails by the bar too!
Verde – if you don't want a long sit-down lunch, this spot is good for salads on the go
Poogan's Porch – one of the oldest restaurants in Charleston. Traditional Southern cooking served in a Victorian townhouse, it's been recognized by Martha Stewart Living, Southern Living and The Travel Channel!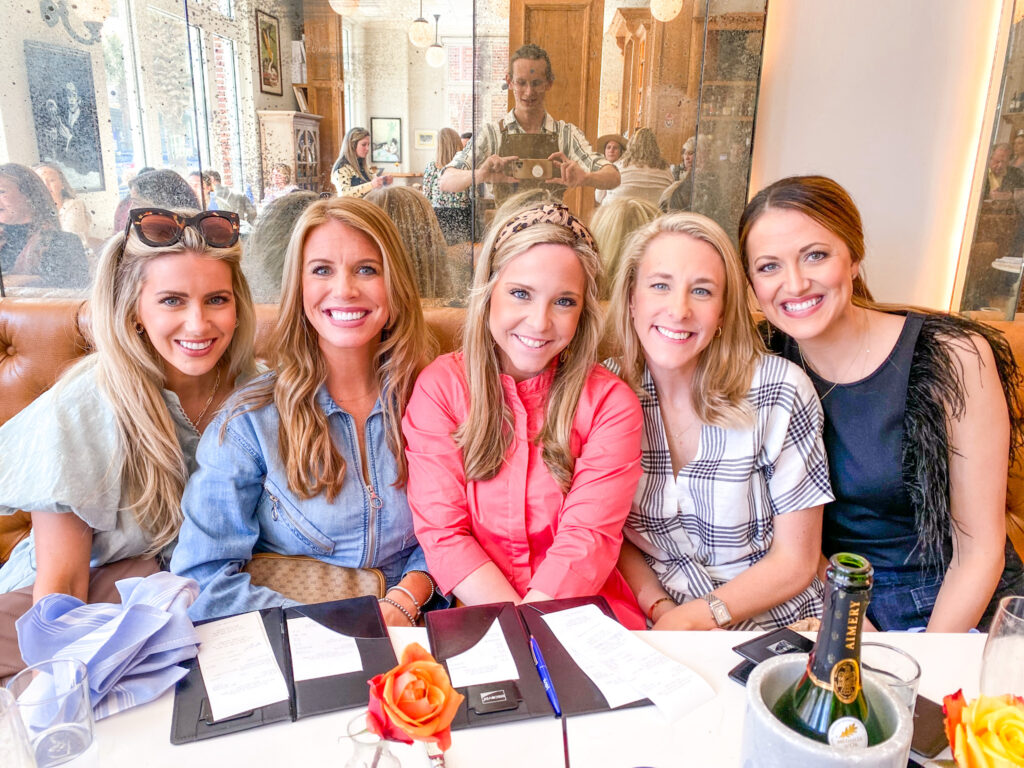 DINNER
WHERE WE WENT:
-Indaco – A rustic Italian vibe, think wood-fired pizzas, hand-crafted pastas, and a variety of Italian wine. If you're there with a group, I highly recommend the chef's special. For $50 per person the chef will randomly select a variety of appetizers, entrees, and desserts. It was so fun to be surprised by what was coming out next, plus it got me out of my comfort zone and I tried all sorts of dishes I wouldn't normally order. It was all served family style so you could try a little bit of everything!
-The Ordinary – A fancy seafood hall and oyster bar! It's located in an old bank, the super high ceilings give it a historic and upscale feel. A little more pricey but worth it to me because they support local and regional fishermen and farmers. We loved the Arugula Salad, Jumbo Lump Blue Crab Rice, and the Smoked Oysters. For wine we went with Anthony Thévenet, Beaujolais (red, France) and Iruai (white, California). Both were delish!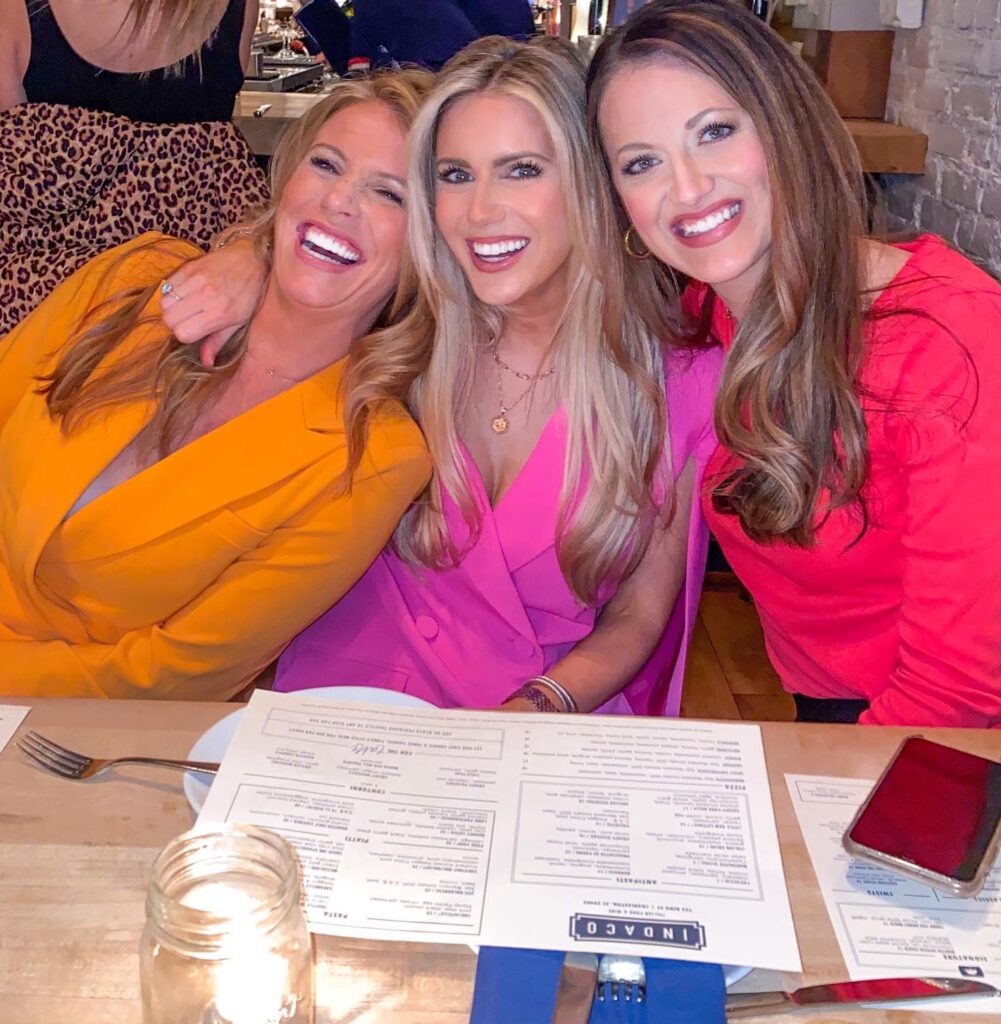 ADDITIONAL DINNER RECOMMENDATIONS:
Rdnjsaljds
Melfis-  Another Italian option. I was told it has an old school New York vibe with great pastas, pizzas, wine. The stracciatella bruschetta, spicy Caesar salad, and stretch armstrong pizza all came highly recomended.
Little Jacks- a smaller local place with a famous burger! This is on my list to try next time I go. Also has an outdoor area.
Chez Nous – A french restaurant in an old house. The menu changes every day and it's hand written by the chef! You get to choose one appetizer, one entree and one dessert, and then they course your meal. Slightly pricey but I'm told it's worth it and a fun adventure!
Le Farfalle – Another Italian restaurant! Recommended by several people.
Halls Chophouse – I know I already mentioned this for brunch but SO many people recommended their steak dinner I wanted to include on this list as well.
Bourbon N Bubbles – we peaked our head in and it looked fabulous, this is on my list when we go back. Right off of King Street.
Rooftops + Wine Bars + Tea Time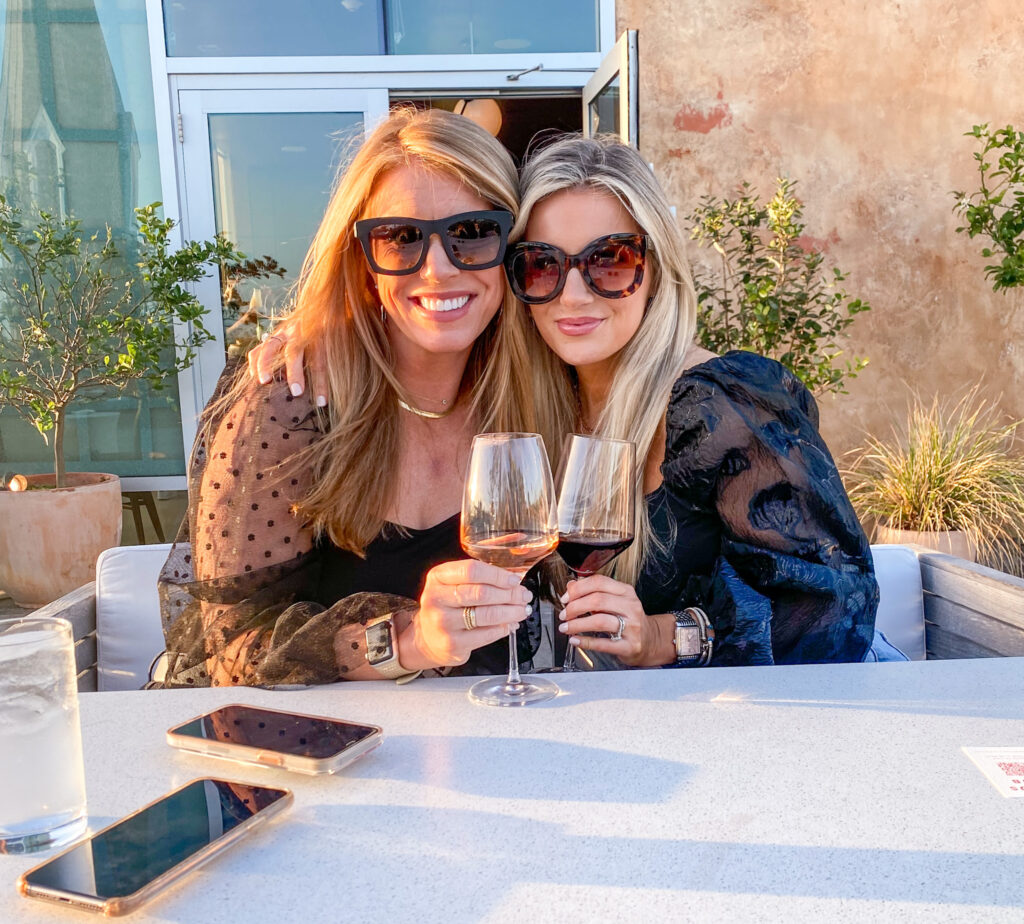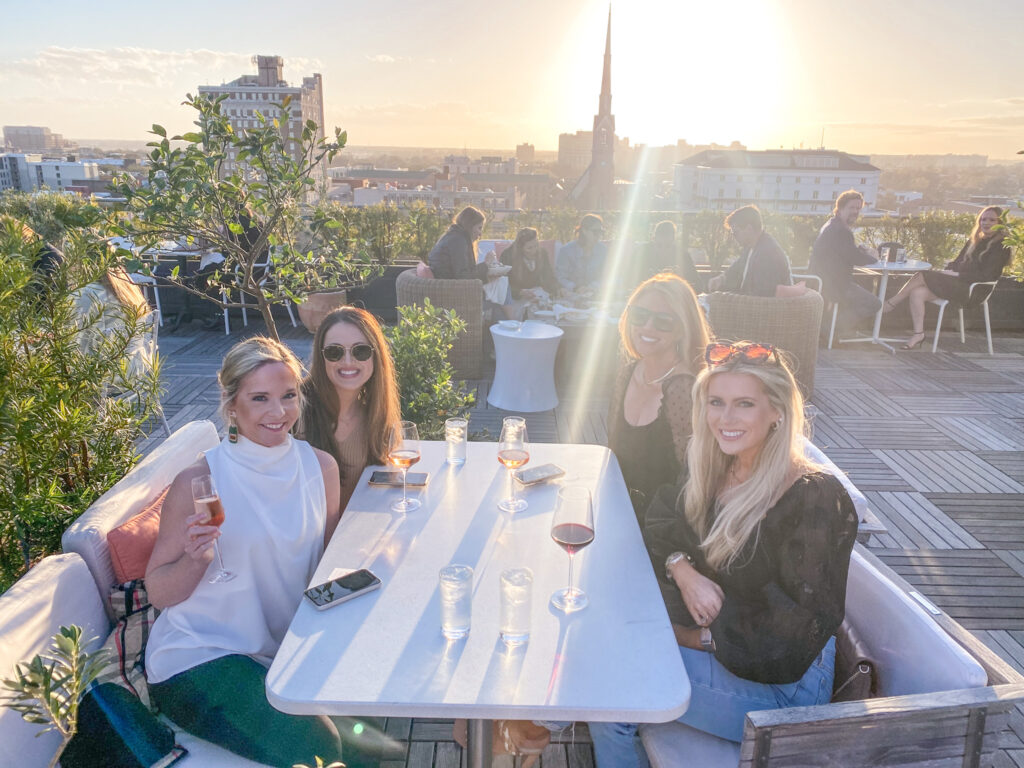 Citrus Bar – on top of The Dewberry Hotel. The BEST view of Charleston and such a cute atmosphere. We had to put our name in ahead of time and grabbed a drink downstairs (you get bumped up on the list if you're staying at the hotel).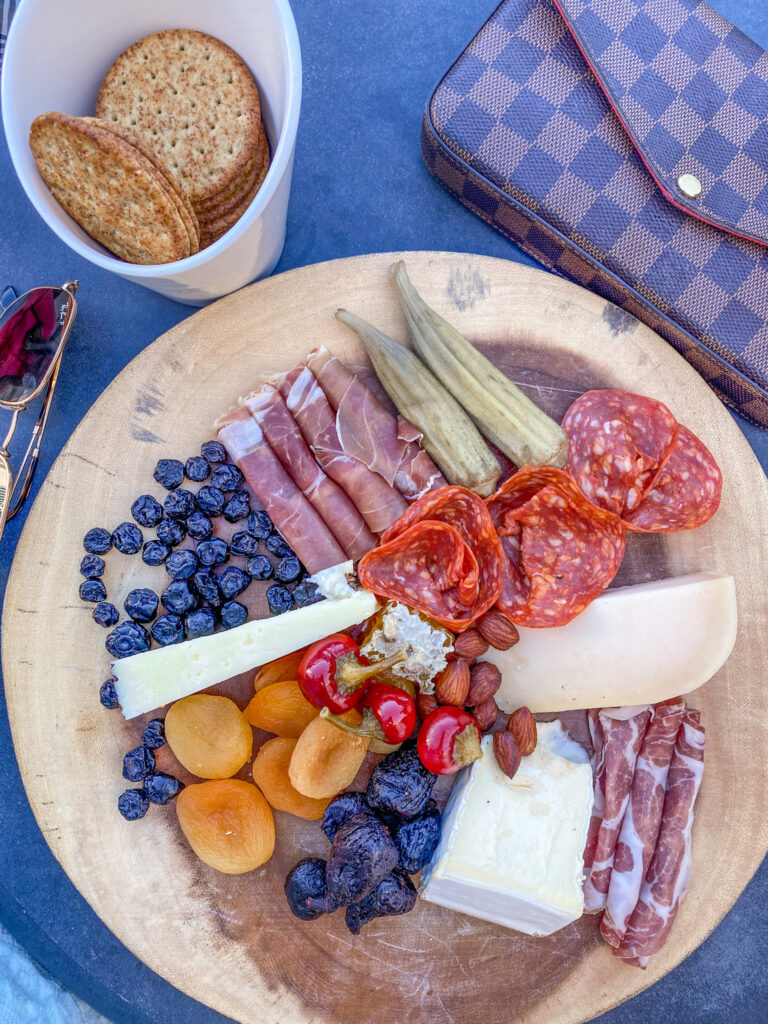 Fiat Lux – On top of Hotel Bennett. A great view of the Charleston's skyline. We got a charcuterie board + wine. Put in your name downstairs and grab a drink at the lobby bar while you wait to go up (the espresso martinis here were 10/10).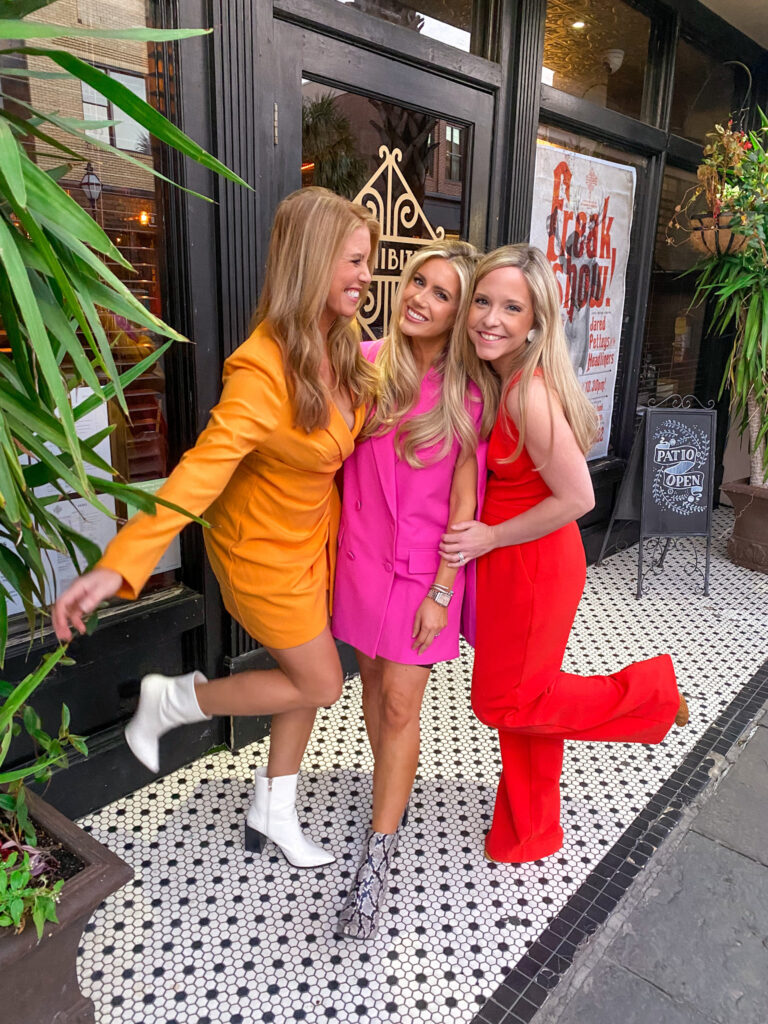 Vintage Lounge – Cute spot to enjoy a cocktail before dinner. The vibe inside is kind of dark and moody and there's a cool outdoor area as well. They were so kind and gave us all a complimentary glass of champagne! We got the cosmos with house made pomegranate juice and it was fabulous!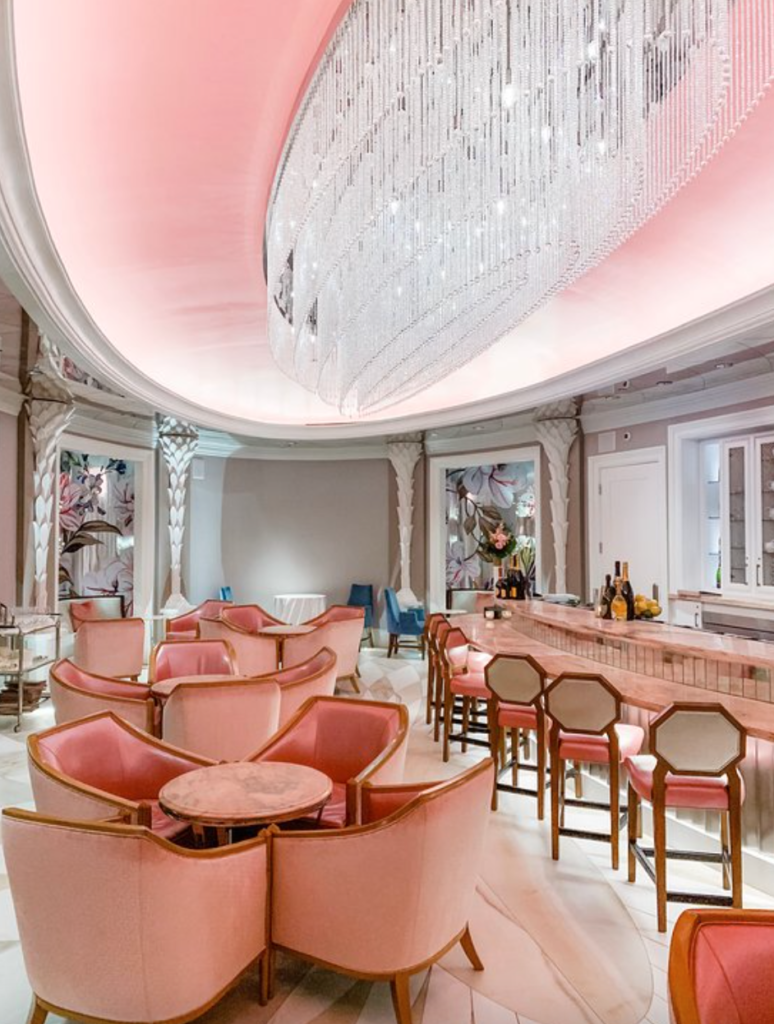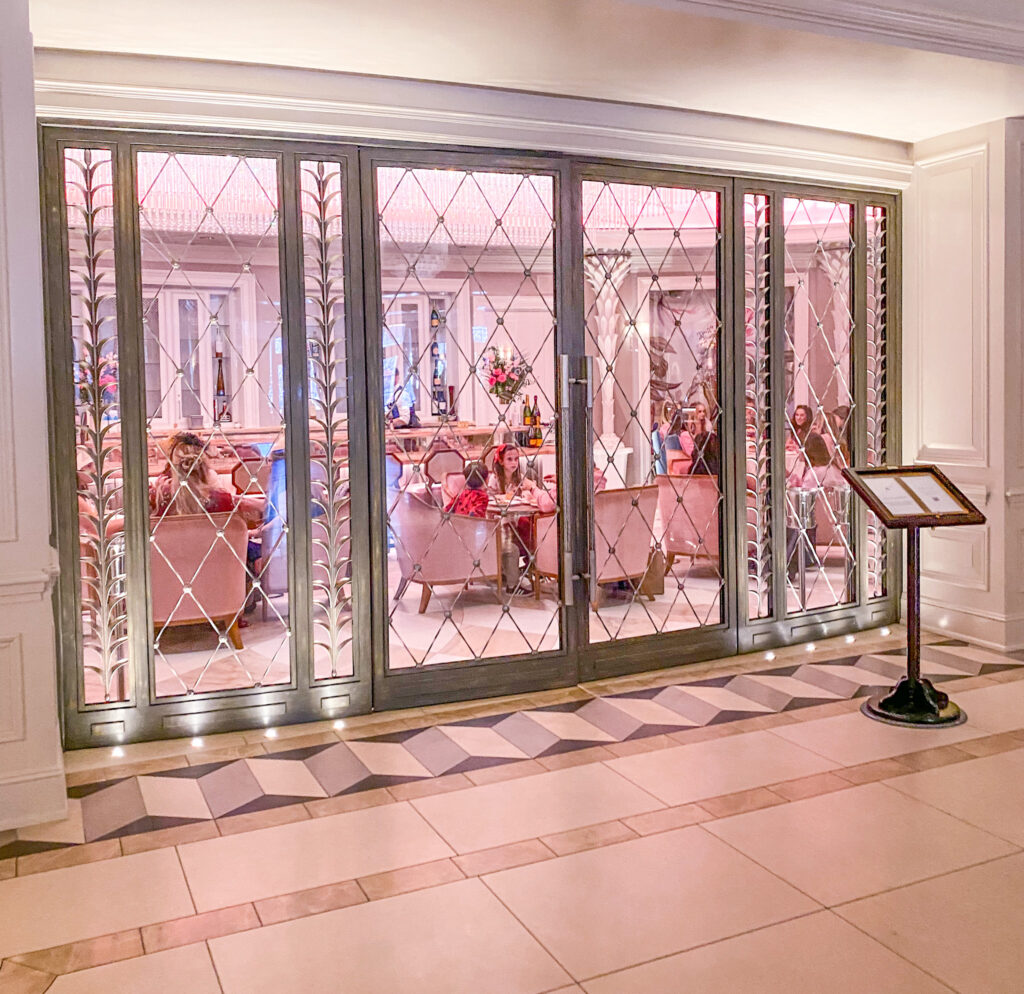 Camellias– a Champagne Lounge in the evenings and they serve fancy tea time on weekend afternoons. Champagne is first come first serve but you have to make reservations for tea time. The room is STUNNING (picture above) and would be the perfect spot for an afternoon break. It would be cute for a ladies weekend but also sweet to take your daughter for tea!
Shopping / Spa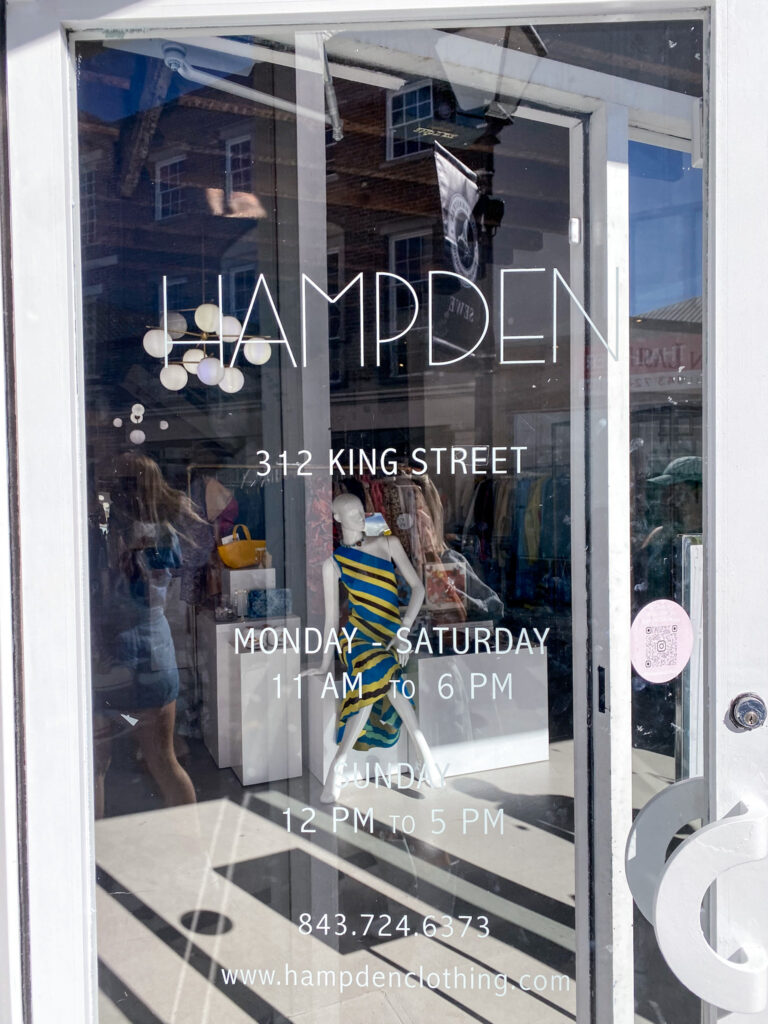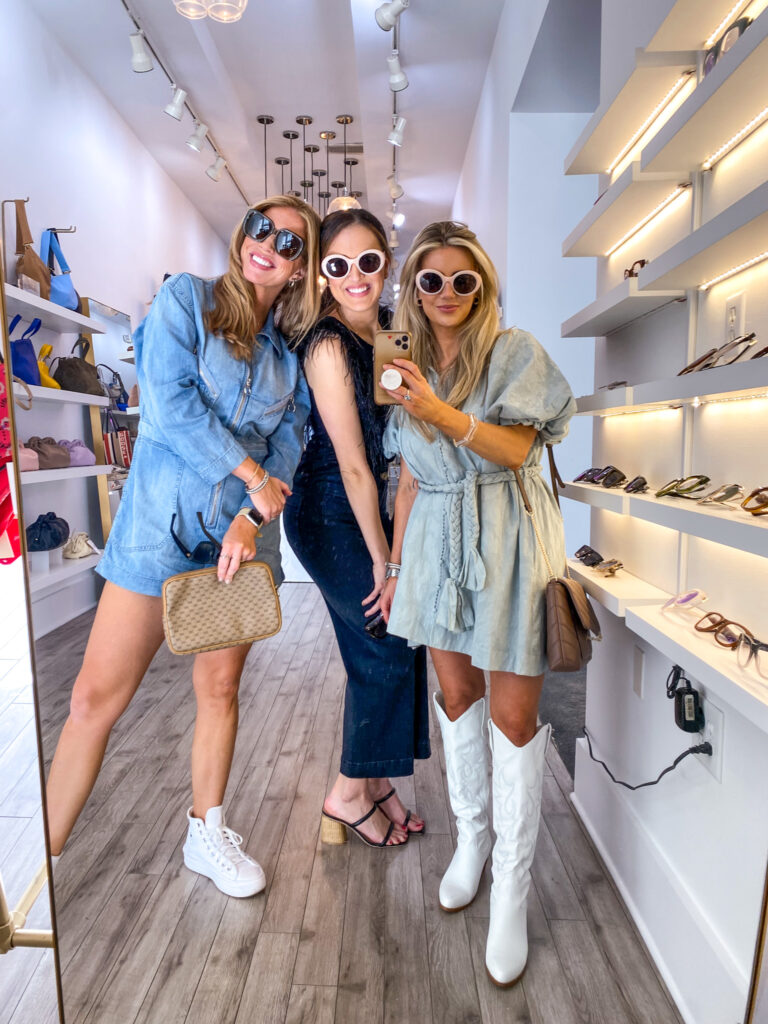 -We loved walking up and down King Street and popping in and out of stores. Gwynns of Mount Pleasant is a hidden shopping gem (lots of designer options for both clothes and jewelry, kind of like a department store on a smaller scale).
-Spa Azure came highly recommend for their facials
Going Out
Piano Bar – the piano bar on King Street was hands down the most fun we had and the highlight of my trip. If you just want to go out with your girlfriends and sing all the words to your favorite songs (without people trying to come up to you and start a conversation) this is your spot. The pianos are located upstairs. It has a very "hole in the wall" vibe.
Republic – if you are wanting a true nightclub with DJ music, VIP service and lotssss of people you will have fun.
Uptown Social – a fun multi level bar with live music or DJs on each level and a rooftop. We went for Sunday Funday and had a blast.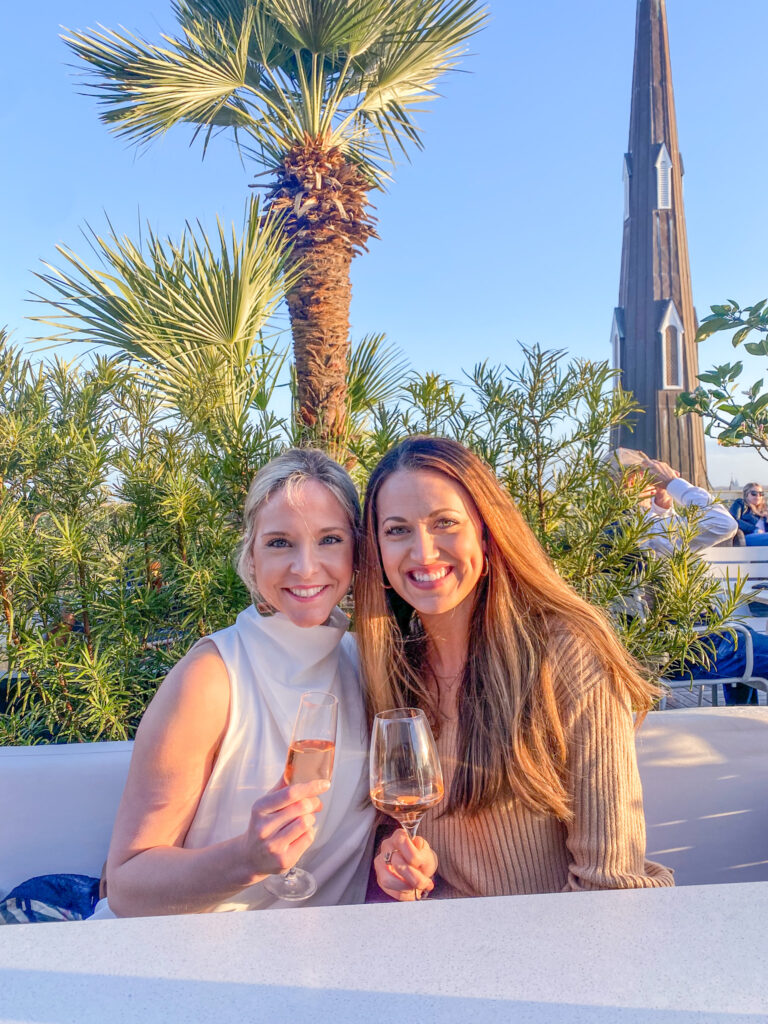 That's a wrap on the girls trip Itinerary for Charleston, SC! What am I missing? Let me know what your favorite Charleston spots are in the comments below or tell me on Instagram @lo_chandler.
Thanks so much for reading!
XO-Lo